LIMECRIME Lipstick in COSMOPOP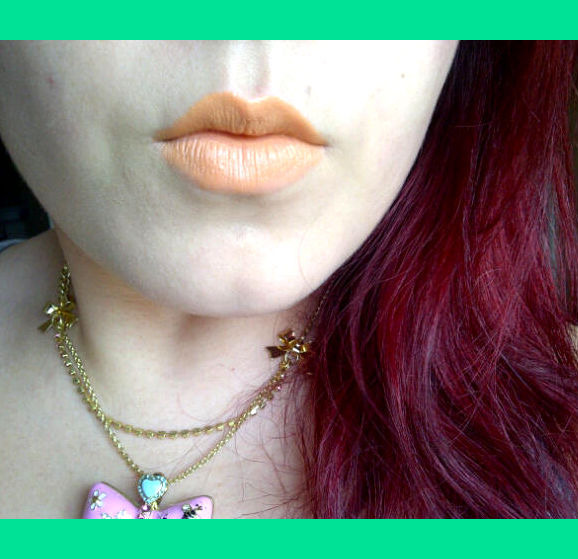 First of all I would like to say that I love the name of this lipstick, and can we please talk about the adorable packaging? I mean, seriously. Anyway!

This is lipstick is part of the Limecrime Opaque Lipstick collection. The lipsticks are ALL cruelty free, gluten and soy free. Now for me, this is great because who doesn't love a cute cuddly kitten, or baby animals period? If you don't: Please!

The lipstick has a very creamy finish, and moisturizing feel. The color pay off is fantastic. BUT, I found that I had to really layer, work, and smooth the lipstick onto my lips to for the best opaque coverage. This is normal for most nude lip colors. The ONLY issue I experienced with this lipstick was, that it cakes up on me really fast. A lip primer would probably come into play in such a case. The lipstick requires a little touching up after about 2 hours, assuming you've been chit chatting, eating some food, and chatting some more...etc.! I did notice that the color stained my lips a bit, which I think is awesome, and have absolutely NO problem with!

This would be a great alternative to the classic, powder, foundation, blah nude lip. It's fun, AND it does look like a creamsicle orange pop. How cute is that?

Overall I think it would be great for any skin tone as a pop of color this Summer, or anytime! It's bold, but fun. Personally I do it with an electric blue cat eyeliner, and some bronzing action!

P.S. My necklace is by the fabulous Betsey Johnson. Hair color is by me: Goldwell Tophics permanent hair dye in 6VV with a 20 volume developer (6%) as my base. I paired it with Manic Panic in VAMPIRE RED all over.
Comments