Sweet Heart Look using Please Me by MAC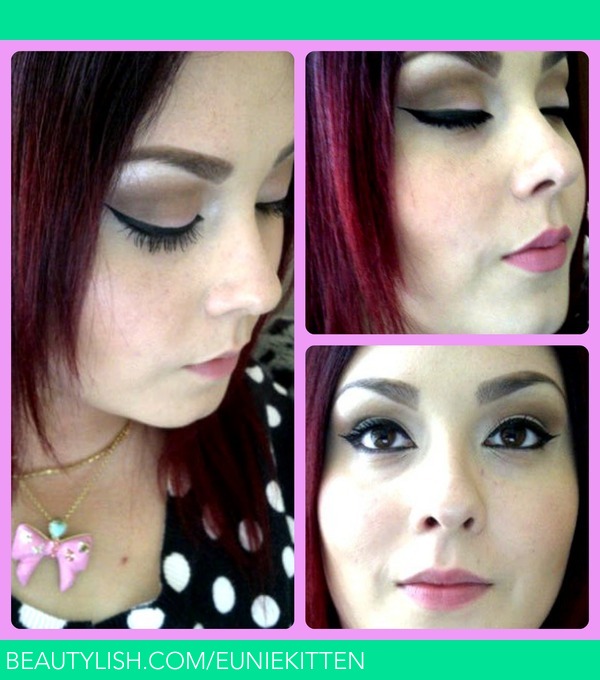 Today I was inspired by my statement piece, and Neapolitan ice cream, yum!

Starting with the eyes I used a very cool toned pink all over the lid, and combined it with a very warm brown, and chocolate brown. I topped off the combo with a frosty delicious highlight. I really toned down my cheeks today, and played with the strawberry cream theme! I really wanted to give my eyes a sweet touch with a bold cat eye using E.l.f.'s Essential Liquid Eyeliner ($1.00) and E.l.f.'s Essential Brightening Eyeliner in Black ($1.00). My brows made a feisty appearance today, and I'm loving it. As for the cherry; or in this case sweet strawberry topping, I finished my look with Mac's matte finish lipstick in Please Me....the star of my face! The lipstick is long lasting, and gives the perfect shade to any lip.

I have nothing bad to say about my make up today, it all lasted very long, but I always have a hard time with the eyeliner at my waterline. It just smudges at the corners of my eyes every time without fail...and I've tried every different type of eyeliner, and setting it with eye shadow. Guess I wasn't meant to wear eyeliner on my waterline?? Yeah, right! That's never going to stop me....maybe others, but not I!

Rock on everyone, and make it your own!!

P.S. My necklace is by Betsey Johnson, and I got my cardigan from Target<3 Also my hair looks funky...but my make up looks good enough to eat!
Comments