Suedeberry Velvetine by Limecrime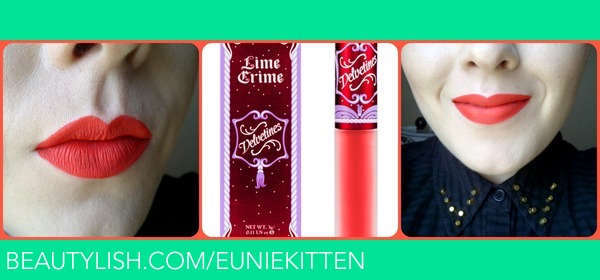 Are you having one of those lazy make up days, but you still want to look put together? How can you do that? I've got the answer for you: BOLD LIP COLOR. End of story.

So we all have those days, and Mondays aren't always forgiving for most of us. Start with evening out your skin tone, with your best foundation. Fill in those eyebrows, and put on some mascara, and please don't forget to give your cheeks some color. So far, boring, right? Not if you pair it with a great lip color.

This is by Limecrime in their Velvetine collection, in the shade Suedeberry. I would describe the color as, "Warm, virbrant strawberry-red." The consistency of the product is very runny, and almost water like with a sponge applicator. It goes on wet, and dries quickly into a matte finish. When first applying the product it might feel runny, so be careful. You have to work quickly, as the color is not very forgiving, and once it dries it is very difficult to remove. My suggestion would be to take your time, and really get the outline of your lip, or desired shape done first. When the product has fully set it will feel tight, and very matted. It might even feel like your lips are chapped, or maybe like the color caked up, but trust me it will not.

The lasting power of this product is mere impeccable. I wore it for a full 6 hours, and believe it would have stayed on until the following day. The only time I noticed a bit of transfer was when I sat down and ate a messy salad with dressing. But my lips still look fantastic.

Here's a tip for removal: Use Vitamin E Oil on a piece of tissue, and simply wipe away. Using water and soap, lotion, or chap stick won't be enough....I learned the hard way.

Hope this was helpful to you all curious about Limecrime! I think everyone should try their make up because it's bold, fun, and feminine. It is a line that is kind to animals, and doesn't fill their products with junk. We all want to be good to ourselves, and look good while doing so.

Beauty is subjective, so make it your own!
Comments