Black Widow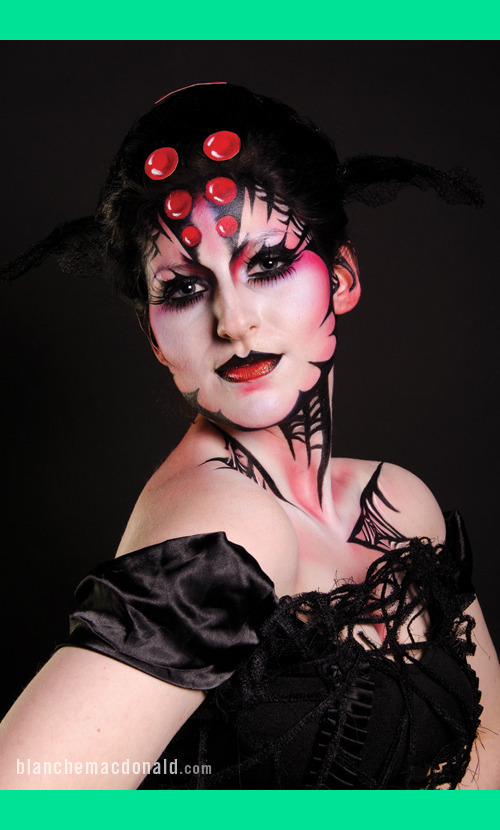 First place winning design for the 2012 Toronto International Makeup Artist's (IMATS) Beauty/Fantasy student Makeup competition by Blanche Macdonald Makeup graduate Kiki Xiang.

"This was my first time competing at IMATS! For the 'Battle of the Brushes' I had two hours to complete a look with the theme: Wild Kingdom. The concept for my look is the spider – more specifically, the Black Widow. I designed my look for a model with black hair so that the head looks like the body of the Black Widow with red dots on top. Of course, this spider usually has 6 or 8 eyes so I extended the look up to the head and tried to make the dark web-like lines transition seamlessly into the black hair.

To create this look, I first mixed white foundation with a skintone foundation. I used red eyeshadow for contouring, concentrating the intensity of pigment along the cheekbones. I used a brush to draw the black web lines on the face, neck and collarbones. For dimension, I used white cream eyeshadow and highlighted along the top of the web near the forehead.

Then, I concentrated on the eyes. I thickly waterlined my model's eyes with a black cream eyeshadow and applied top and lower lashes. For the spider's eyes, I used red eyeshadow paint on my model's head and used white highlight to give it a 3D look and some black eyeshadow for more dimension.

I used the black cream shadow as a lipstick, filling the entire top lip and outlined part of the lower lip. I then filled the bottom lip with red cream shadow, blended a bit at the corners and highlighted the top of the lip with white!"

Photo provided by Make-Up Artist Magazine.
Comments
Photo By