Disco Fashionista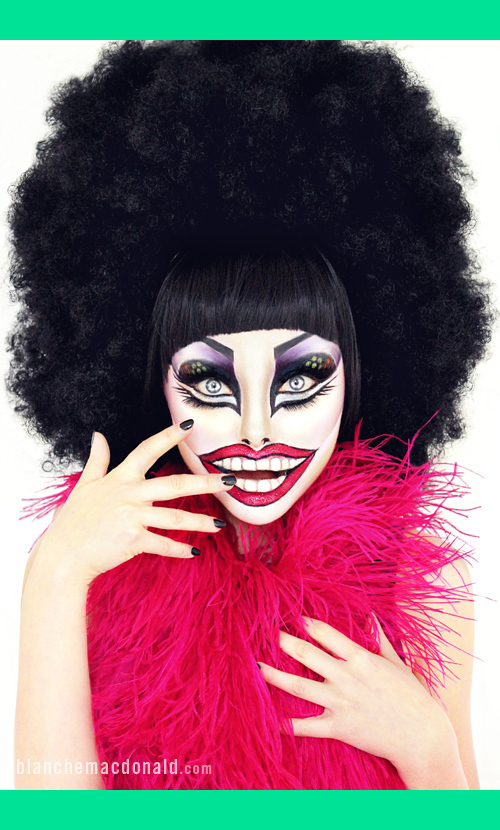 Makeup by Blanche Macdonald Makeup graduate and CurliQue Beauty Q Talent Leader Jaylene McRae.

"The character I created for Halloween is the 'Disco Fashionista'. She is an energetic diva who is inspired by vibrant colours, textures and big hair!! She is always dancing and laughing and working it for the camera.

The main products I used to create this look were from Make Up For Ever and Kevyn Aucoin for facial sculpting.

For the base, I first applied Make Up For Ever's panstick #070 (white) and set it with #0 (white) super matte setting powder. The cheek contour and highlight is with Kevyn Aucoin's Ethereal Pressed Powder in #ep13, gorgeous Celestia powder "Candlelight" and Pure Powder Glow blush in "Shadore" (soft pink).

The faux "smile" is created with Make Up For Ever's Aqua Black eyeshadow. I just love the intensity and wateproof quality of MUFE's Aqua Black liner. Tip: it's important to make sure that you use waterproof products to ensure stability, especially when drawing precise details in your Makeup look. This smile came to life with a mixture of Make Up For Ever's cream makeup from the 12 Flash Color case. For the lip colour, I blended Lit glitters to get a beautiful depth and shine. I used the sealing liquid from Lit to paint it on.

For the eyes, I washed Make Up For Ever's Aqua Black eyeshadow all over the lid. Not only is Aqua Black great to create an extra black detailed line, it's also a fantastic base for a smokey eye as it easily glides over the eyelid and dries quickly. I used a sink drain as a stencil and applied MUFE's bright eyeshadows over top of the black base to make the eyes pop. I then created the eye shape focusing on making sure my lines were precise and clean. For my model's water line, I applied Kevyn Aucoin's White Kohl Pencil.

I finished my look off with Make Up For Ever's eyelashes #110 on the top and #109/#153 on the bottom. They create amazing drama and I think they really finish the look!"
Comments
Photo By