Beautiful Illusion: An Interview With Underground Icon Muffinhead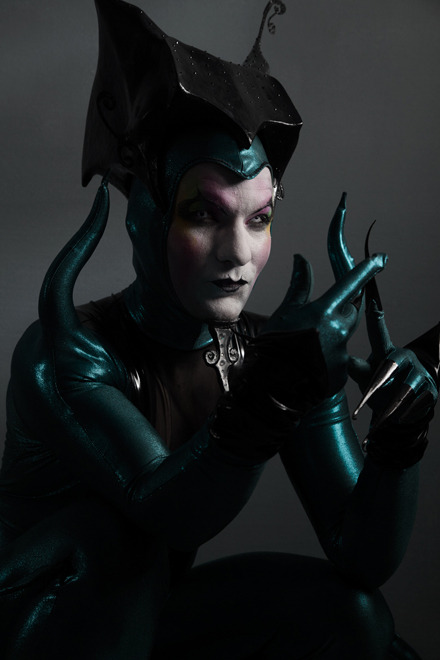 NYC nightlife personality Muffinhead is a living, breathing piece of art.
---
For many, makeup is used as an exaggeration of one's beauty, but for this sartorial visionary, makeup is used as an abstraction—combining colors and emotions to create strong looks that play off his eccentric and often, self-designed costumes.
Muffinhead's career as a visual artist began over a decade ago in his hometown of Los Angeles, where he began putting his painting skills to work on canvas as well as on himself. Upon relocating to New York City in 2005, he exploded onto the art and party scene, where his over-the-top personality and surreal appearance was both admired and appreciated.
Today, Muffinhead continues to set a new standard of beauty in NYC through his many gallery shows and performances but above all, through his striking makeup and costumery.
We sat down with Muffinhead to learn more about his vivid approach to beauty.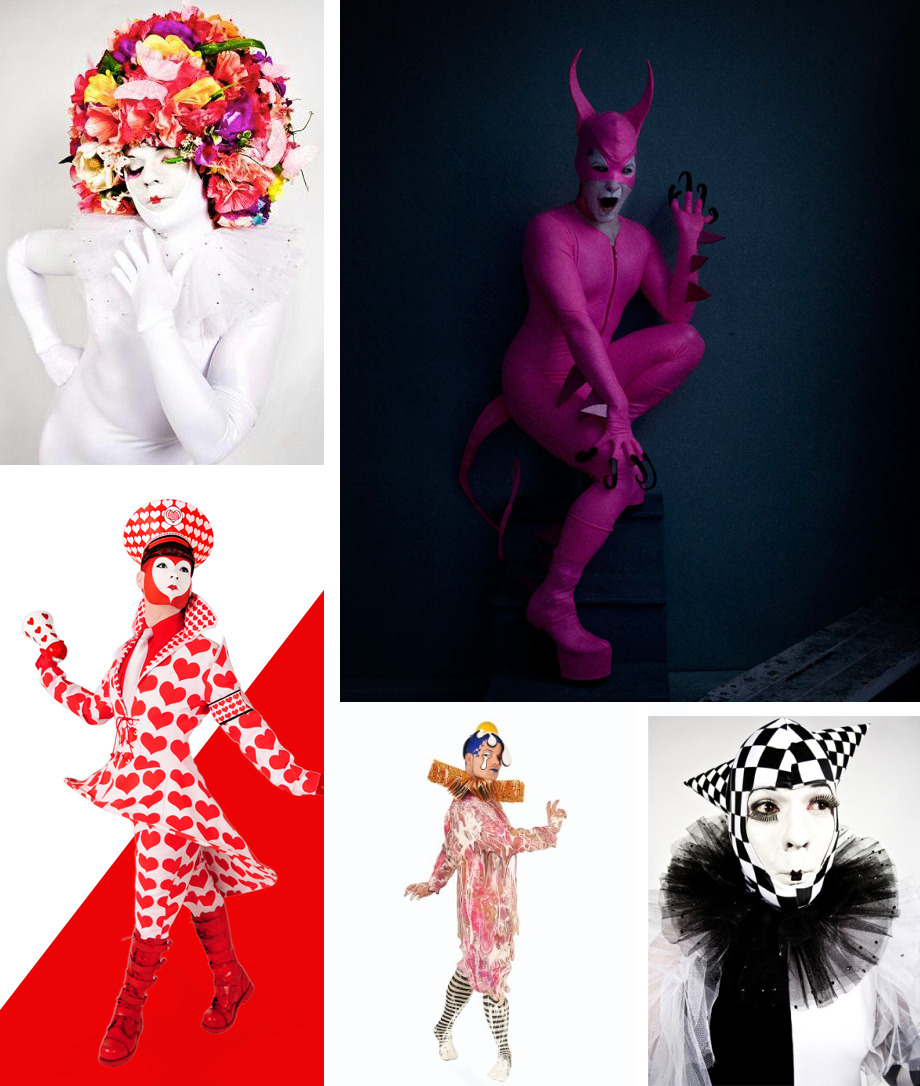 ---
B: You seem to have taken the idea of "costume makeup" to a more artistic level. Can you explain?
Ohhh thank you! Well, I'm primarily a self-taught artist in all of the mediums that I dive into, so I hope that it's somewhat apparent. I think that because I have a background in underground art and because I'm not limited to conventional styles of makeup, it comes off as art.
B: I love that you are self taught. You've certainly made up your own rules.
Yeah, it can have its advantages and disadvantages as well. I'm like one of those trees that grows in the wild that takes on an odd shape over time, all on its own...
A lot of what I do is also a matter of simply stumbling around until I get it right. I'm also very influenced by people that I'm working with: Iggy Berlin, Amber Ray... I've spent time with some extraordinary performers who are extremely good at what they do, which informs what I do and sometimes informs what I choose not to do as well.
When I came to New York, it became clear very quickly that the nightlife performers I was working with were makeup artists themselves, so I instantly had to kick into gear—I didn't want to be seen as sub par. One way to do that was to dip into my own experience as an artist. I can make very sharp lines and that, along with a working imagination and a bit of daring, allows one to pull off some interesting looks.
---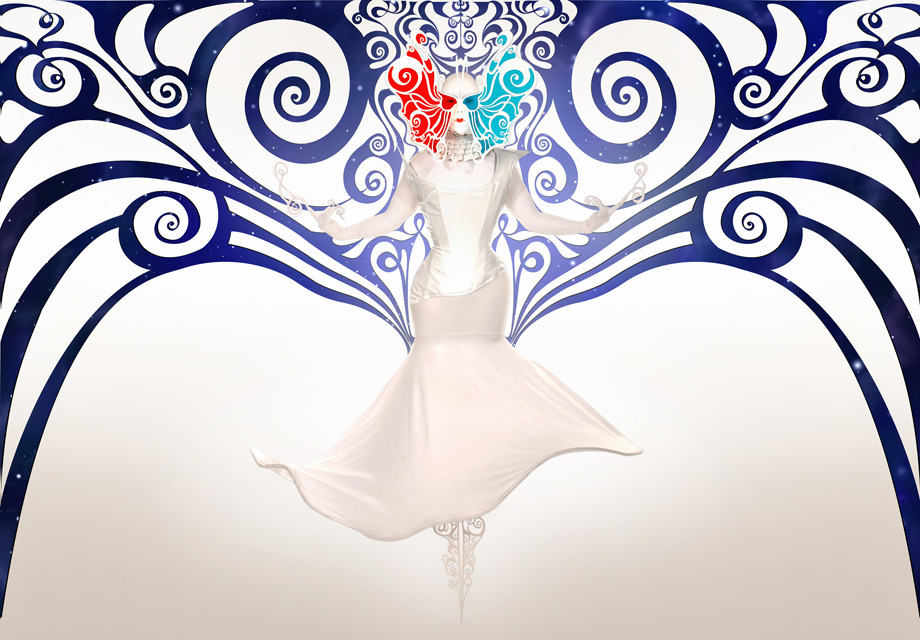 ---
B: What are some common inspirations for you?
I love a glamour girl—hot red lipstick on a pretty, stylish lady goes a long way. That directness and confidence can also explain why and how not to overcomplicate the face; to eliminate what is unnecessary. I'm also very influenced by traditional geishas, ornamental iron work, the art of Aubrey Beardsley, Gustav Klimt, Klaus Nomi, and Leigh Bowery.
B: It's surreal how you represent your abstract costumes in your makeup. Can you tell us about using makeup as an extension of your outfits?
I think that most of my makeup is exactly that—an extension of the look as a whole. It's the final piece of the puzzle. For me, it's important that my makeup does not try to overshadow the rest of the piece. I need it to successfully close the circle. A lot of drag makeup, for example, tends to veer toward the grotesque because it's trying to speak for the entire physical presence with little else going on. It can very easily be too loud and over complicated.
What I do is design the entire look from head to toe at the beginning of the process: makeup, prosthetics, outfit, etc... When you work like that, there's not a lot of room for spontaneity at the last minute except for some miniature details.
All of that being said, I think what goes on the head is just as important as what goes on the face. I'll spend a month sculpting a headpiece and maybe two hours working on makeup.
---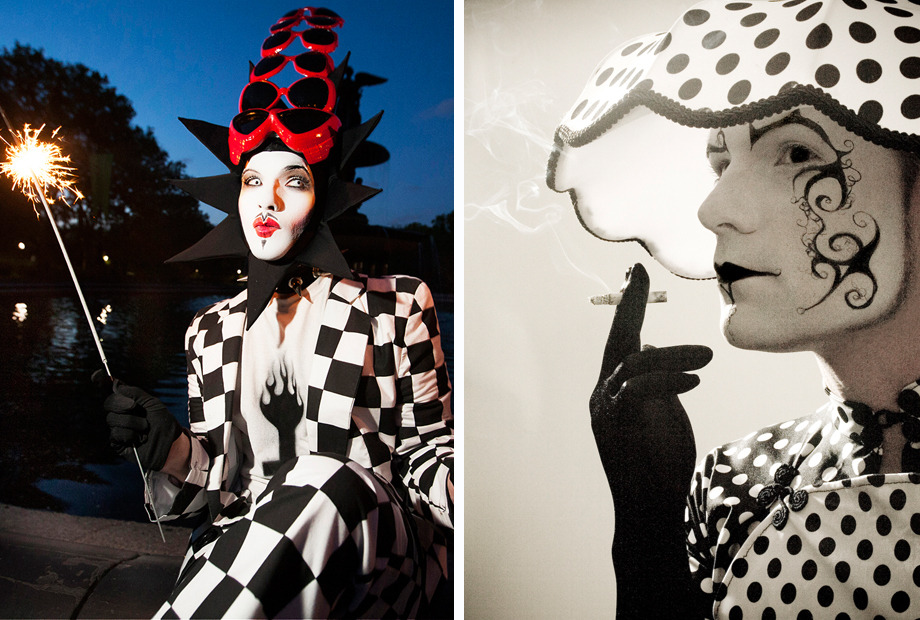 ---
B: What products do you commonly use when painting your face? Any favorite brands?
Always Ben Nye Clown White and Super White Powder. When I start to run out I go into a panic. I'm a sucker for a lot of Ben Nye powder colors too, striking and theatrical.
B: Makeup and vanity are typically considered to be an expression of femininity. Would you say that makeup also has a masculine side?
There is no reason that it shouldn't. Makeup is just paint used to beautify the face—it's strange that there is such a chasm between male and female expressions of beauty when we all want the same thing, to look as special as we are.
B: What do you hope to inspire through your unique looks?
I hope that what I do inspires a sense of limitlessness. I feel that there are never-ending possibilities when it comes to combining art and fashion and the world needs a lot more of both. It's important to push these new concepts forward using any and all means available.
---