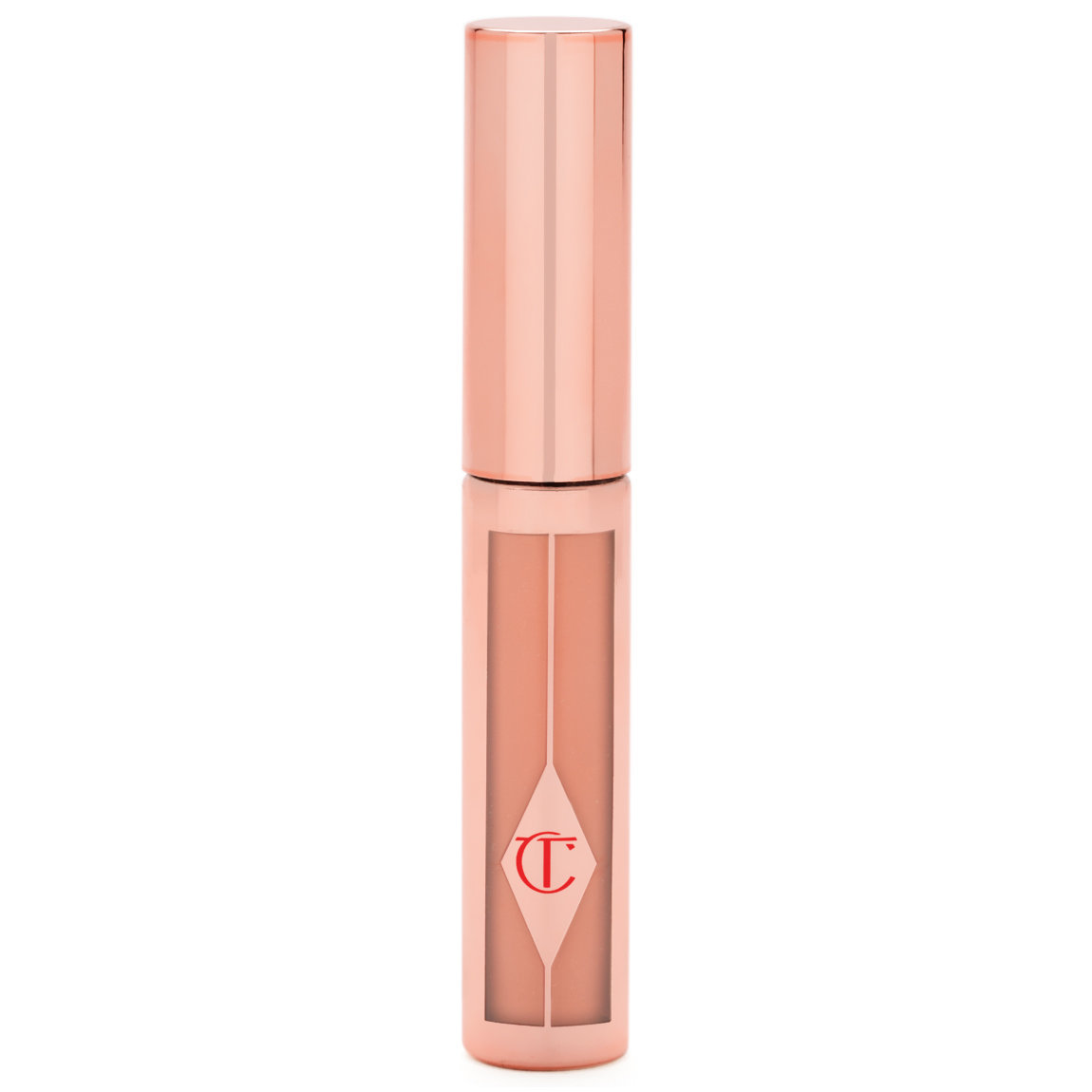 Product Description

The Story

Charlotte's secret for a plump Hollywood pout.

Captivate the red carpet with Charlotte Tilbury's backstage beauty trick: a matte liquid lipstick that contours lips as you apply it for a fuller, wider pout instantly. Hollywood Lips glides on like a gloss with a clever curved applicator, nourishes lips with anti-aging actives, and dries down to a soft-matte finish with a velvety, light-as-air formula. "It's your lips seen through a whole new, hyper-real Hollywood filter!" – Charlotte

---

ABOUT CHARLOTTE DARLING

Charlotte's go-to shade for star-studded soirées is this creamy beige nude. Pair it with Lip Cheat in Iconic Nude.

---

Why It's Special

Contour lips in a single swipe.

The specially designed Lip Hug applicator conforms to the curves of your lips for a full, lush, and well-defined look—even without lip liner.

Matte liquid lipstick—minus the dryness.

Hollywood Lips sets to a baby-soft matte finish that stays comfortable all day. Sea lavender and collagen-boosting actives soothe and fight aging while beeswax protects from dryness.

Full coverage and a featherlight feel.

Choose from 10 spotlight-stealing shades and glide on velvety, full-pigment color that feels nearly weightless on your lips.

---

How To Use

Start by lining and filling your lips with a matching shade of Lip Cheat, going slightly past your natural lip line to create a fuller, wider pout. Use the applicator to apply Hollywood Lips straight from the tube, gliding the wider part along your bottom lip and the thin point to precisely define your upper lip and cupid's bow.

---

Details

Ingredients

Shipping & Returns

Free Shipping

Beautylish offers free shipping to the U.S. on all orders $35 and up. For all other orders, we offer $5 flat rate shipping.

Fast Delivery

We ship using FedEx Express (2 business days from order shipment date) and FedEx Ground (3-5 business days from order shipment date).

Satisfaction Guaranteed

If you are less than completely satisfied with your purchase, you may return your order within 60 days (from the delivery date) for a full refund. We'll cover the cost of return shipping within the U.S..

World-Class Customer Care

Beautylish's team of makeup artists and beauty experts are here to help. If you need assistance in anything from color matching to your perfect skin care regimen, we're here to help.

Phone: 1-877-992-5474

Email: service@beautylish.com

Reviews

Katherine B.

Aug 27, 2017

Color bleeds

First of all, if you like pink, just get one pink because I bought three and I can't tell the difference between two of them. Pin up pink and rising star are so similar, I also got Too Bad I'm bad, which was the darker of the three, but still not as deep as what is pictured. The texture is mousse-y, and does not spread well. It also stains the lips and looks like I've been slurping up Kool-aid. These are not worth $20 a piece, let alone $34.00 a piece. I will be sending these back. And I cannot recommend, of course, everyone's expectations are different, evidently mine were very high.

One star is only for beautylish's fast shipping

It's Horrible!! I just can not believe it's a charlotte tilbury products in fact it should not even be on beautylish! I have been a loyal customers for CT products and I have brought every single one of CT's products in every single shade,call me crazy. And this liquid lip! IT's horrifying! I am not sure if I just got a bad patch,but I purchased three shades which are Rising star, too bad I am bad and pin up pink. They are so uneven on the lips and separated on the lip in just 10 mins! and on the applicator it's just a big chunk of products all come in once! It's so clumpy and dry in the bottle,and it doesn't set on the lips once you finally get it to work! And now let's talk about colours! I CAN NOT tell the DIFFERENCE between this three shades! even the undertone it's the same. NOW I repeat, not sure if I got a bad patch that they put the same colour in three different bottle. But overall, Please save your money and buy Jouer or just pop in to the drug store and pick up one of the cheapest liquid lips you can find.

Team

Rosalind D S.

Sep 06, 2017

So far my favorite formula

I was amazed by CT's formula when I first tried it. Very comfortable, light weight, good coverage, fabulous color! CT always creates the most beautiful lipsticks. Fav shades: Too bad I'm bad, Show Girl. They are long lasting, and yes, they do transfer a little. But I don't mind. The formula is similar to Jouer, NYX and Stila, more like a lip cream(melted lipstick).

Do they fade when you eat? Yes, they fade a little or a lot depends on what you're eating. I prefer to remove my lipstick before I eat. Retouch afterward to keep them nice and fresh! A lip balm is good enough to remove most of the lipstick. It's a good habit, also help my lipsticks run out faster. When was the last time we finished a lipstick? Lol.

I have very dry lips. Believe me, girls, I feel you.

What did I do to make my lips not crazy dry? Use a nourishing but not oily lip balm, wait for 3-5 mins, slightly remove the excess oil with a tissue. All set! Matte lip balm preferred! BTW, I love Omorovicza, La Mer or Jack Black Lip Balm.

How is it compare to Jouer, Stila and Jeffree Star? I personally love CT the most, then JS>Jouer>Stila.

Shades wearing in the photo, Charlotte Darling, Too bad I'm bad, Show girl. These are non-touched photos, so you can see the texture clearly.

LOVE LOVE LOVE!

The dry whipped formula does not need time to dry down its very "apply an go" it is breathable and very comfortable to wear. All the shades are very pigmented with a light vanilla scent. The applicator is designed to hug your lips for easy application, my favorite is shades are show girl (a dark mauve) and Dangerous Liaison (a cool toned dark red). Beautiful colors and an amazing formula a must have for lipstick lovers!

I purchased Too Bad I'm Bad, Screen Siren and Show Girl.

These are mediocre at best I'm annoyed at myself for two reasons. Firstly I should have waited until there was more feedback about the lipsticks as I would not have purchased three. Secondly I should have stuck to my instincts and ordered more matte revolution lipsticks (my main reason for purchasing was I was going to order Carina's Love but decided to try the new formula liquid lippies).

Cons: swatches online are not very accurate for certain shades. Show Girl has a lot of brown in it not shown in pics for example. It's not very comfortable to wear so you can feel this on your lips at all times. It's not at all 'blurring' or 'soft focus' for the lips - it does tend to accentuate lines so unless you are blessed with pouty lips or inject them it's not a very flattering look especially on older gals like myself (40). Some of the colours need quite a bit of blotting before you feel safe going out in public. The applicator is just not good and makes it hard to apply. And lastly the mousse like texture is clumsy when withdrawing the applicator to apply. You tend to get a lot of product which you need to wipe off to get a nice-looking application.

Yes these are more matte than matte revolution but in all other aspects the formula and product is inferior to the Matte Revolution lippies.

Screen siren is a gorgeous cool-neutral ruby red.

Too Bad I'm Bad is a deep rose leaning slightly warm but more neutral. It's ok on my NC 20 skin tone.

Show Girl is disappointing for me. It's very much a 90's/Kylie Jenneresque colour. Not quite burgundy/Brownish/rose. I was hoping it would be a more intense version of Secret Salma but alas not. Would look better on more olive or deeper skin tones. This lipstick looks like I'm 'trying too hard' .

Gorgeous Color But Formula Is A Little Drying

As with any liquid lipstick lip prep is super important but even with scrubbing and letting a balm sink in first I still found this to be a bit drying. I didn't think it would be since it contains beeswax but after about four or four and a half hours my lips started to feel pretty dry (but it was comfortable for the first four). The viscosity is pretty thick and too much comes off on the wand so you have to be careful applying and I would highly suggest using a lip liner if you're using a darker/bolder shade like I did so that you have an outline for guidance. I do like the shape of the doe foot though and found that helped with application. It's not my most favorite formula ever but the shade Screen Siren is the absolute most perfect shade of red imaginable so I will definitely be getting my use out of it.

Made my lips crack and bleed

First of all, I need to say I'm a huge fan of CT makeup line. I own most of her products and I love them. However, this liquid lipstick isn't working for me. Upon the first application, I noticed the texture is very velvety and mousse-like. I love the texture and the color. However, an hour later my lips felt extremely dry and I looked into a mirror and found out my lips have cracked. After about three hours I couldn't help but wipe it off, and I found the inner rim of my lips cracked so bad that it bled! I was debating if I should return it because the color is very beautiful, but at the end, I had to send it back. No matter how beautiful the color is if my lips are bleeding it's just not the right formula for me.

Not worth your time.

I hoped i would love this but it does not have the staying power that it should. It mostly comes after one simple meal and doesn't fade in a nice way. You're left with an incomplete outline and no color in the center of your lips. I'm giving it 3 stars for beautiful packaging, well pigmented color, and the fact that it doesn't dry out your lips. I can get all the pluses as well as staying power with Stila at a lower cost. By the way, I'm the type that doesn't care how much makeup costs but in this case, I'd recommend Stila.

Favorite lip!!!

This is my FAVORITE lip color!!! I absolutely love the color! A previous reviewer (either here or on Charlotte's website) stated the color was not true to the swatch advertised - NOT true. I have 3 of these now and each is exactly as pictured. Matte color that isn't drying.