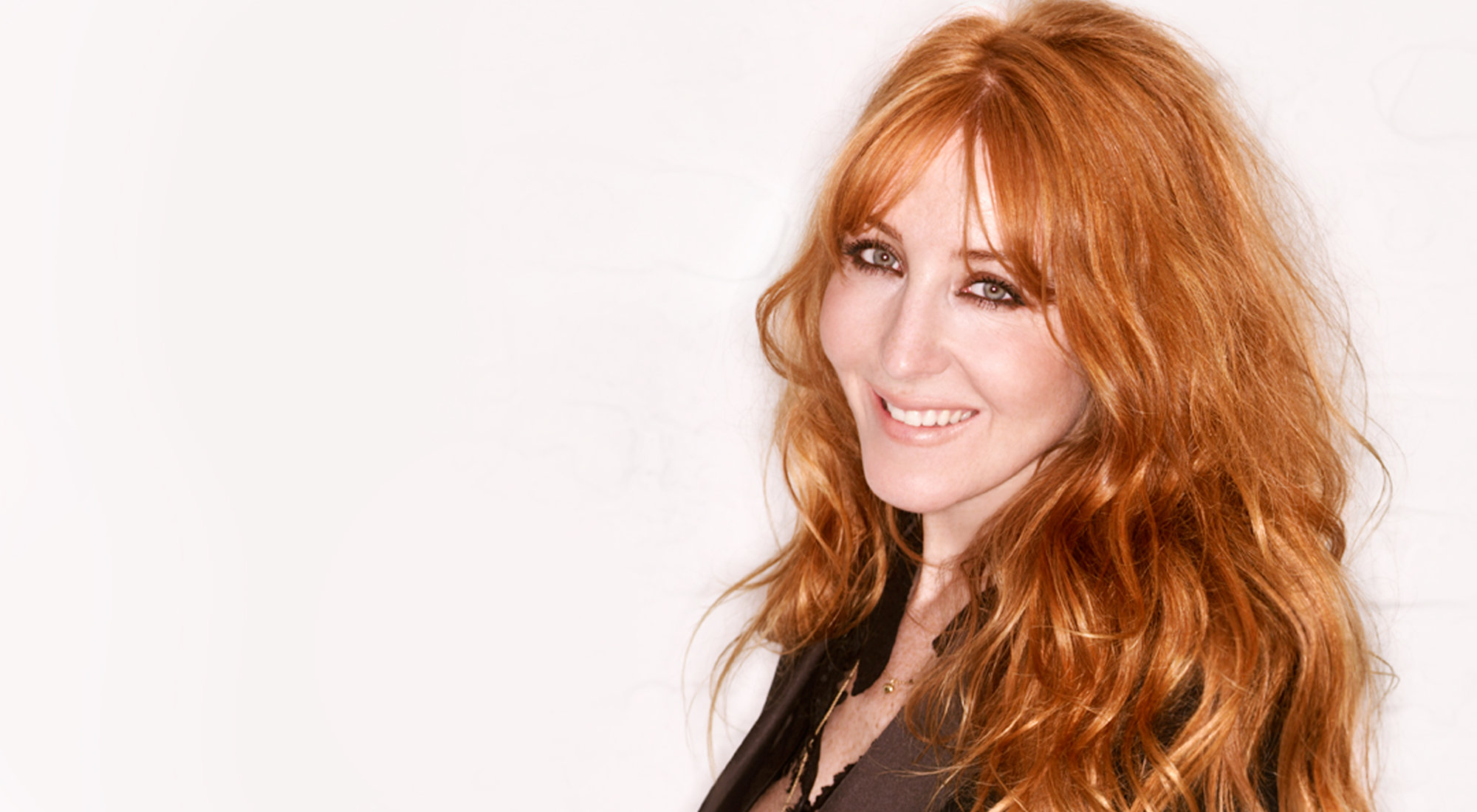 Charlotte Tilbury: From

World-Class Makeup Artist

to Global Beauty Icon
by

JILL RUSSELL
published AUGUST 4 2014
To celebrate the upcoming U.S. launch of her brand, the London makeup icon told us about her childhood in Ibiza, her lightbulb moment, and the one product models beg, borrow, or steal from her every Fashion Week season.
For the past 20+ years, Charlotte Tilbury has built a reputation as a world-class makeup artist, a fixture behind the scenes at Fashion Week, and a friend and collaborator to the red carpet celeb set all around the globe. Undoubtedly, Charlotte got where she is today due to her preternatural talent. But it's her sense of humor and infectious energy that continuously inspires everyone around her—from her clients and team to her legions of fans and followers.
---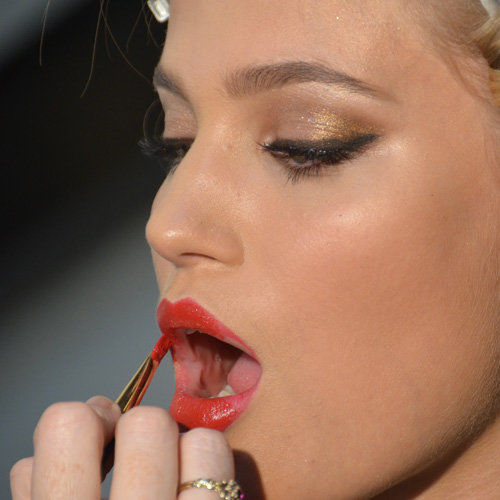 Not to mention the cult-like fans of her skincare and cosmetics line, which debuted in the U.K. last fall and launches stateside next month. With that, Charlotte—who heads up the company from her homebase in London—has suddenly found herself a mogul at the helm of a constantly-expanding beauty empire. How does she juggle the demands of leading product development for her brand and being one of the most in-demand makeup artists on the planet? "By loving every minute of it!" she says.
And while Charlotte comes from a classical makeup background (she trained at the Glauca Rossi School of Make Up in London and counts British icon Mary Greenwell among her mentors), her approach to beauty is anything but typical. She's unapologetically glamorous and personally never without makeup, even wearing a "dialed-down smoky eye" to bed—but she's also determined to make beauty accessible. In her products and her how-to videos, it's clear that all she wants is to encourage women to be more confident, and to love themselves. To celebrate the upcoming U.S. launch of her brand, we sat down with Charlotte to chat about her childhood in Ibiza, her lightbulb moment, the alienating quality of most retail beauty environments, and the one product models beg, borrow, or steal from her come every Fashion Week season.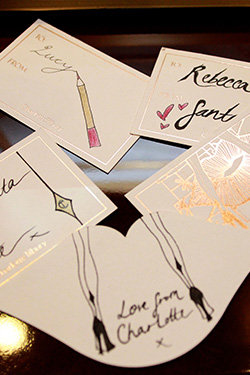 Beautylish: You grew up in Ibiza. How did that impact your life and career?
Charlotte Tilbury: My father is still working as a painter in Ibiza today. That, plus the fact that I grew up there—these two things combined have had a huge influence on my interest in colors, tonality, and contrasts. I was surrounded by artists, writers, musicians, and actors. I knew that I would do something creative. The light, colors, and energy of Ibiza are still constant sources of inspirations for my work. I always leave Ibiza recharged and full of ideas for new shades, looks, and products.
"Beauty is not an exclusive club and there are no unattractive people. Who doesn't look better with a little bit of makeup magic?"
When did you know that you wanted to become an artist? Was there a certain product that sparked your love of makeup?
I discovered makeup when I was 13, and it changed my life. I started wearing mascara and overnight people reacted to me in a very different way—I was more popular and noticed, and I felt more confident. At first this seemed like a depressing thing, until I realized that makeup is powerful. It's every woman's secret weapon. Makeup can give you the confidence to change your job, move abroad, or get a pay raise. Since I started wearing it, no one has ever seen me without makeup on! I definitely wouldn't have the life and career I have without it. I've always been fascinated by the power of a beautiful woman when she walks into a room and wanted to understand her beauty—how she had that power.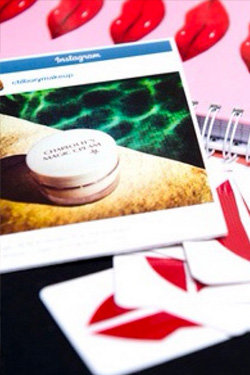 Are you inspired by a particular era? If so, why?
From a young age I had Marilyn Monroe posters up on my wall and bought loads of reference books about the silver screens icons (Audrey, Elizabeth, Marlene) and studied their faces. I'm inspired by Helena Rubenstein, Estée Lauder, Coco Chanel—strong, powerful women that paved the way for the rest of us to access makeup today, and completely shook up the industry. Henry Selfridge [founder of the London-based department store chain Selfridges] was an incredible visionary, too. I love the theater of shopping and retail. It's like bringing your childhood dreams into a reality.
Was there any one moment that really kickstarted your career?
I had been working so hard to get noticed in the industry, cold-calling hundreds of magazines and brands, and was almost ready to give up when I got a note from one beauty editor. That helped me to stay driven and follow my dreams—it said, "Knock it to them Charlotte, I know you'll be a star!" Stars have now become an integral part of my signature. I believe everyone has a halo, and can achieve their goals if they put their mind to it.
---
"Makeup is powerful.

It's every woman's secret weapon."
---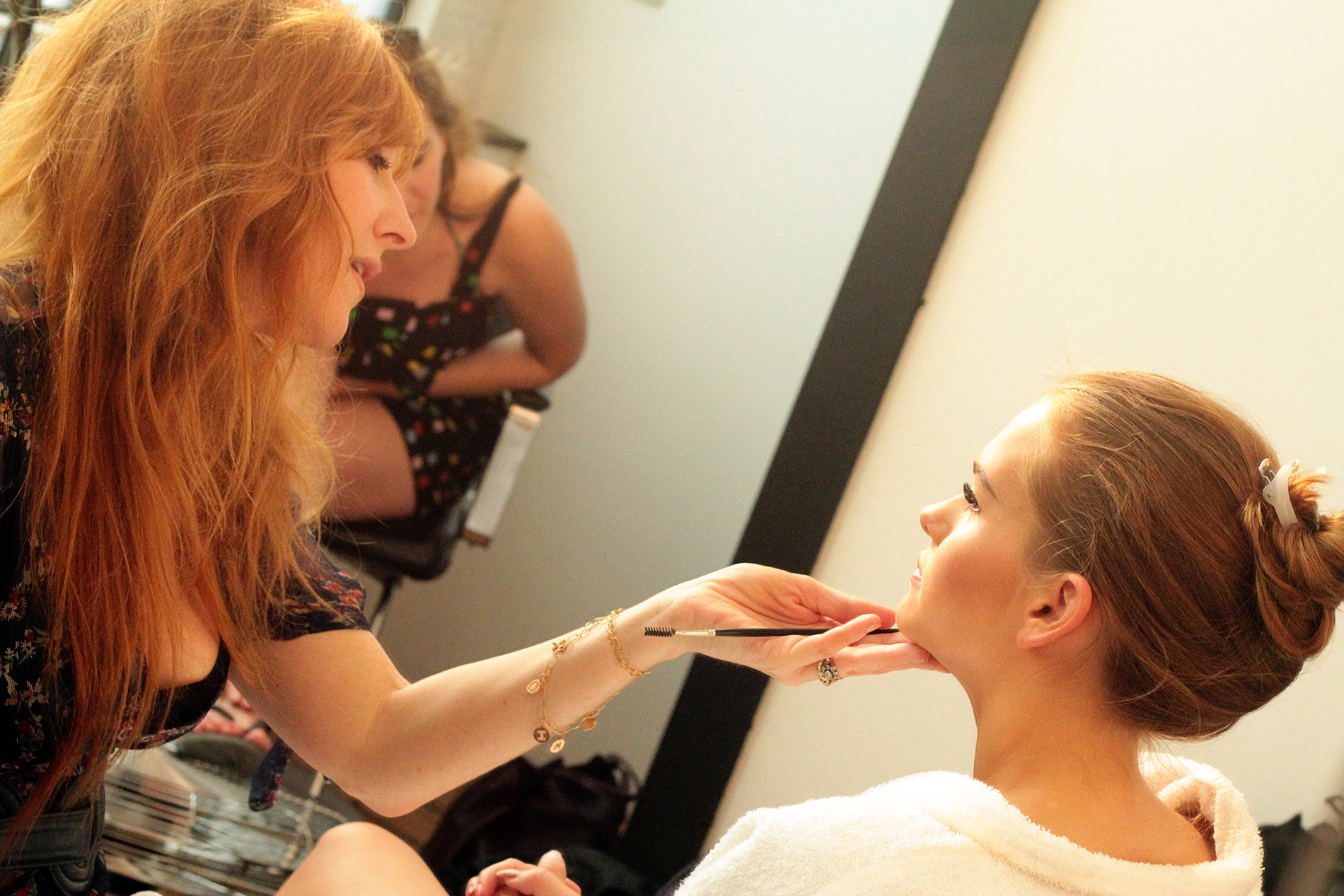 What do you consider your biggest achievement so far?
Helping women around the world feel good about themselves through the power of makeup. You can really make up your own destiny.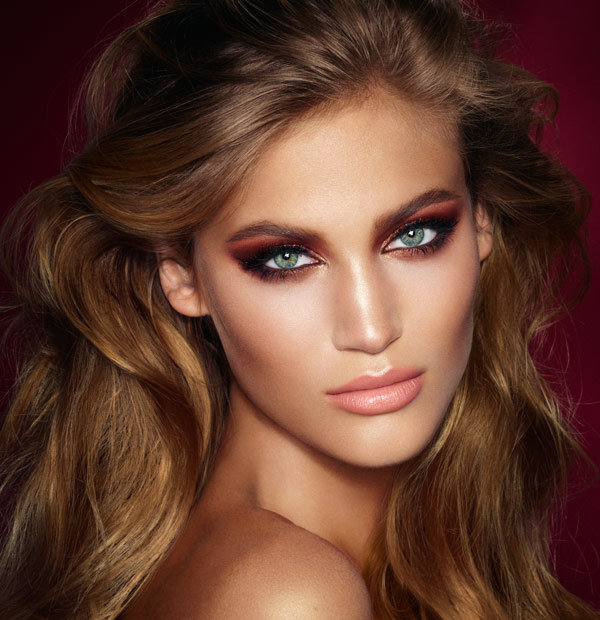 You recently became a mom for the second time. Congrats! When you found out you were expecting, did that change your makeup routine at all?
I definitely found that my skin was more sensitive. It can react to certain ingredients, so I tended to stick to my trusted products such as my Magic Cream and soothing night masks. I use a highly pigmented, full-coverage concealer whenever I have a small breakout, rash, or melanin pigmentation, and all of these things can happen occasionally during pregnancy. The other thing I like to switch up: I like a lightweight foundation to let the pregnancy glow shine through.
You say no one sees you without makeup. Are you ever without it?
I'm never without makeup. I even go to sleep with it. Before bed, I take off all my makeup and apply a dialed-down smoky eye. I call it my bedroom eyes!
Describe your everyday look.
Generally, I've always loved the look of the '60s and '70s—full-length lashes, big hair, and a nude lip. It's been my staple for a long time. I adore the Bella Sofia look and palette from my collection and wear it every day. It's a Mediterranean-inspired, molten-copper smoky palette that brings out the best of my green eyes. I add a Feline Flick to elongate and lift, and finish my eyes with lashings of Full Fat Lashes mascara! I keep the lips soft and pretty with my favorite lipstick, K.I.S.S.I.N.G. in Penelope Pink, the perfect dusky, soft nude pink I created for Penelope Cruz. It's the most universally flattering lip color in the collection. You have to try it!
How has your look evolved over time?
I believe that as you grow older, you can enjoy wearing more makeup. As a teenager, it's nice to leave your skin clear with proper care and very little cover. And I also believe that the color palette should get softer. Instead of a severe black Feline Flick, I use browns and softer, warmer coppers around my eyes to bring out the green. For my brand, I now have a whole wardrobe of makeup looks that I choose from depending on what event I'm going to, whether it's day or night, or what mood I'm in.
How do you keep your skin so radiant? What does your typical routine involve?
I take incredibly good care of my skin. My mother always told me to stay out of the sun. Her motto: "The sun is the ultimate sin for your skin!" I wear an extremely high protection factor when I'm outside—Institut Esthederm SPF50 is divine and doesn't irritate my pale skin. I start every day with my Multi-Miracle Balm cleanser and my Clarisonic. The Multi-Miracle is a genius balm that not only rigorously cleanses the skin, but also lifts, plumps, hydrates, and smoothes out wrinkles—and you can even use it as an overnight mask. It works wonders if you're tired, dehydrated, or hungover! After a stressful week, I also like to calm and compose my skin with a hydrating mask from Guinot. An eye cream—or an eye mask for real SOS situations—is a must; I love Crème de la Mer The Eye Balm Intense. And I swear by Sisley's Sisleya Serum which is nourishing, calming, reviving; it's a real luxury. And my "Take It All Off" Eye Makeup Remover, which is my answer to the effortless wipe, but much better for your skin!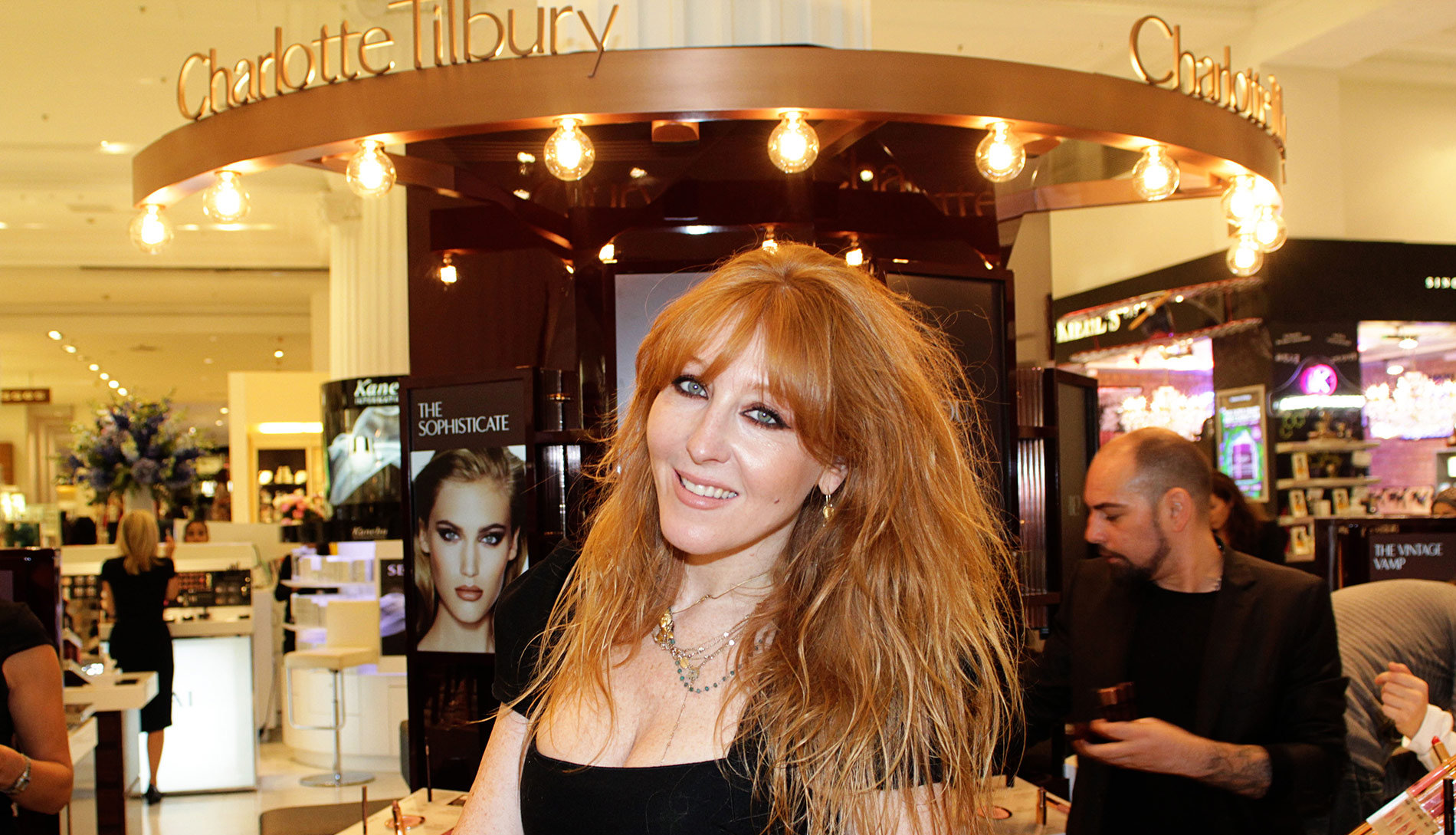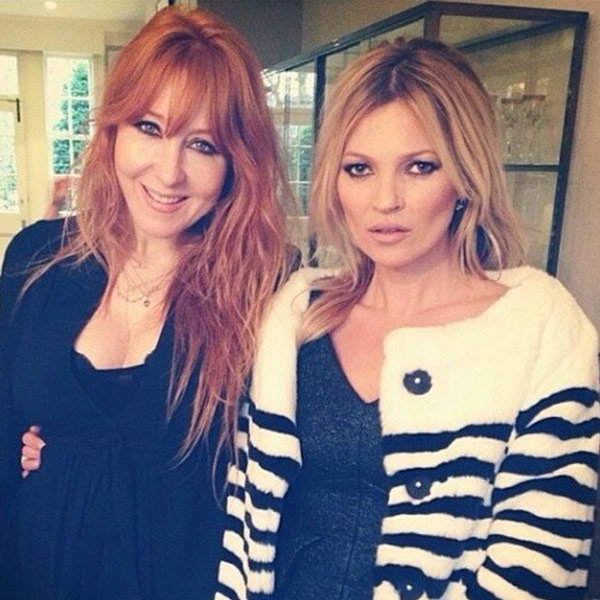 Kate Moss is one of your clients (and a close friend and godmother to your son Flynn, too). What's your favorite look you've done on her?
Kate and I are old friends, and we've been working together for years, so it's always great with her. She's such a chameleon and can embody so many looks. A favorite is the Rock Chick with a Feline Flick—she inspired this look in my collection.
Can you name some of your other all-time favorite faces you've worked on?
Cara Delevingne has a fresh-faced, unique look and is such fun to work with. Penelope Cruz is the iconic Bella Sofia—gorgeous skin with dark, sultry features. And Liberty Ross is stunning; her perfect features mean she can pull of any look.
Fashion Week season (New York, London, Paris, Milan) involves a lot of prep, travel, and long hours. How do you stay energized through it?
CT: I guess I'm very motivated to do it all. I've always been hard-working and don't believe in limiting myself. I'm also surrounded by an incredible team—my sister Leah is a total rock and helps out in my personal and professional life. My nanny is a lifesaver, and I also have a really great brand team, so I know when I'm traveling they're managing the brand in London and keep me in the loop on everything I need to know.
---
Do you ever get creative blocks? Where do you turn for inspiration or what do you do to snap out of a rut?
I read, watch old movies, and go back to Ibiza to renew and recharge every summer. Even the light on the water there can inspire a new range of colors and products!
"I am never without makeup. I even go to sleep in it."
What's your favorite thing to do in your off hours?
I love spending all my free time with my family—my new husband, George, and my beautiful, amazing sons, Flynn and my newborn, Valentine.
How long did it take you to develop your line, start to end?
All my life! It's something that I've poured years of my artistry and expertise into. Ever since I was at school, I was dreaming up a range that was color-coded, enhanced your natural assets, and helped to demystify beauty for everyone. I've been planning my brand for the last 15 years. It's been my life-long ambition and passion. I can't believe it's finally happened and I'm so proud of it.
What's the philosophy behind it?
What really drives me is sharing the power of makeup. As I always say, beauty is not an exclusive club—there are no unattractive people, just some who don't understand the power of makeup. Usually, if someone doesn't engage with makeup it's either because: they don't know how to use it, or what to use, or they're afraid of a bad result. I wanted to set my brand apart from this with easy to choose, easy to use products. The artistry is in the products themselves, so much so that I'm practically taking myself out of a job!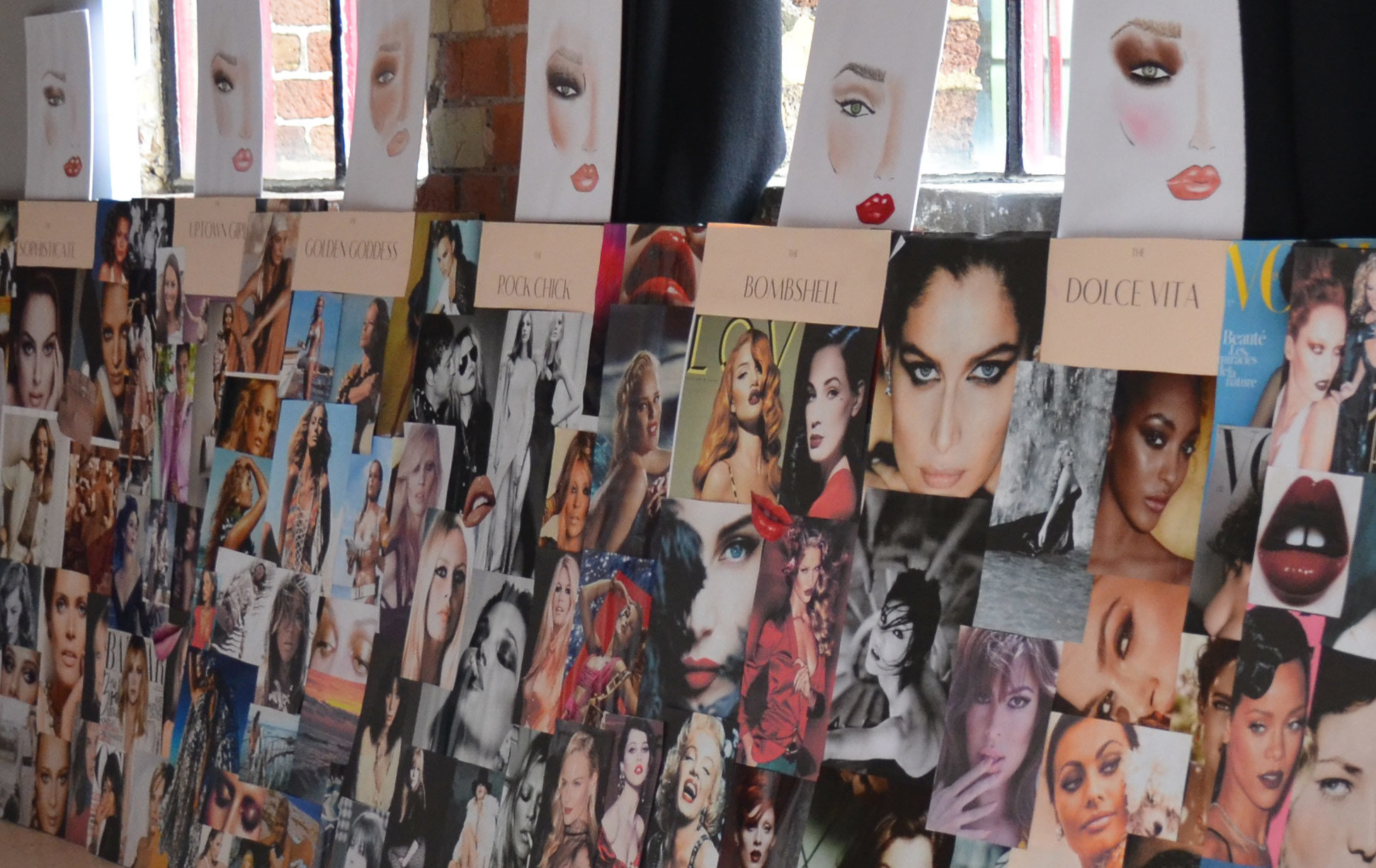 Magic Cream is your signature product. Can you tell us the story of how it came to be?
It's a recipe that I've been using and perfecting backstage for years—the name came from models, designers, and photographers, who deemed the concoction Charlotte's Magic Cream. I swear it can cure any skin crisis—it truly has a touch of magic in it! The models at Fashion Week stalk me for it. I always begin that month with a plethora of mini jars weighing down my tote, and leave with a surprisingly lighter load as they've all been begged, borrowed, or stolen! And now it's become my best-seller.
What makes it so effective?
A mix of rose hip oil, camellia oil, and vitamins A, C, and E transform dull skin into luminous, mirror-like skin. There's damask rose water to stimulate skin regeneration, frangipani to soothe and purify, and hyaluronic acid and BioNymph peptide complex to promote cell renewal and collagen production. All of that plus a little magic, to keep the mystery alive! The product instantly turns around dry, tired, and hungover skin. I always start every look with Magic Cream, which literally floods the skin with moisture. To create a beautiful painting, you need a beautiful canvas.
Who can wear your signature "Feline Flick" (i.e. a cat eye)? Anyone?
Feline Flicks look great on everyone; they draw out the eye line, creating the illusion of bigger, alluring, and mesmeric eyes. Girls with hooded eyelids may need to spend a bit longer perfecting the shape but it's definitely achievable and flattering for all eye shapes. The feline, smoky eye is my go-to look every day and night. For older eyes, use a softer powder pencil that will glide easily across more mature skin.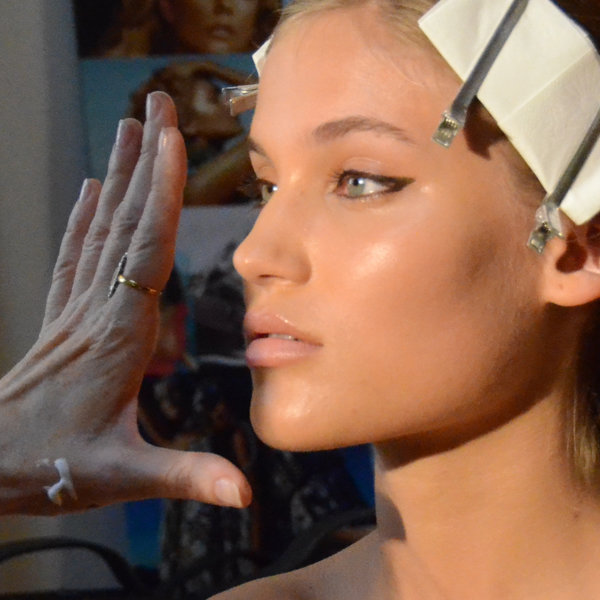 What's something you think most people get wrong in doing their own makeup?
Not blending foundation properly is a common mistake. A lot of people don't realize you need to blend it out onto the neck and ears for a natural look. You want it to appear as seamless as possible so use a very light, natural-looking foundation. I use my fingers a lot for foundation and concealer because the warmth of your hand helps blend it in. But for more perfected coverage, use a foundation brush. I like one with man-made fibers for liquid foundation.
What's the single most important makeup tool you think people should invest in?
A good set of brushes. To create an expert finish, you need to use what the experts use. All of the artistry is in the brush!
What's next for you?
I'm testing and trialing new formulas. There are SO many exciting ones in the wings waiting to be launched, and I can't wait to share them with you!
---
Design/Layout: k. fabrizio | Producer: Asmeet Sran | Editing: Caitie Schlisserman