Party Monster!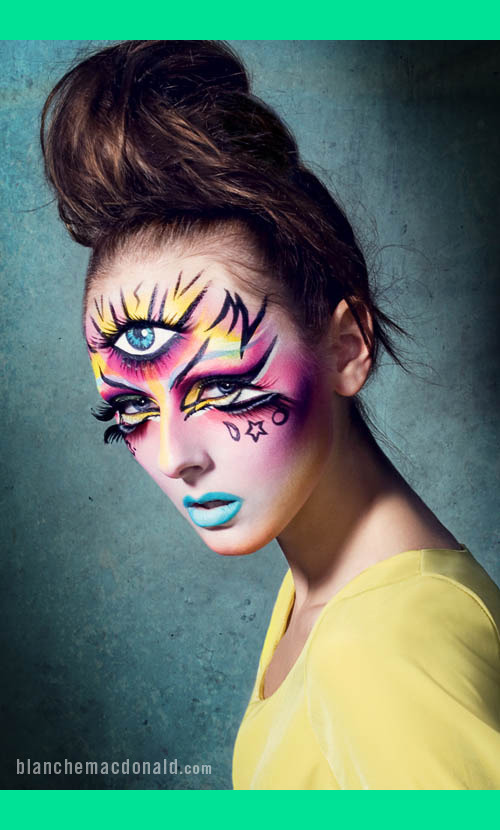 Makeup by Blanche Macdonald Makeup instructor and graduate Jenna Kuchera.



"This "Party Monster" Makeup look is all about creating something that is fun, and a little satirical. Let your creativity take over! Anything goes! My concept is taken from the 2003 movie, Party Monster - a true story about 1990s club kids in New York City. One of the Makeups in that movie includes a "third eye", so I created a makeup with a third eye and made it my own version using bright, fun colours and black graphic lines. 



This is how I did it:


First, I sketched major details of my design using a white eyeliner pencil and buffed on a white cream makeup base and set it with loose powder. For me, its all about using cream makeup to create a base, and then setting it with bright, highly pigmented powders to create a lot of opacity. Little by little, I contoured and highlighted my model's face with a pink and yellow palette with pops of acid green and blue.



To keep the blending of bright colours from looking too fuzzy, I cleaned it up with black eyeliner and cake makeup, drawing black graphic lines around the eyes in sort of an "alien Egyptian" design, beaming from the third eye and for shapes under the eyes. This helps to break up the design of the makeup and make it more visually interesting. Then I added huge false lashes on the upper and lower lash lines and also around the painted third eye. After painting on a bright blue lip, I finished my look off with a little sprinkle of blue and white glitter all over!"
Comments
Photo By