The Terrifying Talents Of Lex Of Made U Look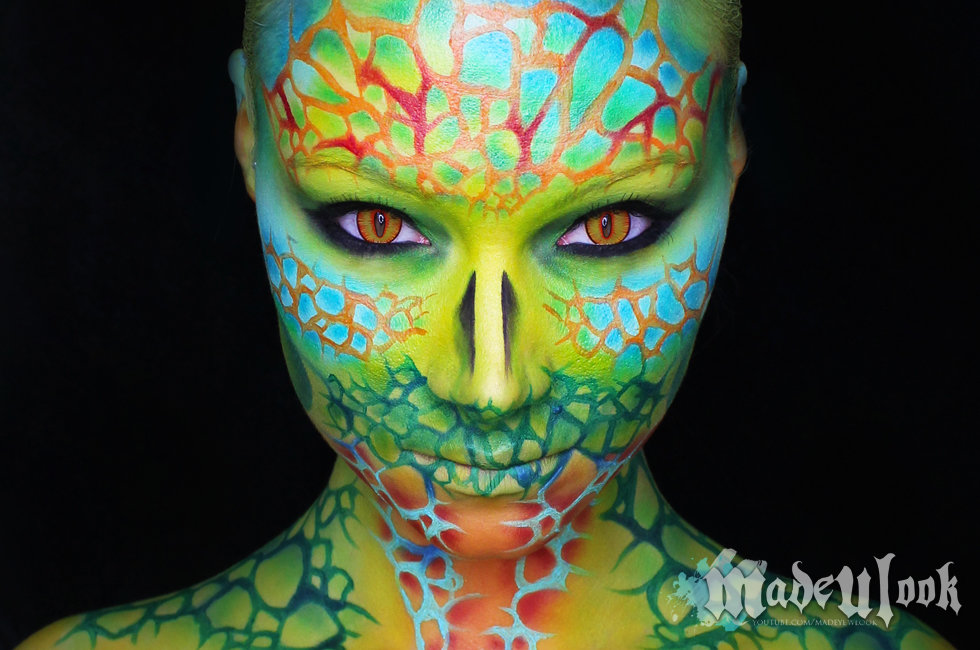 Ambitious girl, sinister clown, walking zombie… when it comes to identity, Alexys Fleming, better known as Lex of Made U Look, is a master of disguise and a beacon of confidence (and a Beautylish community member!). Her YouTube channel MadeYewLook has grossed over 33,746,661 views and counting, with viewers flocking to watch her impressive makeup tutorials that feature both special FX artistry and traditional beauty looks.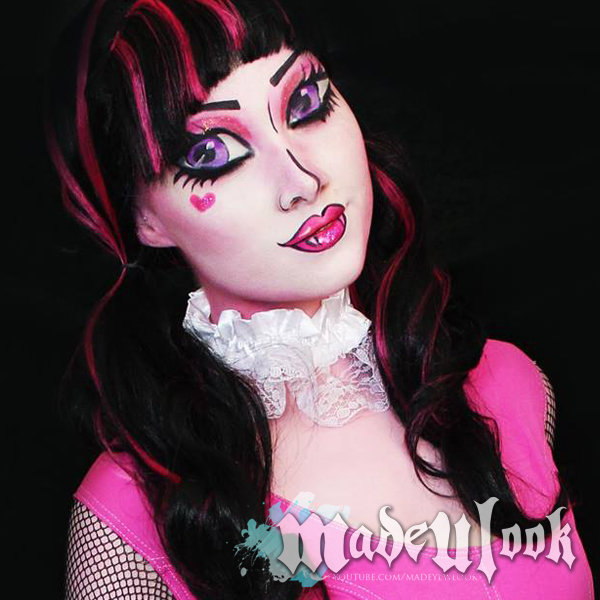 Lex is stunning both in and out of makeup, and it's hard to believe she was a victim of school bullying—an issue she speaks out about often. Struggling with diabetes and acne, Lex found her confidence through cosmetology and body painting—a skill that allowed her to transform her reality as well the way others see her. Only a few years out of high school, she's already working as a successful makeup artist backed by her enormous online following and has even released a line of makeup brushes perfect for creating the amazing looks in her videos. We caught up with Lex to get a taste of what keeps this busy girl going.
Beauylish: You are only 21. At what age did you begin experimenting with makeup? What attracts you to special FX makeup and horror looks?
Lex: I became interested in makeup around age 14 when I realized that makeup could be used for more than just basic mascara application– it could be used for movies and to make monsters. As I grew older, I also began to love that makeup could be used to make people feel beautiful. Although many use it to fit into society's perception of beauty, there are a lot of people out there who suffer from scarring, bruising, or discoloration that they hide with makeup. Makeup can be used to restore our beauty after injuries, or tragic events. It helps heal the mind as well as make someone feel beautiful (or scary) inside and out. I started applying makeup to relieve stress from bullying, and when I had a hard day in school, I would come home and turn myself into classic movie characters to let out all my emotions. Fantasy and horror give the mind a place to escape into a different world, with different beings, personalities, and goals.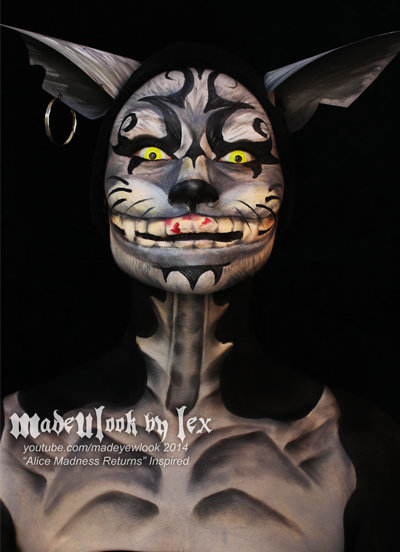 You mention being bullied in school. How did you gain the confidence to overcome those negative experiences?
I always had a hard time with being bullied in school. It started as small problems but later became more severe. I lost all my friends after being diagnosed with diabetes, and things went downhill from there. Individual bullies became groups of them, and people who I thought were my friends turned under peer pressure and stopped speaking to me. People were mean.
I graduated high school a year early to get away from everyone giving me a hard time. I had bigger and better dreams that I wanted to accomplish, and my peers were not going to hold me down. Don't get me wrong, there were many days that I cried, was angry, and wondered why I didn't fit in, but I also knew that not fitting in wasn't a bad thing. I started my YouTube channel in hopes of finding others out there like me, to let them know they're not alone. To my surprise, hundreds of thousands jumped on board with my art and my message. My confidence comes from being comfortable in my own skin. The easiest thing to be is yourself. I love myself, and I hope I can inspire others to know that anyone sending negativity your way doesn't matter for a single second.
You are equally talented at fantasy makeup as you are at beauty looks. Does your creative approach vary depending on the nature of the look?
As funny as it sounds, beauty looks are a lot more difficult for me! It's hard for me to look at a human face and see it as "bridal," or a "gorgeous summer look." In a way, you can say that no matter what look I am doing, beauty or body painting, I need to get in the mindset of the character. Each makeup style gives the face some character. A person can have soft, beauty makeup on, or stern, fierce rocker makeup on, and look like two completely different people. The same thing applies to fantasy makeup too.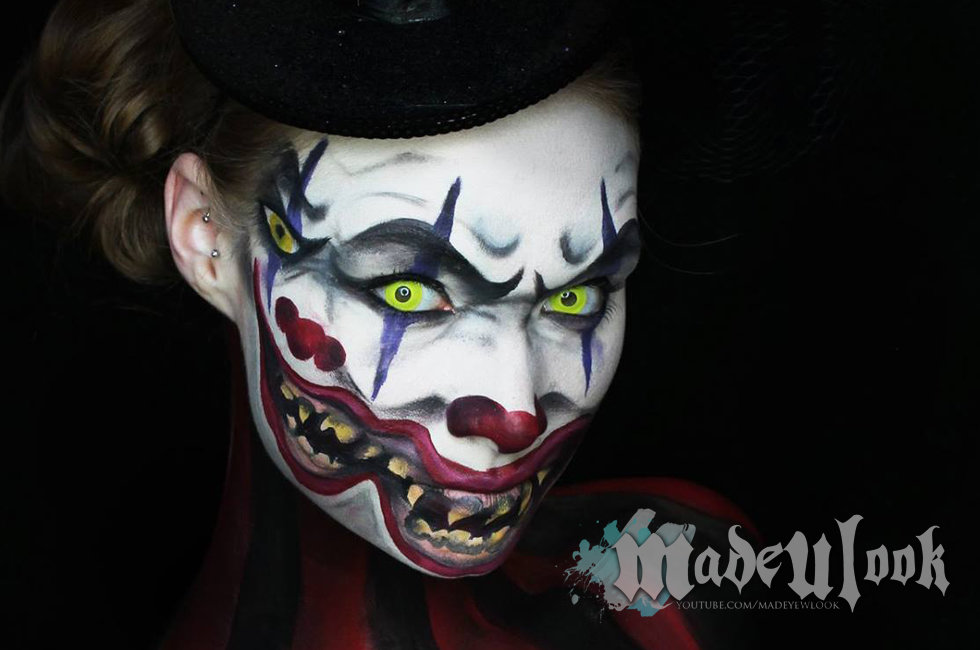 Tell us about your line of makeup brushes! We love that you use them in your tutorials!
Having my own line of products has always been one of my dreams. My brushes are synthetic and cruelty free. As an artist, I prefer synthetic hair over animal hair. While animal hair does have its purposes depending on application, it also has the ability to hold bacteria. Synthetic hair doesn't absorb bacteria, and I've found it's better for my skin (I used to suffer from grade three acne). It's also important to me that my brushes can apply both beauty products and body paints smoothly, since I often incorporate eyeshadows into my body painting looks.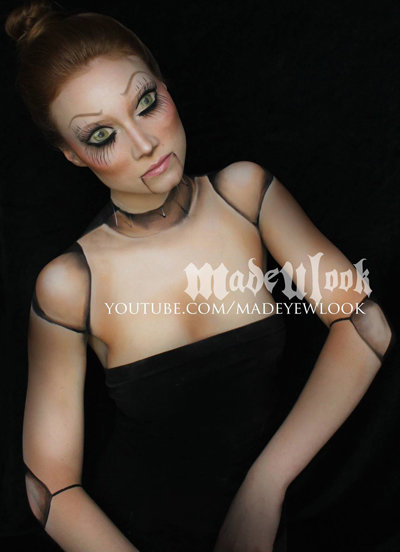 You video tutorials are entertaining while being straight to the point and informative. What are your top tips on creating an effective tutorial?
BE YOURSELF! People don't want to watch you be something you are not, they want to watch you, whether you are doing makeup, baking, or playing video games. You are the content creator, and your videos are yours! Think of them as a piece of who you are. When I started YouTube, I never in a million years thought that I would be where I am today. YouTube is a lot longer/bigger of a job than most realize. I am online from the time I wake up, to the time I go to sleep, seven days a week. Stay dedicated to your channel and what you love to do. Realize that you won't ever know everything. Even the best of the best have something to learn. Do not compare yourself to other people, it isn't about that. Videos are about inspiring your audience, and having fun!
When making tutorials, just remember a few basic things: Always do it because you love it, because you want to inspire others and let others inspire you. If you are recreating another artist's work, credit them, and most importantly, have fun and appreciate those who appreciate you. There are many people in this world who feel like they are nothing, and I take it as a part of my job to prove to them that they can be something, even if it's just following a makeup tutorial on YouTube. They can create.
Do you ever wear your special FX looks out of the house? How do people react?
It's rare that I wear my FX or body paintings out of the house, but that doesn't mean that it hasn't been done! For one convention, I used my mother as a face paint model. I was teaching a class that day, and also ended up painting myself. We were in New York and had to walk back to our hotel in Times Square so we decided just to walk back in our makeup as a full blown green witch and a terrifying clown. We ended up getting tons of compliments from people as we walked by! We passed a restaurant, where one girl nearly dropped her burger after seeing my clown paint.
Although I do enjoy seeing people's curiosity and confusion, the one thing I will never do is trick the public into thinking I am actually injured with FX makeup. That isn't cool. Effects makeup should definitely be used with caution and compassion for others, but hey, there's nothing wrong with walking down the street as a werewolf!
You've come so far with Made U Look in only a few years. Where do you plan to take your skills next?
I hope that my main channel, www.youtube.com/madeyewlook, will reach one million subscribers before the end of the year. I plan to grow my business into new brush lines, cosmetics, and aim to one day create my own line of body paints. One day I hope to get into film and would possibly like to go into production and/or directing. As a diabetic, I also hope to expand MadeULook for a Cure, which is my support group on Facebook, get my own charity events up and running, and spread awareness for diabetes across the United States. As days go by, my dreams keep evolving and growing larger. I plan to accomplish anything and everything that I put my mind to, while inspiring others to do so as well. You are amazing, and you can do this.