New to RCMA Makeup? Here's How to Find the Right Foundations
As foundations go, RCMA Makeup is an industry favorite. Since its launch in 1962, the product has gained a cult following among professional artists for its reliable color matching, staying power, versatility, and superior pigmentation. RCMA's enormous color selection is also part of the line's appeal. Having so many shades to pick from comes in handy when working on multiple clients and skin tones. Yet while working makeup artists are pretty well-versed in selecting the right colors, such a vast offering can be overwhelming to the rest of us looking for the ideal shades for regular, everyday use.
That's where this guide comes in: we'll show you two different ways you can buy RCMA's most popular foundations, and break down RCMA's shade system, which is somewhat complex but broken into different "series" by skin tone, to make shopping easier. Be sure to use our interactive tool below to help determine which shades are right for you.
The idea is, rather than relying on one single foundation color, you find where you fall on RCMA's spectrum, and then have a palette to draw from. From there, you'll be able to accomplish multi-tonal looks (think highlighting and contouring) and custom-blend your perfect base shade throughout the year, as skin gets lighter or darker throughout the seasons. Follow along!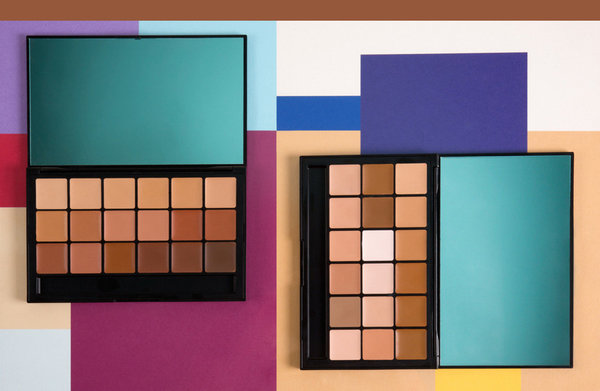 VK Palettes #10 and #11
shades: 18 per palette
Both VK Palettes are ideal for professionals—or anyone interested in having a wide range of shades to work with for contouring, highlighting, and mixing custom shades. Each is a palm-sized compact filled with 18 of the brand's most popular shades, designed to work together on a variety of skin tones, plus an ample-sized mirror. The VK palettes are exactly the thing pros will want to have in their kits—and they're also perfect for narrowing down a range of base shades for yourself. Since everything within VK#10 or VK#11 is designed to coordinate, both palettes are also great for mixing custom colors for a better match for you or a client.
5 Part "Series Favorites" Palettes
shades: 5 per palette
For on-the-go pros or anyone who wants to mix the perfect shade for any time of the year, the 5 Part palettes are slim and portable—each containing five of the best shades within a single shade series. Having five shades within one series can be extremely helpful in producing custom 'in-between' shades, or for ever-so-slightly increasing a pigment's tone and depth, when, say, skin takes on a deeper hue during summer.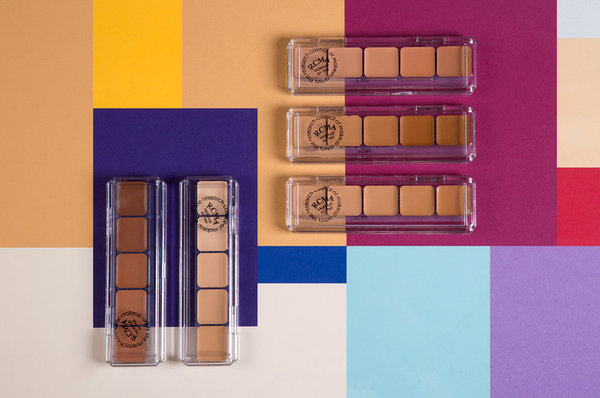 Select A RCMA Makeup palette and explore which shades are right for you.
VK Palettes


5 Part "Series Favorites" Palettes




VK Palette – #10
$72.00
SKINTONE: light to dark
UNDERTONE: neutral, warm, and reddish natural tan
BEST FOR: medium- to tan-tone Caucasian, medium-tone Asian, Hispanic, Middle Eastern, and light– to medium–dark-tone African American skin
VK Palette – #11
$72.00
SKINTONE: fair to deep
UNDERTONE: cool, neutral, and warm
BEST FOR: very fair, light- to medium-tone Caucasian, light-tone African American, and Asian and Hispanic skin
Shinto – 5 Part Series Favorites Palette
$30.00
SKINTONE: light to medium
UNDERTONE: warm (ochre)
BEST FOR: light- to medium-tone Caucasian, Asian, Hispanic, and African American skin
KT – 5 Part Series Favorites Palette
$30.00
SKINTONE: medium to dark
UNDERTONE: reddish (natural tan)
BEST FOR: medium-, tan-, and dark-tone Indian, Hispanic, and lighter-toned African American skin
Olive – 5 Part Series Favorites Palette
$30.00
SKINTONE: light to medium-dark
UNDERTONE: cool (pink)
BEST FOR: medium-tone Caucasian, Asian, and Hispanic skin
KA – 5 Part Series Favorites Palette
$30.00
SKINTONE: fair to light
UNDERTONE: neutral (beige)
BEST FOR: fair-tone Caucasian and Asian skin
KO – 5 Part Series Favorites Palette
$30.00
SKINTONE: light to medium
UNDERTONE: neutral (beige)
BEST FOR: fair- to medium-tone Caucasian, medium-tone Asian, and light- to medium-tone Hispanic skin