Wonderland: The Story Behind Beauty's Fairy Tale Portraits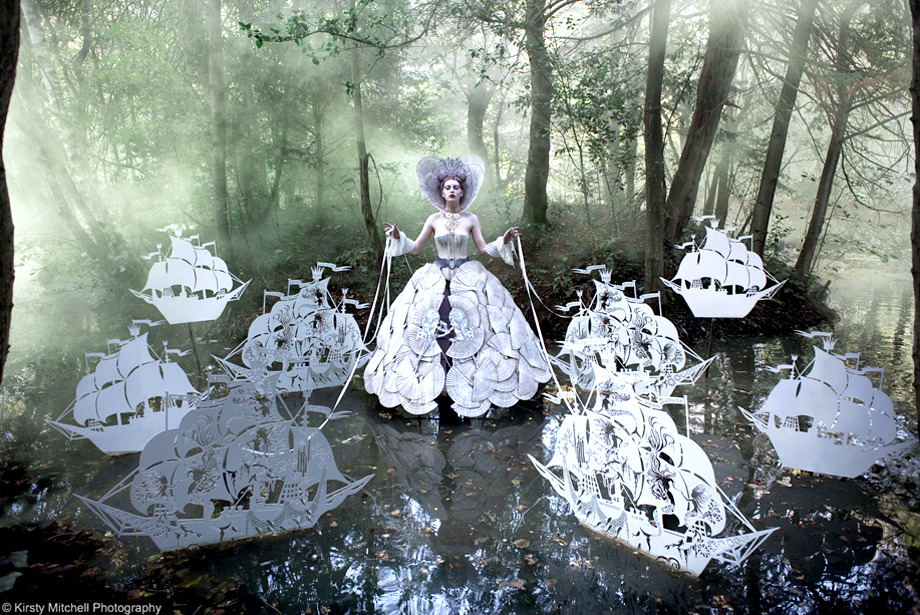 Kirsty Mitchell's "Wonderland" is a character-based conceptual series inspired by love, imagination, and fairy tales.
THE PHOTOGRAPHER and costume designer didn't expect press and attention when she started photographing mythical characters in the English countryside, but after three years of shooting and over 60 surreal, hand-styled images to her credit, the story (and the design) behind the look is beloved worldwide. Kirsty's tale began in 2008, reeling from the death of her late mother Maureen (a former English teacher). To help her cope with the passing, she retreated into the fabled stories she grew up hearing, and decided to interpret her mother's alternate, idyllic universe through a new lens—the photographic series Wonderland was born. Set in the pastoral backwoods of Britain, Kirsty visualized the mystical creatures that lived inside of her head to the real world—carefully entwined in cavernous trees, dancing among vibrant flora, and laying in melancholic fields—with little to no digital alteration.
Kirsty, who previously held design positions at Alexander McQueen and Hussain Chalayan, was meticulous in her craft, and would sometimes hold a shot back 12 months just to include spectacular fields of bluebells which only appeared a few weeks in the year. The end results were worth the wait, and the haunting, romantic images continue to linger in the mind. A true display of British talent, her photos have even been showcased in front of Karen Millen's flagship Regent Street store, a custom installation celebrating the Queen's Jubilee.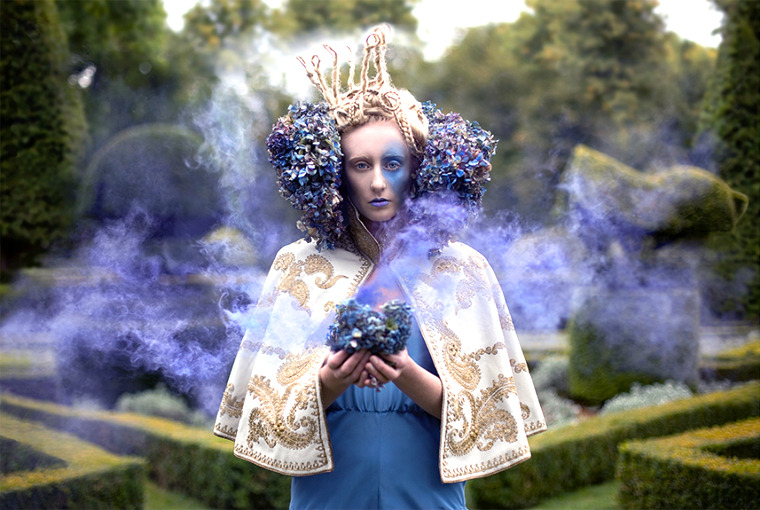 The painstaking attention to craftsmanship in the costume design is rivaled only by the otherworldly hair and makeup, designed by Elbie van Eeden. What started as a professional relationship between Kirsty and Elbie blossomed into a deeper friendship (Elbie was recently Kirsty's bridesmaid!). Joined together, both minds envisaged a realm where magic is possible, and majestic queens, druids, and mythical beings reign supreme.
Elbie was kind enough to offer her insights and a behind-the-scenes view into the series, which blurs the lines between fantasy and reality.
B: How did you first meet Kirsty Mitchell?
We met in 2009—we commented on each other's Model Mayhem portfolios. Wonderland was supposed to be a small project, but it just blossomed into something else. After Kirsty's mother's death, she went for escapism. The whole concept of Wonderland was to create a storybook of pictures.
B: When did you realize the project was bigger than it was?
Kirsty has such an amazing imagination, and she just pushes to get the results that she wants. We kept going and we're now over 60 pictures in the series—there are 10 left.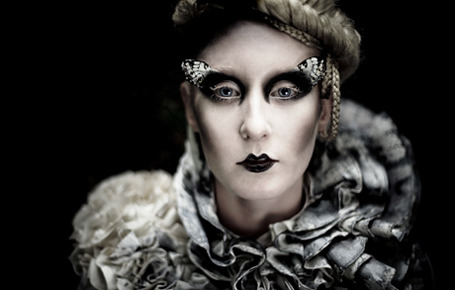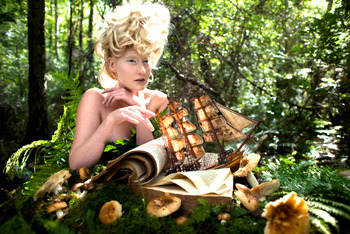 "The whole concept of
Wonderland was to create a storybook of pictures."
Elbie van Eeden, Makeup Artist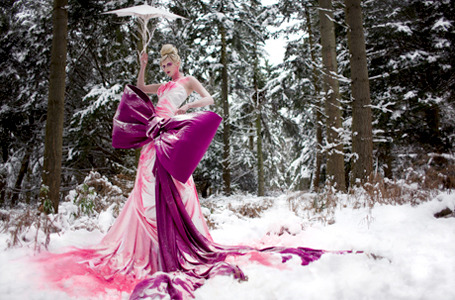 B: What role did you have in the character development?
Kirsty would think of these ideas, dream up images and inspiration from movies and different eras, different cultures. Then she would talk to me about it and share her images. I would do makeup and hair trials and show her through emailing. Now we've gotten to such a level that we're exactly on the same page—we can finish each other's sentences. It is quite collaborative.
---
B: How did you develop the ethereal color palette?
It very much depended on the scenery. Those kinds of lavenders and blues bloom in the flowers two weeks out of the year. I actually finished most of the makeup on set. When you're in that scenery you can actually feel the colors come to you. It feels less contrived. It all sounds really silly, but it comes to life.
B: It's very true.
I think hair and makeup has to tell a story, it's crucial to carry an idea through hair and makeup in a way that doesn't overpower. That doesn't mean it should be a normal smokey eye and red lip. It could be something much more out of the box.
---
B: And we can't ignore the magnificent costume design.
Kirsty gets an idea and she's such a perfectionist, she's so insistent on translating it to the camera. We go to hardware stores so often—that's actually where most of our money goes to because nothing like that is ever pre-made. We don't have a big budget, it's all coming from our own pocket. So Kirsty comes up with these ideas, then we sit together in the garden and work on it. We've ran to get fresh flowers in the fields at five in the morning. Things like that happen, it's part of the fun.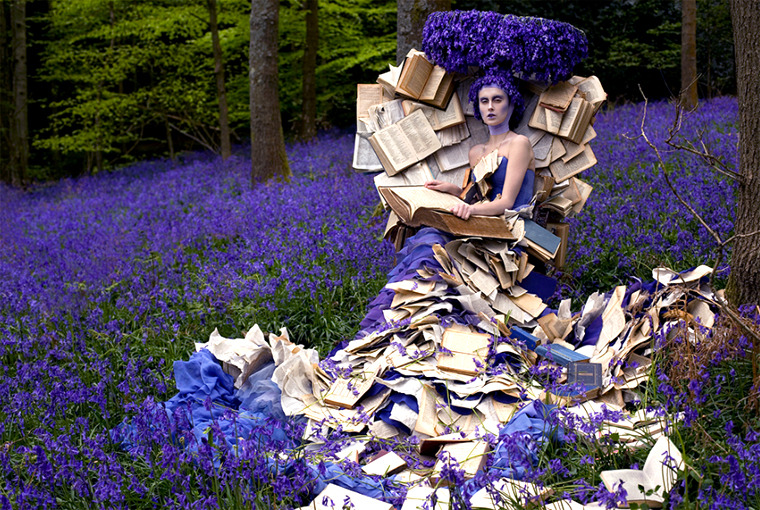 "We've ran to get fresh flowers in the fields at five in the morning. Things like that happen, it's part of the fun."
Elbie van Eeden, Makeup Artist
---
B: You shot deep in the English countryside—what was it like shooting and how did you pack your kit accordingly?
You know about the English weather. We had to wing it every time it rained. You had to push through it, but we were lucky—every mood was created because of the weather, and it just added to it. Most of the time, I don't use a big kit with me on set. I just use a small kit bag to carry with me, otherwise it attracts too much attention. I don't have anything too 'professional-looking' on site.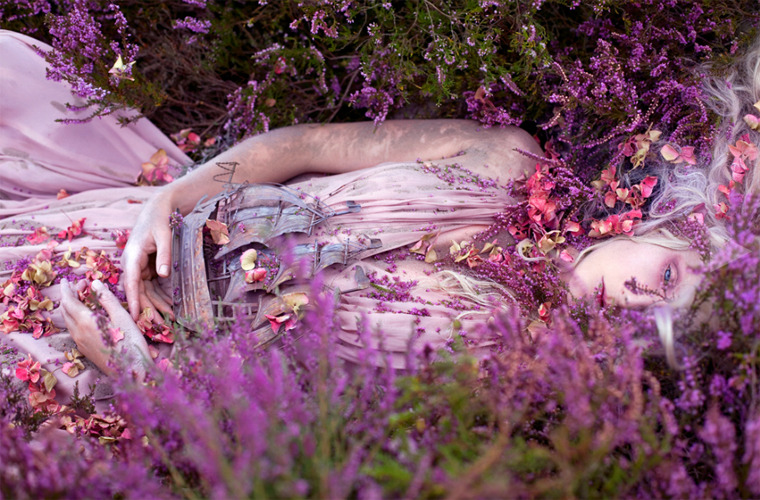 B: The one photo that really stands out is the Neo-Geisha, with her contoured lips and black brows.
I have to stop myself from laughing right now—that was such a fluke, it's me! The day of that shoot we found ourselves without a model, and Kirsty just said 'you're going to have to model for me.' We didn't want to waste a day not shooting in the snow, something really had to pop against it. The flower umbrella was made for a shoot years ago from fake flowers. The hydrangeas around my face were from around the house—we spray-painted them. The makeup just all fell in place with the kimono on, with big overdrawn lips. Actually, it's one of the most popular photos, and we just had an inquiry from a Vegas casino wanting to buy a huge limited-edition print!
B: Hilarious! What was the story behind this particular character?
It was such a quickly put-together shot, there wasn't a specific story behind it. So many people read different things about it, the red pigment in the snow looks like a trail of blood, etc. Seconds before we snapped the photo, Kirsty said the shot needed to have something between the tree and me to create more distance and dimension.
"I have to stop myself from laughing right now—that was such a fluke, it's me!"
Elbie van Eeden, Makeup Artist
talking about Spirited Away (right).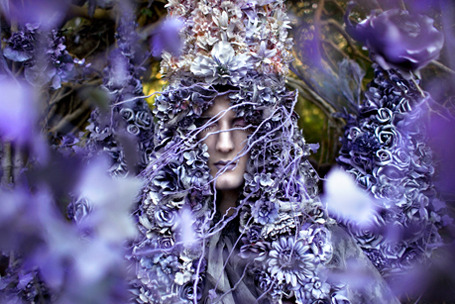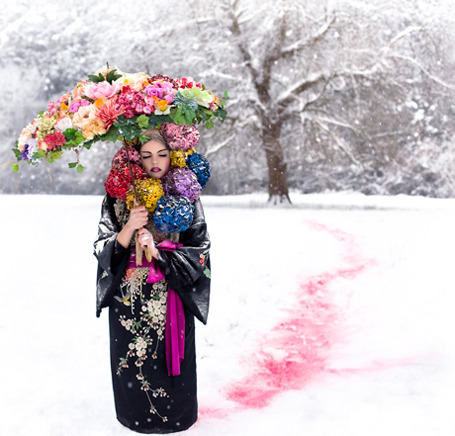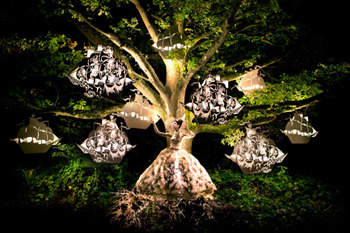 B: Which makeup did you use to achieve the gorgeous colors and textures?
I can't be without my Make Up For Ever Flash Palette. It's an artist staple and I use it for everything. In the picture of the king, I used the Flash Palette on his lashes, and mixed all the colors for his lips, which are a sort of powdery blue. I also use a lot of Illamasqua products. I love their pigments and precision ink.
B: We know it's hard to choose, but do you have a favorite photo?
It's difficult. Everything has such specific meaning. I'm most proud of the photo with the White Queen, bone key in hand. I plaited the hair as well in that shot. Another favorite is the druid sitting in the roots of the tree. It's quite a dark one, but I just love it.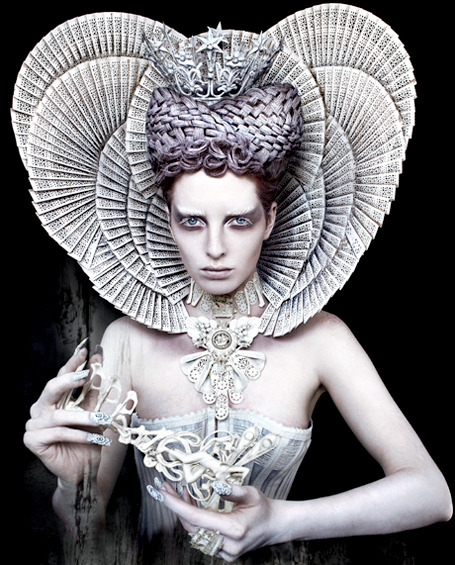 "I'm most proud of the photo
with the White Queen, bone
key in hand."
Elbie van Eeden, Makeup Artist
talking about The White Queen (left).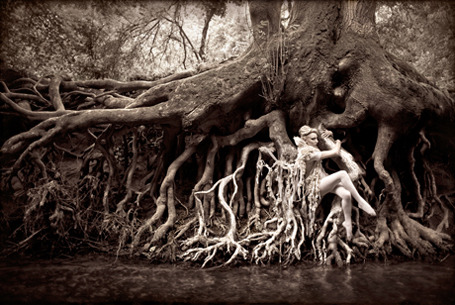 B: What meaning does "Wonderland" have for you?
It's touched so many hearts. So many people have responded to it. Kirsty constantly emails me stories. People feel like they can create something and become inspired because of the story and the pictures. There's worldwide support, it's really been such a journey.
B: What can you say about the last 10 photos of the series?
The colors will be a little bit darker. The whole series is made to be looked at as a story, and it will eventually go towards an end.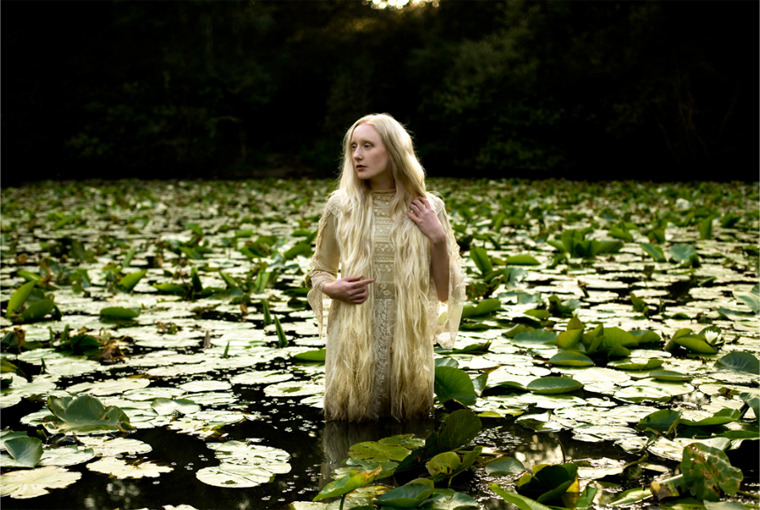 B: What fuels your creativity?
I've always been interested in conceptual shoots. I grew up on a farm in South Africa, so I've always been surrounded by beauty, by nature. My mum used to be a fashion designer, and always encouraged and ignited my imagination. I studied hair in Johannesburg, but came to London five years ago, self-taught in makeup. I didn't just want to stick rhinestones on a models face, I wanted to do something with a little more heart to it.
---
"Wonderland has been a perfect balance of everything that I ever wanted."
Elbie van Eeden, Makeup Artist
---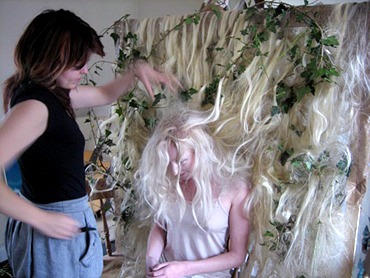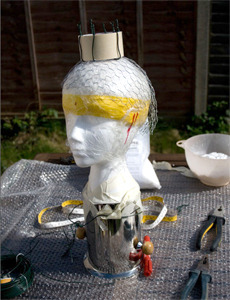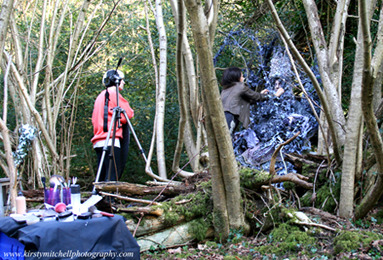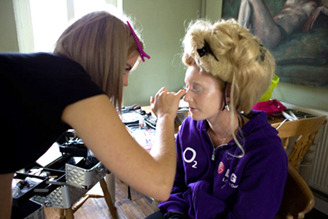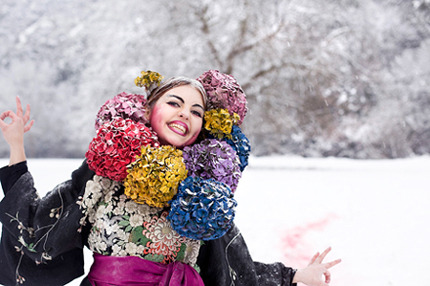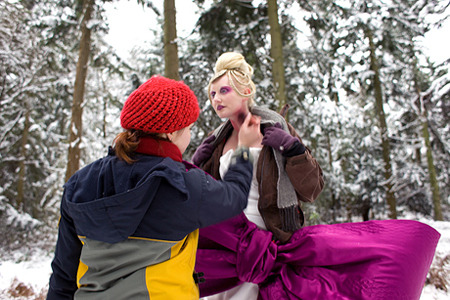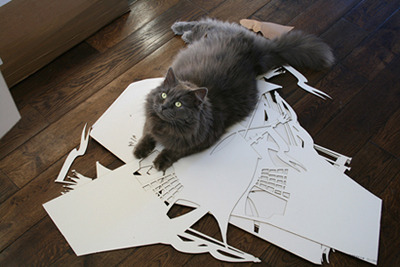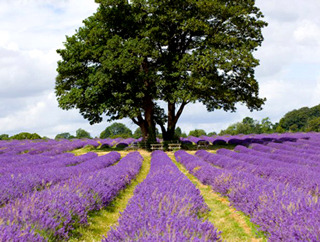 ---