Beauty Product Reviews

Mar 12, 2012
IMPRESSED!
I'm really impressed by these. I find them to be very pigmented and true to color but they also live up to their expectations and stay on the your eyes. I have very oily eyelids and I find that these don't crease up on you. I also find that they make excellent bases! I have 5!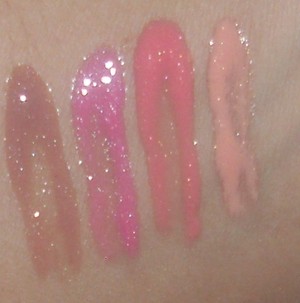 The Best Lip Gloss Out There--In my opinion!
OMG! I feel like I have found the HOLY GRAIL of lipglosses--seriously. I love wearing lipgloss but I strongly dislike ultra sticky lipglosses which is why I have very few of MAC's Lipglasses. They are very pigmented and come in a large array of colors yes, but they are too sticky for my liking. This is why I am beyond freaking out and LOVING MAC's Creamsheen Lipglosses. Yes, I am aware they have been out for a while, but I like to really try products out for a while before I tell people that they are awesome. After almost a year of using them I think it's safe to say that these are the best lipglosses I have used to date. Although they don't have as large of a color selection of MAC's Dazzle and Lipglasses they are perfect for everyday wear and are very long lasting and smooth on your lips. Even as the gloss wears off it still looks nice on your lips whereas many lipglosses get chunky and clumpy and gross after about an hour.
HOW I APPLY: Moisturize lips first, wait 2 minutes, and apply. Pros: not at all sticky, smells excellent, lots of product, long lasting, smooth
Cons: $$$, not as pigmented as MAC's Lipglasses, medium range of colors
Repurchase? YES
Rating: 4.5/5 (Would be a 5 if there were more colors!)
[Colors pictured are: You've Got It, Right Image, Partial To Pink, Fashion Whim]

Creating a dewy finish never was this easy!
I bought Benefit Moon Beam last summer because the Makeup Artist at Benefit convinced me that Moon Beam would work much better with my skin tone than their other similar produce: High Beam. At the time however, I wasn't convinced. It stayed in my makeup drawer until about 7 months ago when I pulled it out and began using it on my good friend who has a problem with very dark under eye circles. I figured, 'what the heck, I don't use this and who knows it might work'. I mixed the Moon Beam with her concealer and proceeded to conceal her eyes as I usually would and LOVED the results. --This is just one use I have found. Moving on: my main use of this product for the past 3 months is doing some MAJOR highlighting of my face. After I apply my foundation and concealer I dab the Moon Beam in 5 places: forehead, cheek bones, bridge of nose, cupids bow, and right under my bottom lip. I then blend the product out with my index finger and powder my face as usual. I have found that by doing this my skin appears as though it is glowing from within as opposed to have an obviously highlight on my cheek bones.
Pros: a little bit goes a long with with this product, long lasting, creates a dewy finish, very subtle Cons: pricey