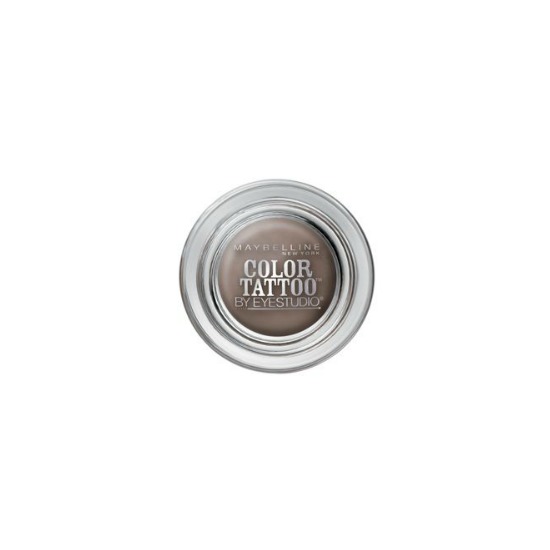 Rollover image to zoom
Reviews

CuteandGirlyDMS D.
Mar 04, 2012
not 24 wear
hello ladies! we obviously all know this product and since you almost all love it i guess i have to be one th unlikiest girls ever since they don't last on me... i have extremely oily eyes and without a primer they last for 3 hours and i don't like that ... i thought they would do a better job...on the other hand i have to admit that when i use them with a primer or a a base they work well..
GREAT!!!
Tough as Taupe is very neutral color that I like to use all over the lids. I use this shade as my everyday look to school.
Too Cool was a disappointment for me because it was too shimmery to be used as a base.
Pros: There's no creasing, I took a nap with it on and it still didn't crease. The price and packaging is great. Cons: I do have to apply more then once to achieve the opacity that I wanted.

Crisstyna D.
Feb 02, 2012
Amazing Shadows & Bases!
So far I've bought 5 of these, and I love them all!! I really want to buy the other 5. I actually like these better than the MAC Paint Pots, because they are amazing as bases, but they are equally amazing as eye shadows, and they DO NOT crease!! They are very highly pigmented, the only one that isn't up to par is Painted Purple, but it's fine with 2 coats. The longest I've worn these is about 15 hours, and it looked the same as it did when I applied them. Also, the don't dry really fast, so you have ample time to blend, and add colour before it dries. I really hope that Maybelline comes out with some flesh coloured ones. I would highly recommend these for anyone looking to have some fun with colour, or someone looking for long lasting colour! I will definitely re-purchase these when they run out!

Great Paint Pot Dupe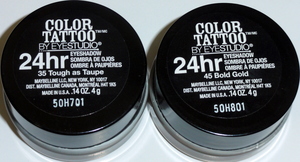 These new cream eye shadows from Maybelline are amazing. They are highly pigment, apply smoothly and last for +12 hours. I know they are advertised as 24 hours with our creasing or fading, and I'm sure they do for people who don't touch their eyes a lot but as someone who rubs their eyes a lot because my contacts can't sit still, they definitely hold up very very well. You can't find anything in the drugstore that will hold up as well as these do, you've got to try these!!

so overhyped.
Maybelline Color Tattoo are a much talked about product among bloggers and makeup fans. These cream shadows debuted in drugstores sometime in early winter, I purchased mine in January, so I'm kinda behind on the review bandwagon. Maybelline says that the Color Tattoo shadows are their longest lasting shadows. Maybelline employed "ink technology to create super saturated color" and "cream gel" formula that "glides on without creasing and keeps color vibrant". Color Tattoo shadows are available in 10 shades, 1 matte and 9 shimmery, 4 neutral and 6 bright, a good variety. I have #35, Tough As Taupe, the lone matte shade. Color Tattoos are ophthalmologist tested and found to be safe for contact wearers and those with sensitive eyes. Unfortunately, Maybelline tests on animals, so please keep that in mind when purchasing their products. I got Tough As Taupe at Ulta for free (Maybelline was bogo 50% and I had a coupon). The average retail price is $6.99 or so. Lets see if these hold up to all the claims. I'm really liking the packaging of Maybelline's Color Tattoo. It's a clear, glass jar with a black plastic cap. The jar features a "Color Tattoo" Sticker, and the cap features a sticker with more info on the product including the name of the product. Color Tattoo have great packaging compared to other drugstore products. The glass jar has a good weight to it in the hand, so it's likely that it's sturdy. Sturdy as it may be, keep in mind it is glass, so don't go tossing it about. The texture of Color Tattoos is supposed to be a cream-gel hybrid with a smooth consistency, meant to glide onto the eyelid. "Cream-gel" is a weird way to describe something that feels an awful lot like modeling clay. Tough as Taupe has a thick, dense consistency that'll likely feel familiar if you liked playing with clay as a child (or as an adult, don't judge me). Because of the thick, dense, relatively dry feel of Tough as Taupe, application is a pain. Instead of "smoothing across your eyelids", it drags, and applies in a patchy, uneven manner. It looks awful. Maybelline says that Color Tattoos are buildable, and I agree, but no matter how much you apply, it'll still look patchy and uneven, and the more you apply, the more likely you are to have creasing. I can't imaging the disaster that would result from trying to blend Tough as Taupe with another shadow. I'm not going to go too far into detail about the color of Tough as Taupe, because there really isn't much to discribe. It's a matte, grey based, neutral taupe with only the slightest hint of brown. The color of modeling clay...am I sensing a pattern here? Tough as Taupe isn't a pretty color, but it's a useful one. A good, solid neutral shade to keep on hand. So lets examine the 24 hour wear claim. Do you get 24 hour, crease-proof wear? No. Close? Not really. I've worn this cream shadow with and without primer and it doesn't affect wear or application at all, so let's disregard that. When worn to work, in the greasy, hot kitchen, Tough as Taupe isn't so tough, it can't even hold up for six hours. Under regular circumstances, Tough as Taupe makes it for about 8 hours without creasing, but there is some fading. Not that bad, but it's not 24 hours. Though on it's own, as a cream shadow, Tough as Taupe doesn't make it anywhere near to it's 24 hour claim, as an eyeshadow base it's excellent. With a powder shadow layered over it, Tough as Taupe probably really could wear for 24 hours, it's indestructible. Even after a 9 hour shift, it stays perfect, not the slightest hint of fading or creasing. That's kinda cheating though, Tough as Taupe is supposed to be super long lasting on it's own, not with help from a powder shadow. With all fairness though, Color Tattoos do last much better than any other cream shadow I have ever tried. Those all crease on me instantly. I can give these kudos for not being an insta-fail, being a good base, and a useful color, but that's not enough to make up for poor texture, application, and solo wear. I'm really curious if this is somehow molding clay in a jar, and Maybelline some how fooled me into believing it's a cream eyeshadow. I definitely think Maybelline Color Tattoos are overhyped. Perhaps its the novelty of a drugstore cream shadow that doesn't suck, and has a fun, trendy color selection. To be fair, it seems like Tough as Taupe has a lot of texture based complaints. Being the only matte shadow in the bunch, it's probably a formula issue specific to this one shade. I'd have to try a different shade to prove that theory, I'll consider it. Despite having it's issues, Tough as Taupe is good for a drugstore cream shadow. It's a really good eyeshadow base. Packaging is good. It's sold at the perfect price point, you get a really good amount for it. It's a value score!

Daytime smokey eye!
These are a great product if you want to try a cream shadow but have problems with creasing. I personally still back mine up with a primer because everything creases on me hahaha. But I find that my UDPP plus one of these will stay put forever:) this color is a great base for a daytime smokey eye or for any darker look. It gives depth without being as harsh as using a black base.

I have at least 5 of the Color Tattoos, but Tough as Taupe is my favorite! I've heard you can use them as a base and a primer for eye shadow, but I always use it after priming my eyes. I love to use this under colors I don't really care for and am trying to use up, and it give the shadow a much more beautiful look! Will repurchase forever!
---