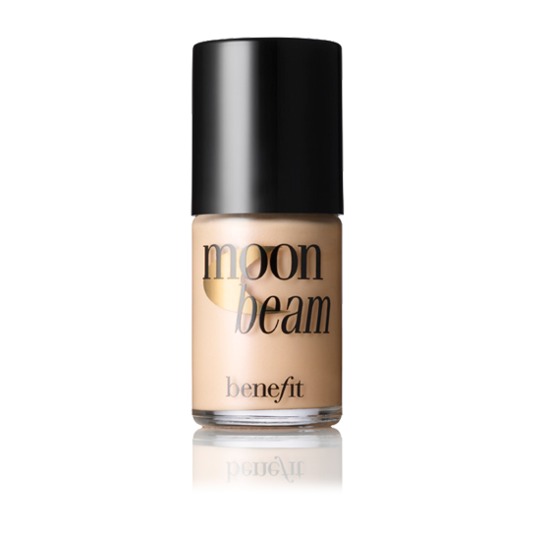 Rollover image to zoom
Reviews

Creating a dewy finish never was this easy!
I bought Benefit Moon Beam last summer because the Makeup Artist at Benefit convinced me that Moon Beam would work much better with my skin tone than their other similar produce: High Beam. At the time however, I wasn't convinced. It stayed in my makeup drawer until about 7 months ago when I pulled it out and began using it on my good friend who has a problem with very dark under eye circles. I figured, 'what the heck, I don't use this and who knows it might work'. I mixed the Moon Beam with her concealer and proceeded to conceal her eyes as I usually would and LOVED the results. --This is just one use I have found. Moving on: my main use of this product for the past 3 months is doing some MAJOR highlighting of my face. After I apply my foundation and concealer I dab the Moon Beam in 5 places: forehead, cheek bones, bridge of nose, cupids bow, and right under my bottom lip. I then blend the product out with my index finger and powder my face as usual. I have found that by doing this my skin appears as though it is glowing from within as opposed to have an obviously highlight on my cheek bones.
Pros: a little bit goes a long with with this product, long lasting, creates a dewy finish, very subtle Cons: pricey

Christina T.
Dec 01, 2010
A sweet highlighter that gives the perfect amount of sheen
I heard amazing things about Moon Beam and the lovely Nymphette (beautylish.com/nymphette) told me that it's a must product for me (she mentioned that this color works great on tan & olive skin). Moon Beam doesn't have glitter or sparkles. It's a lightweight liquid highlighter that you can put just about any where on your face and body. I like to use it on the highest part of my cheeks for a dewy glow. Sometimes I swipe a bit on the bridge of my nose, temples, and cupids bow for an extra sheen. On lazy days, I swipe a bit on my eyelids and mascara for an easy look. If I wear a strapless top, I could see myself using this on my collar bone for an extra glow. I also add a bit into my foundation or tinted moisturizer on days I want a brightening effect to my whole face. Overall, a great product that really livens up your face!

I like moon beam a lot! It's a great highlighter because its not sparkly but it genuinely has a glow to it, which is what I like. I put it under my foundation...it's tough to put it on top because it would probably remove the foundation a bit but it's gorgeous underneath!

perfect glowing skin for any skincolor
This works perfectly when you mix it with foundation to give that dewy glowy look without making you look oily/shiny. It also highlights the different areas of your face and body perfectly. Staying power is good although its best to set it with shimmery powder to make it stay put the whole day.

my perfect GLOW!
I was going to buy the high beam instead but one of my makeup artist pals suggested moon beam would be better for my skin tone. Boy, is it EVER! I must say it gives the most beautiful subtle glow. I don't have to use much so that outweighs the fact it does cost quite a bit. I just dab a little on my brow bones, on my cheeks and cupids bow and my complexion is flawless!

Best multi-use product purchase!
This product works it's best at multi-tasking! You can use this product as a "primer" on your eyelids if you are going to be using colorful, shimmery shadows. You apply this by tapping some product to your lids then dabbing it to blend it all over. Make sure it's still wet so when you apply the shadow, the color will stick onto it and blend within it making the color more vibrant and popping! Another way to use this with the same method is on your cheeks! It's best during the summer because it gives you summer glow especially when you apply a coral blush! And of course you can use this product by itself on your lids or a highlight!
Product itself is very easy to apply with. The applicator is great because you can get the right amount you want without worrying about wasting the product! It lasts for a long time, unless you live in a Summer 24/7 weather climate area!
---