American Gothic: Azealia Banks Shifts to '90s Beauty for 'Liquorice'
Azealia Banks and her newest music video, "Liquorice."
What did I just watch?—was probably your initial response to Azealia Banks and her newest music video, "Liquorice." At first, the clip reads kind of "Kill Bill" meets the wild west, but the beat is addictive—and visually, it's stunning.
---
Shot by world renowned photographer and director Rankin, styled by Gaga conspirator Nicola Formichetti, and set in a dusty ghost town, the "212" rapper duels out her house-y hip-hop clad in a designer spread of gothic frontier threads. Cowboy hats and black leather make up most of the wardrobe, with a little kitschy Americana couture thrown in for good measure.
To keep with the theme of the video, Azealia decided to ditch her popular affinity for bright color (did you see her Paper Mag cover?) with a set of daringly dark, dramatic, and clean makeup looks. Burgundy lips, creamy lids, and glowing sun-kissed skin were the perfect counterpoint to a fiercely winged ebony eye—are '90s neutrals back with a razor-sharp spin? Curious about the 21 year-old's stark new face and the shift away from a vibrant palette, we asked Azealia's makeup artist on set, Samuel Paul, for his insight into one of 2012's most intriguing music video makeups.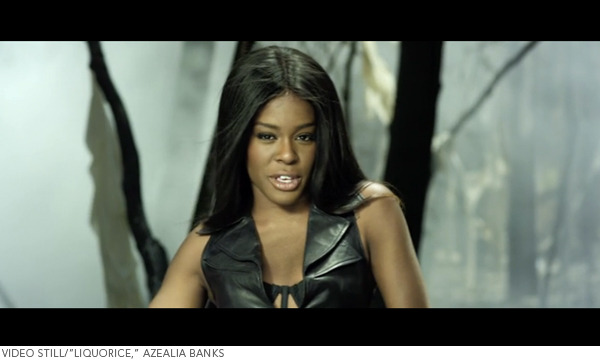 How did you get to be the artist on set?
Samuel:
I've been working with Azealia a lot lately. I just did her Paper Mag cover, and she requested me for this video. Rankin was great, Nicola [Formichetti] wasn't there, but his assistant was on set.
Did you have a conversation about the makeup before the shoot?
Samuel: Rankin, Azealia, and I did have a meeting before the shoot. We just wanted it to be fresh and edgy.
Azealia looks ethereal in the forest scene.
Samuel: That was more of her "star" look. Natural, but really done. The foundation is Black Opal, and I set it with Iman powder. I lined her lips all the way around with MAC Lip Pencil in Hover, and added a tiny hint of satin gloss on top.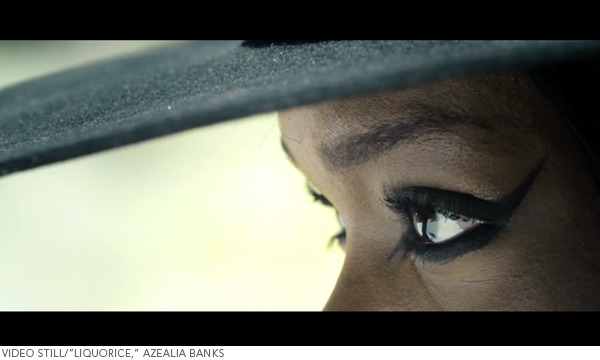 What highlighter did you use? Her skin is radiant.
Samuel: Actually, I didn't use any. I generally don't always use a highlighter with darker skin tones because they produce a little more oil in their skin naturally. So I just avoid powdering the high planes of the faces—cheekbones, bridge of nose—and let their natural glow show.
Black winged eyes and plum lips are a bold statement together. Why'd you go that route?
Samuel: We bounced some ideas around, but Azealia and I decided on a stronger look where she's wearing the cowboy hat and leather pants. Black cat eye liner seemed right. Azealia requested it—she had a lot of say in the makeup. I used MAC Fluidline in Blacktrack, that stuff doesn't budge at all. The sort of plummy, Grace Jones lip seemed to fit.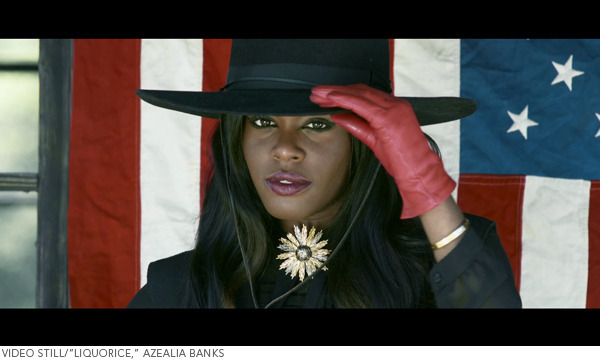 Dark lips are totally on trend right now, and the song is very early '90s UK house-influenced. Is that decade back?
Samuel: It definitely looks like it's making a return in makeup, and she does have that cool house vibe. But Azealia doesn't want to look overdone, she's only 21. She wants to look young and hip. She doesn't want the makeup to be glamorous.
Can we talk about the Americana food scene? The hot dog and popsicles are crazy intense with that lip lacquer.
Samuel: It was juicy. We've been doing matte for a while, and she wanted her lips to look extra wet against her yellow glasses. I layered on a lot of MAC's clear lip glass—haven't pulled that out of my kit for a while.