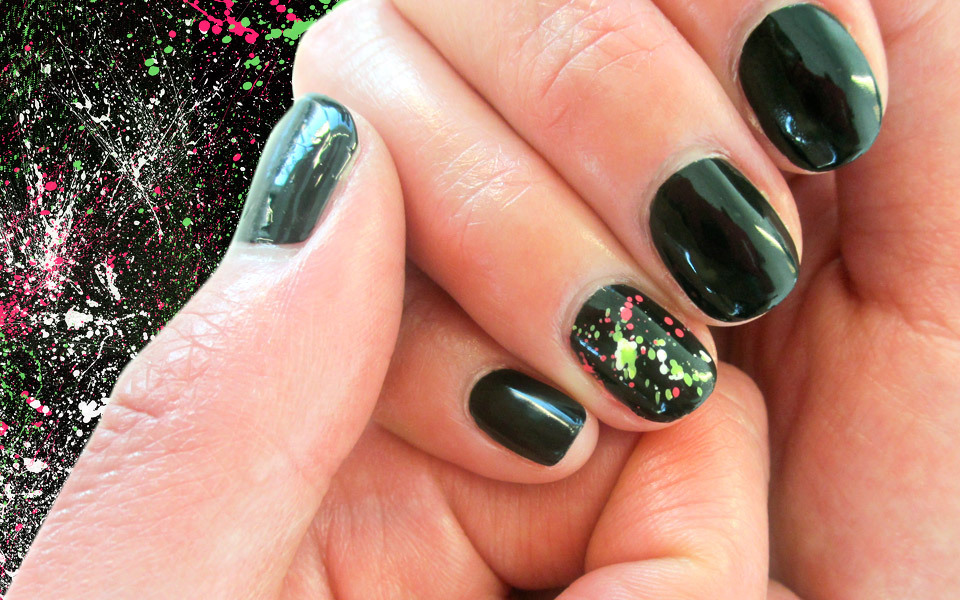 If you're a fan of iconic painter Jackson Pollock or just miss the wacky fashion trends from the '80s, we've got the perfect manicure for you! In just a few brush strokes you can create a wild, funky accent finger that's sure to turn heads. Keep reading as we take you step by step through this easy splatter paint tutorial.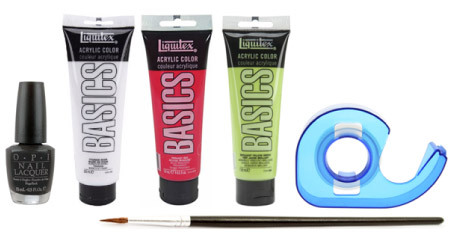 WHAT YOU'LL NEED:
1 black nail polish
1 extra small paint brush
Acrylic paint in white, pink, and green
Scotch or packing tape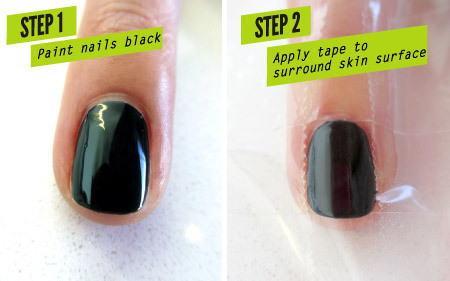 STEP 1
Grab your black polish (we opted for OPI Nail Polish in Onyx) and paint two coats on all fingers.
STEP 2
Use scotch or packing tape to cover any skin surrounding one accent finger (we chose the ring finger). Neatly place 4 pieces of tape on both sides, at the tip, and the cuticle, which will create a square-like opening for the nail. This will keep the paint splatter from getting everywhere.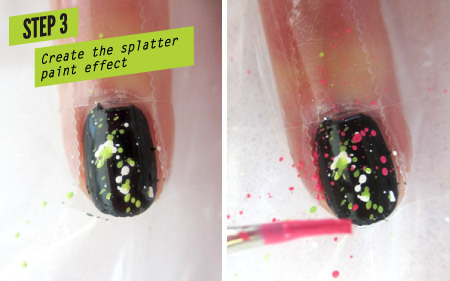 STEP 3
Dip your small paint brush into the white acrylic paint. Position the brush close to the nail tip (but not directly above it) and tap on the handle with your finger.
This will flick paint toward your finger. Repeat this process with green and pink paints until you are satisfied with the design. We recommend three taps per color.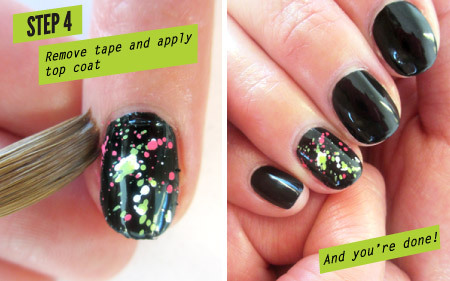 STEP 4
Delicately remove the tape from your finger, and be careful not to smudge the wet polish. Dip a paint brush or cotton swab into nail polish remover and dab away any splatter that may have seeped onto your cuticle or skin. Apply a top coat to all digits.
Since moving to Los Angeles from Japan over 5 years ago, Miwa has quickly established a reputation as the go-to nail artist on the west coast. Sought after for her unique and holistic approach to nails, Miwa specializes in everything from basic nail painting to airbrush techniques and 3D nail designs. Miwa has garnered an impressive roster of celebrity clients including Halle Berry, Marion Cotillard, and Mandy Moore. Her unique creations have even landed her backstage at huge Hollywood events such as the Academy Awards and the Grammy's.
---