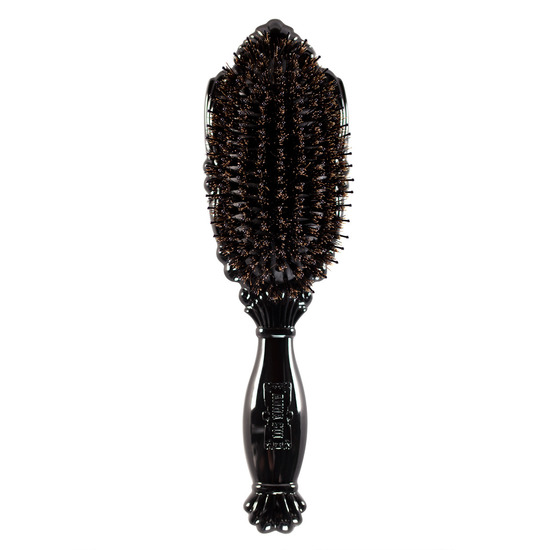 Rollover image to zoom
Reviews
Nov 22, 2012
I can't believe it.
I bought this brush simply because of how beautiful it was. After using it I couldn't believe it. I have hair all the way to the middle of my back and it's hard for me to keep it smooth throughout the day. This brush easily detangles my hair with out force and the results are amazing. My hair becomes commercial like. This brush is a miracle, it makes it extremely shiny, soft and in my opinion beautiful. I def. recommend this brush to everyone who is looking for a miracle or simply anyone who wants to brush their hair like a princess.
LOVE this brush!
Classic shape, great bristles! This definitely makes my hair look great--and keeps my scalp healthy. The massaging tendency helps bring the blood flow back up to my scalp, and keeps my skin from flaking.
Jan 21, 2013
I've owned this brush for a while now. It does what it's supposed to do and my hair becomes silky smooth after I've brushed it through with this brush. It looks pretty too so that's a bonus. The only downside for me personally was that when I dropped it, the whole bristles plate fell out and I had to push it back into the base piece pretty hard. It was a fixable problem though, so no big issue there.
Feels Like A Denman With Class
If you're familiar with Denman brushes you know the bristles are what sets it apart. It softly massages the scalp while bringing your natural oils towards the base of the hair shaft. Not only that but it is THE ONLY brush you should ever use for extensions or wigs. As much as I love my Denman though, he goes back into the bathroom cabinet after use. Now, the Anna Sui brush on the other hand has just as many qualities as the Denman PLUS the fact that it's beautiful. I love the fact that Anna Sui also has a cute brush holder perfect for placement on a vanity. <3
Jun 09, 2014
In LOVE WITH THIS BRUSH!!!
I ABSOLUTLY Love this Brush!!!!! I have really thick Somtimes frizzzzy hair and it gets veryyyy tangly when I get it wet and THIS BRUSH is the one and Only brush that has Everrrrr Detangled my messy hair without pulling and hurting !!!!!! This brush glides like butter n my hair and truly leaves it silky feeling !!!! It Soooo Awsome at detangling !!! This is Truly my Go to brush when I get out the Shower and Soooooooo Worth the lil extra money !!!!!!!!! Oh and Not to mention how Beautiful this brush is and like alllllll Ana Sui it Smells like Roses !!!!!
Best brush ever, hands down.
I got this as gift this year for Christmas, and instantly I feel in love. Not only is it beautiful, it also glides so smoothly through my hair, wet or dry. I have thick curly hair, that easily get knotted and tangled. But this brush goes through my hair with no tugging or pain. I have tried so many brushes, and this is by far the best.
Sep 03, 2013
IN LOVE! A MUST HAVE !!!!
I LOVEEE THIS BRUSH ! IT MAKES MY HAIR SHINE AND SOFT ! I LOVE THAT IT HAS TWO MATERIALS THAT BRUSH UR HAIR, AND THE DESIGN ! ITS A BEAUTIFUL BRUSH AND GREAT QUALITY ! I RECOMMEND THIS !!! A MUST HAVE!
I like the brush for its fancy look and it has worked wonders for may hair. My hair feel soft every time i use the brush and i always carry it wherever i go.
This product is pretty good, but i got to admit it's like many other brush... It deranges well... And the only the thing that makes this brush different is the design
It's okay
To tell you the truth all hair brushes work the same. This brush is expensive and it probably isn't that amazing. A cheap alternative would be a wet brush because those really untangle me and my friends hair. It works with wet or dry hair.