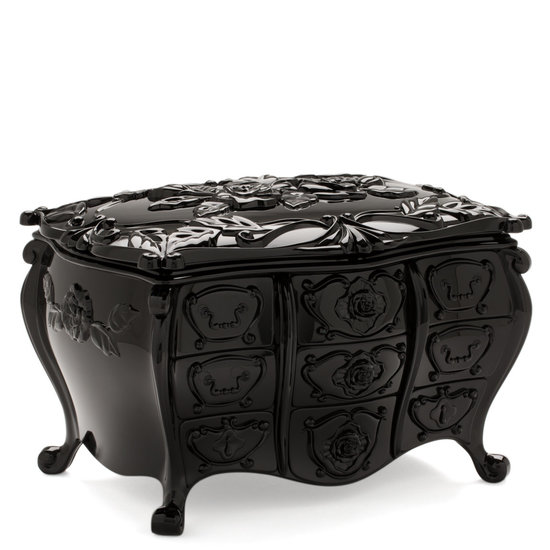 Rollover image to zoom
Reviews

I Was over the moon waiting for box but then it cAme I was so shocked how tiny mine is because all reviews rave about the size and one or two people posted actual photos and mine literally cannot hold
I just wanted to see if any recent buyers had received this beautiful box but smaller than my palm ...it's gorgeous and I'm in love with the design and according to basically all reviews they were blown away about hos big it was! Even someone showed a photo and t then sass estAtic! Until it Came and I cannot put a lipstick inside without the top opening?? So I'm do upset I'm not sure If in the past had a large sized one and the one selling now is closer to just a decoration rather then a functional box to keep my special items ...so um just reaching out if anybody purchased recently is having the same confusion with their beauty box being exact opposite of The description and reviews because my hearts broken because of how gorgeous it is 😢 the pictures I placed a remote for the tv that is is larger then box and then a sharpie marker to reference the Length:::::: and if anyone else can help me even comparing there suprise of his large it is naybe the company will replace the size)? Not one review said its soooo smolll instead every single review was the shock of how large it was,,,, and I want the box those customers received not a down grade that they leave wrong description: I also bought the powder beauty container from Ana sui it's breathtaking but also does not have the color coat to match her collection its just black without the shine just a heads up love you all!! Sorry to write so much but I'm so sad and disappointed that mine can't hold any of my beloved products and it's not adding up from other buyers it was so big and I would lovssss this to be the case but secretly downgrading size my mom and sister changed their mind after seeing Mine::.: so I hope someone can send me the correct size

It took my breath away
I just received today and I have to say it truly took my breath away. Such a beautiful box, I thought was going to be smaller and was nicely surprised. Not only is it beautiful crafted but its a perfect vanity sized box for holding small treasures in.
I plan on buying more from her collection.

Pretty box for the countertop!
I have some storage for my makeup, but more often, I end up leaving it on the bathroom counter. I saw this and took a chance. It's better than expected. It's heavy and well-made, gorgeous and bigger than I thought. SO glad I bought this!

Lisa Marie B.
Apr 30, 2018
Stunning and Classy
This case is beautiful, and best of all it's perfect for my growing Anna Sui collection. The design on the top is very pretty. Anna Sui makes such elegant looking cases. If your thinking of buying this you should, I guarantee you won't be disappointed 💕
---