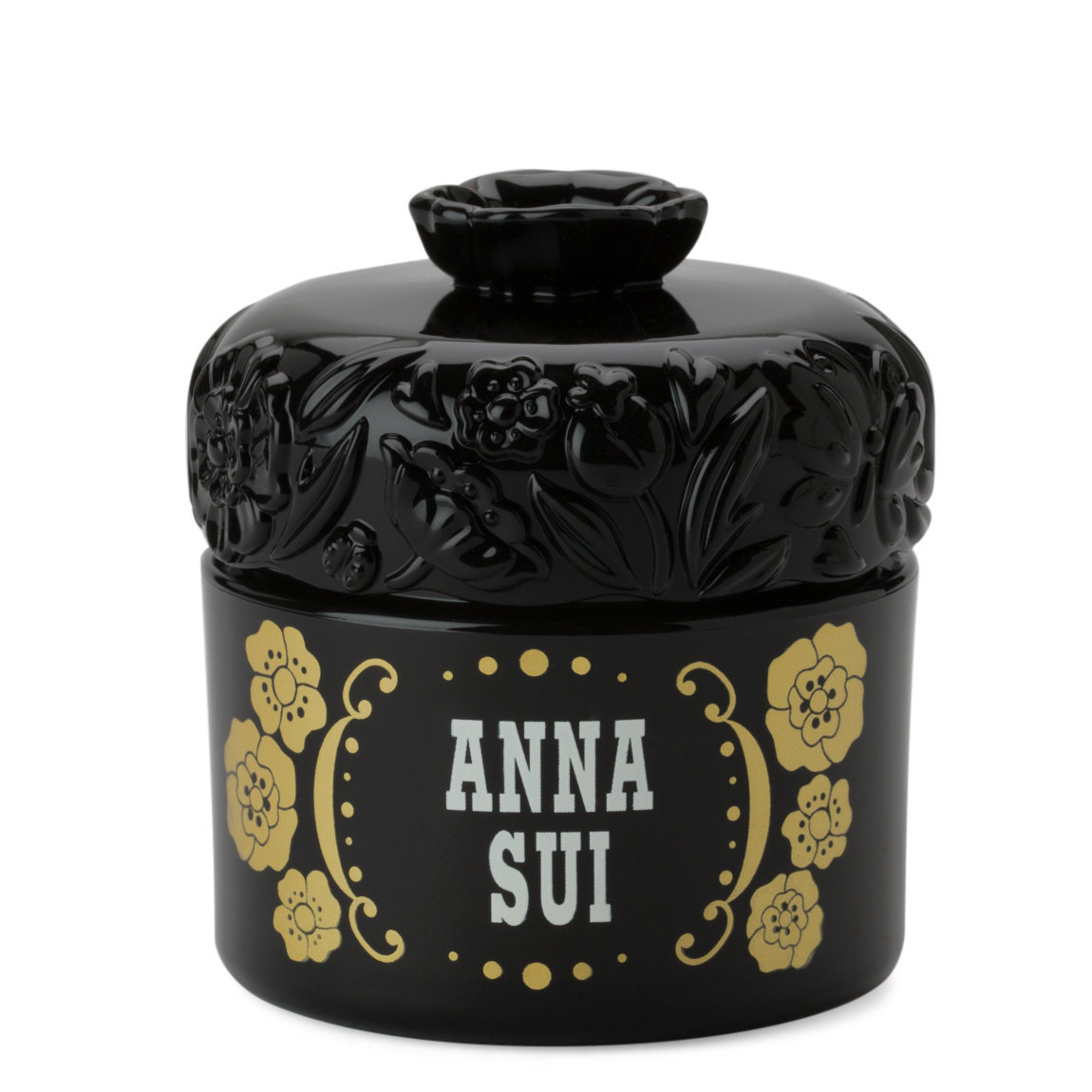 Returning Soon Anna Sui
Gel Foundation Primer
$30
Product Description

About Anna Sui Gel Foundation Primer

Inspired by the rich, creamy texture of the French dessert blancmange, Anna Sui Gel Foundation is an ultra-hydrating primer that conceals pores and moisturizes for a supple, dewy complexion. The unique gel-cream formula absorbs quickly for deliciously smooth skin. Use it alone to even out your skin on no-makeup days or as a base for flawless foundation application.

Why It's Special

The unique gel-cream formula conceals pores and hydrates skin for a glassy, dewy complexion
Offers lightweight, dewy hydration as it enhances the wear of your foundation

How to Use

After cleansing, apply directly to face with hands. Blend in an even, upward motion until fully absorbed. Wear alone or under makeup for flawless application.

Other Details

Ingredients

Shipping & Returns

Free Shipping

Beautylish offers free shipping to the U.S. on all orders $35 and up. For all other orders, we offer $5 flat rate shipping.

Fast Delivery

We ship using FedEx Express (2 business days from order shipment date) and FedEx Ground (3-5 business days from order shipment date).

Satisfaction Guaranteed

If you are less than completely satisfied with your purchase, you may return your order within 60 days (from the delivery date) for a full refund. We'll cover the cost of return shipping within the U.S..

World-Class Customer Care

Beautylish's team of makeup artists and beauty experts are here to help. If you need assistance in anything from color matching to your perfect skin care regimen, we're here to help.

Phone: 1-877-992-5474

Email: service@beautylish.com

Reviews

AMAZING!

Bought this primer on a whim and OMG I am so glad that I did!!! I buy high quality makeup, but no matter what I wore or how much I tried NOT to sweat, my makeup would get cakey and splotchy and just all around yucky looking after about 6 hours of work. Well, I got THIS primer and I was blown away. After a long day of work and hanging with family after and even longer(12-16 hours) my makeup still looked EXACTLY the same as it did when I applied it. Only better. Because this being hydrating, worked its magic on me over the day and my skin looked gorgeous. Glowing. Dewy. Not oily or sweaty. Just PRETTY! Everyone noticed it! I wish I'd bought two or three of these at once because now it's sold out and I am so sad!!!i never ever ever ever want to go without this again. Ever. Ever ever. Made my skin feel great. Look great. Foundation stayed longer applied better. The photo attached is of my face after six hours in an Un air conditioned indoor fruit stand in 100 degree heat. And I run hot to begin with. Been trying to find this primer else where to buy backups but have yet to find it :( I am seriously so impressed. For reference I have normal skin. Sometimes dry. Sometimes a zit or three ;) l This primer will do wonders for me this summer on my bridal clients! Can't wait. Thank you BeautyLish and Anna Sui for hanging my makeup game!

Andromeda M.

Oct 24, 2016

Smells great, looks pretty, but not for people with sensitive skin

Anna Sui's products are known for their pretty displays and flowery scent. And while I had high hopes for this product, I was quickly disappointed. Before even using the product, there was a small piece of paper with info about the product written on it. Most namely, "DO NOT USE IF YOU HAVE EXCEZMA OR PSORIASIS" (or something along those lines).

I was, understandably, concerned about this since I have excezma. But I thought that I better try it before returning it. So I did, on both where my skin is sensitive and where it is (more or less) normal. It began to sting and turn blotchy after several minutes so I washed it off and made a return to Beautylish. Beautylish was great about the return service, so no worries there.

I believe the rest of the reviewers are sharing accurate experiences so this is mostly just a note to people with sensitive skin and skin conditions: save yourself the time, and your precious pores the hassle, and skip on this product.

New holy grail!

This primer is everything! First off I have weird skin. One day it will be very oily, the next it can be very dry (as I live in Colorado) and the next can be normal... so as you can imagine finding a primer is really hard. I stumbled upon this primer and decided to give it try after the reviews. When I first received it I opened it and was hit by a VERY strong smell of rose... it smells exactly like my rose essential oil I have, which rose is good for the skin. Although I do not like the smell since I am sensitive to smells. But I decided to give it a try anyways. I first put it on with my fingers then switched to a brush, because the consisitancy is like a gel. With the brush oh my gosh. SO beautiful!!! It hydrated my skin while also making my skin not oily, it hid my pores and most importantly it DOES NOT clog my pores which says a lot because everything clogs them and by the end of the day I have clogged pore bumps all over my face.... it gave me this beautiful glow!! I can wear this primer without makeup because of how beautiful it is. After my long search for a perfect primer this is it. I will definitely be sticking to this :).

Incredible!

This primer is incredible I can even overlook that it has alcohol as one of its main ingredients. I am in the Army and my foundation does not quite when I have applied this! I can go all day in the heat and my makeup does not slick away like it would normally. It comes in the cutest little pot that deserves to be put on display and a sanitary little spatula to scoop up the formula. Once you scoop the formula it smooths back down in the pot and that is exactly what it does on your face as well leveling your canvas for a perfect application.

Update!

Still obsessing over his Primer 7-8 months later. Got my sister hooked on it too. Makes my skin just... Awwwwmygod. It's great. I've tried others since this one and no other Primer seems to work as well. So sad :( and now it's sold out and it sucks bc I am almost out of my container. Will be back again!

Wow!

This is absolutely the best face primer I've ever used. It applies smoothly, conceals my pores, and gives my skin a healthy glow. I can even skip foundation all together when I use this product. Anna Sui is a recent find for me and I'm so glad I took a chance and placed an order. I couldn't be happier with each and every product I have tried.

Interesting and Cute

The consistency of this primer is like none other that I've ever tried. It does feel gel-like to the initial touch, but once you massage it into your skin it feels very smoothing and I did notice it minimized the appearance of pores. It also smells amazing, so that's important to note lol. I really like the way my makeup wears throughout the day with this primer and will definitely keep using it. You can't go wrong with the adorable packaging with a product this interesting either!

A Little Goes A Long Way

Omg! This primer is nothing short of amazing, I've tried all types of primers, even some that was more expensive then this and I must say there is nothing that I have tried that can compare to the magic thats in this adorable packaging. I'm new to this brand but I am very quickly becoming a fan. This product may seem small but a little goes a long way, and I like the little spatula that comes along with it. I can use a small pea size amount of product to prime my whole face! That in itself is amazing, seeing how I have a round face. I will definitely be stocking up on this product.

YAS

I absolutely love this, it made my makeup literally last all day long. I have acne prone combination skin and it didn't irritate my skin or anything. Kept my oil under control and my makeup didn't look any different even after my nap! Lol. It also filled in my pores which is a plus❤ Have only used it one time but so far I'm already in love.

Pleasantly surprised

I ordered this on a whim and let me tell you how happy I am that I did!! I have been using Smashbox primer for years and this is now the only primer I use. I have never used anything like this. The consistency is amazing and so different..hard to describe..it's like a gel but just melts into my skin. It's truly one of a kind. Surprised this is not all over the place but I am going to order more now because I don't want to be without this gem.