Beauty Product Reviews

Amazing, great colors!
This palette is really versatile, I feel that I can use it for daytime with some of the less glittery colors, and it's perfect for a more dramatic look with the darker and more glittery colors. Urban Decay eye shadows in general seem really well-pigmented, and they have great staying-power, so this palette was a great purchase!
It has a lot of purple eyeshadows, which is a plus for me because purple is my favorite color for eyeshadow (it makes green eyes pop). Uzi is also a great color, I add it in the corner of the eye to brighten the look and make my eyes look bigger.
The packaging is really cute, but it's on the bulky side so I'm glad that I can pull out the eye shadow tray entirely when I want to use this palette.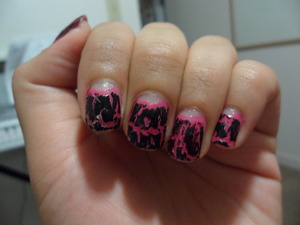 Cool effect, but clumpy
I was super excited to try OPI shatter because I think the shattered look is really edgy. The polish shattered pretty well, but when I ran my fingers over my nails it felt so lumpy! I will try applying less next time, it's the only way I can think of lessening the clumpiness and I hope the effect will be the same even with applying less.
I found the polish for 6$ on Amazon and I thought that was much more reasonable than the full 10$ price.

Great light colors!
I've read a lot of reviews for this palette saying that the colors are too light, but I like it precisely because the colors are light! I bought this because I was looking for soft colors that I could wear during the daytime, and this palette fits the bill. I find that if I want to spice up the look a bit I can just wear a bolder eyeliner (I normally use purple or gray eyeliner when I want to play them with these and I think it looks amazing, and I stick to coffee brown when I want the whole look to be light).