Book of Shadows Volume lll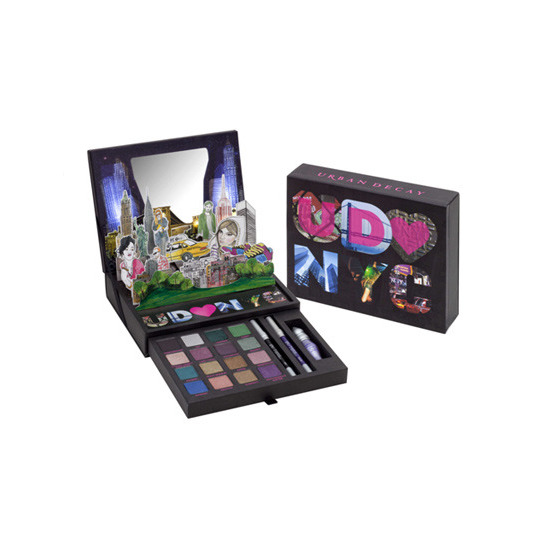 Rollover image to zoom
Reviews

My mom is awesome.
My mom ordered this for me for Christmas a few years back. Of course, it was on eBay so it was marked up a lot. Whatever. I just got to shake my head at her and tell her how silly she was for spending $80 on this palette. Now, onto the palette. I've been fascinated with skylines since I was young so the popup definitely appeals to me. The colors have a nice assortment, you have some neutrals, some for a smokey look, and a number for a pop of color. <3 it. Some of the shades have some fallout.

Amazing! But, Urban Decay's eyeshadows are infamous for glitter fallout!
I LOVE these colors because they are so practical for everyday use. Of course, Urban Decay's eye shadows are incredibly pigmented. I expected that. A few years back, I bought one of UD's eyeshadow palettes and it came with the white color, "Uzi". The glittery flecks from that shadow always fell into my eyes and all over my face. This also happens with Midnight Cowboy Rides Again. These shadows appeared again in the Book of Shadows 3. I expected Urban Decay to improve upon their formula over the course of 3 years, but Uzi and Midnight Cowboy Rides Again stiiiiill fall off onto my face. Disappointing!
But, the packaging is INCREDIBLE! Even the men in my life think it is cool. It lights up! The other 14 colors, are AMAZING. I have been so inspired by this shadow box! So worth thr $39 I paid for it at Ulta.

Nice colours but crazy glittery fallout!
The colours are nice - it's definitely a great addition to a collection. But personally I don't reach for these on a daily basis (I reach for my nudes from Too Faced and UD Naked) but they are great accents every now and again. What I do not like about this palette is the fact that there are no matte shades and all of the glittery shades have incredible fallout. Today for example I had Snatch which is a beautiful peach shade in the palette however the glitter in that shade went everywhere and completely ruined my makeup for the day as I had glitter all over my face! So be incredibly careful when applying these shades as with all UD shadows and try to tap of excess and pat them onto a sticky base like a paint pot or cream shadow.

Love it !!!!
I love Urban Decay a lot,it's my favorite brand of all time,and i just bought this last month from a seller cause when this launches,Sephora nor Urban Decay is not available yet in my country :(
Anyways,i love all of their eyeshadows so so much,they're always highly pigmented and super buttery smooth when being applied on eyes/swatch on skin,and honestly this color is all really really nice,from the greens to the blues to the purples,i just love em' all,i'm so super lucky to grab the last one too ;)

I like vol 2 better (color wise) but you can always make something work but I usually mix vol 2 and 3 colors to get the perfect match or sometimes I just use one shadow from UD and then use others from other companies because I find that these are too shimmery and too glittery. BEWARE if you do your eyes and you want to create a dramatic look then I suggest you do your eyes first and then clean up the glitter with a wipe and then continue with the foundation after.

It's okay
I of course do love anything that is made by Urban Decay, but this palette left something to be desired for me. I felt that the colors were too dark, and did not blend well together. I end up with a muddy mess most of the time when I use this palette. I was pretty disappointed considering it cost $54. I wasn't overjoyed by any of the colors in this palette, especially because several of them were not new colors. If I purchase another book of shadows I will make sure to take a trip to the local Urban Decay counter and see some swatches first.

Great Pigments!
When I am looking for a very colorful and intense eye, this is the palette I choose. The colors are rich with or without the primer. One of the things I love about this palette is they've included some less intense colors so it is suitable for any situation. I just wish it were travel friendly.

love love love!!
This is for sure one of my favorite palettes. The colors are amazing & the eyeshadows are extremely pigmented. Urban Decay eyeshadows are the best ^_^ I love that it comes with two eyeliners & a mini primer potion. When I went to buy it there was only one left & I got it :D lol
---