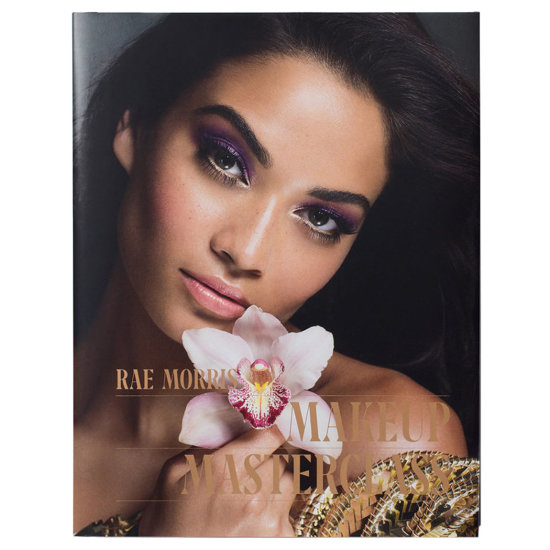 Rollover image to zoom
Reviews

The color printing of the eye shadow color charts are incredible and on point. Essential even for makeup enthusiast like me who wants to elevate their personal makeup skill.
Must have for anyone who desire to learn how to beautify and express themselves through makeup. Its a fantastic book of makeup techniques by a fantastic makeup artist that is applicable daily makeup routine. An essential. Just wow!

delighted with book
First, I have to say that it came in unbelievably pristine packaging and the book itself is lovely enough to place next to my favorite art books on Goya, Van Gogh, et al. This was a pleasant surprise to me. As for the contents, I headed straight for the Eye Phi tutorial as I was so intrigued by Wayne Goss's video tutorial on this eye makeup technique that I wanted to learn more. It really helps me to have the step-by-steps in sequential picture format to refer to. Wayne Goss is adorable and he did simplify it down in his video, so I'm sort of melding the two delivery systems to perfect the technique on my eyes.
I've never read a makeup tutorial book before, but Wayne Goss was spot on to say this is a treasure-trove of information. Both the photographs and the step-by-step instructions are incredibly easy to follow, and I'm definitely not a makeup artist. I look forward to reading the entire book one stunning stratagem at a time.

Very detailed!
I am so glad I spend the money on this book! I'm not even 1/3 of the way thru this book and I have learned so much from it. It had helpful charts, step-by-step instructions on how to complete a look. Rae has really put all of her work into this, easy to understand, book. It has changed the game for me.

Team
For the LOVE of Makeup
I've had my eye on this book for quite sometime. Once I was ready to pull the trigger, Beautylish was out of stock.
I panicked.
I started googling to see where I good buy it. Then I said to myself, "Beautylish restocks give them some time."
The Rae Morris Makeup Masterclass is everything I hoped it would be and more. It truly is a beautiful textbook of the MUA's expert knowledge and talent.
I also appreciate her sharing the tools she uses to achieve various looks. Yes it's her brushes and why shouldn't it be when those are the tools she uses. It doesn't mean you have to buy or use them. You have the option and information to do so or use other tools that are similar.
I have Sam Fine, Bobbi Brown, Reggie Wells, Kevyn Aucoin and other books from the pros. Rae Morris Makeup Masterclass is by far my favorite out of my collection of trade books. Every turn of the page I am filled with excitement.
I am thinking about buying additional copies as gifts for a young MUA I mentor, my daughter and another dear friend. It's that awesome!!!

Worth it
This is a gorgeous book. It is very thorough with great photos and descriptions. I gave it to a cousin who is just getting into makeup and she loves it. It does talk a lot about the Rae Morris brushes but that part was actually helpful for a beginner to see what type/shape of brush works best.

I'm so inspired!
Rae is just amazing. I love how she breaks everything down to its simplistic form. Not only is she a great artist but an amazing teacher and writer as well. As artists especially when working on people explaining what we incision to someone or understanding their vision can be difficult. It is a skill not easily obtained! I've been doing hair and makeup 21 years and this is the best book I've bought yet on our profession! Great job!! Love love love!!

The thing keeping me from giving it 5 stars
This is a great book! I'm not a makeup artist by any means, but I'm a makeup enthusiast and I'm always looking for new tips and tricks. I love that she gives you a wide array of looks to recreate, from simple to bold. The only thing that bugged me about this book is the fact that she's "pushing" her products. For example at one point she says "I think the best applicator is my mascara applicatir (brush No17)". Every time I read something like that int he book, it annoys me and this is why I didn't give it a 5 stars rating.
---