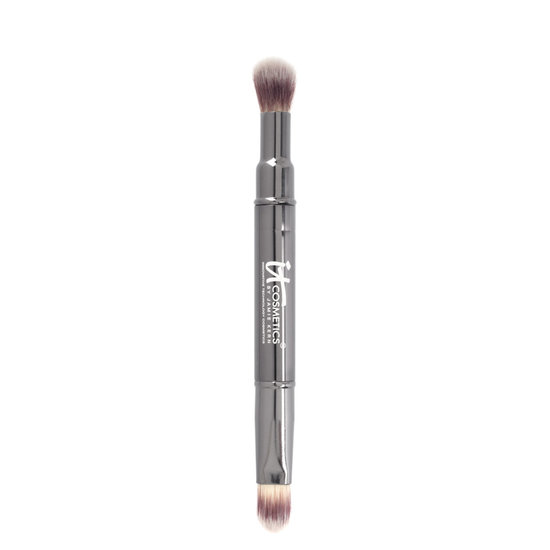 Rollover image to zoom
Reviews

Poorly made
I thought it was just me until I read the other reviews and others online, this brush was poorly designed. I have to actually keep the brush in it's original tube and tape the cap down, because the tops fall off of both ends and it is sooo frustrating...the bristles itself are great, just like all of the IT brushes itself, but unfortunately this brush just got rushed out or something. Also when you try to put the caps back on you have to be super careful like Karlyann said when putting the caps on or the hairs get caught....

No good
This brush is terrible! I have heard very good reviews about IT brushes but the ones I have tried I just do not like and this one is the worst yet. Very poorly made and cheap feeling. The brush heads are not as dense as they should be, they are soft so the coverage is not very good for concealer and eyeshadow. I should have known better as most double ended brushes are not made well. Not sure if I will try another IT brush after this disaster. Cannot recommend.

Poor design, nice brush heads
Both ends of this brush are great for applying and smoothing out concealer. But the design is frustrating. It's hard to get the cap back on the flat brush head without grabbing a few hairs and bending them. The rounded side (used for smoothing and blending) has a telescoping cover that should make it easy to put the cap on and keep the brush hairs all safe, but the telescoping cover pulls out rather easily and then you're left with having to figure out a way to get it back on without messing up the brush head. I have written to iT about this design flaw.
---