Rollover image to zoom
Reviews

Not for dark complexions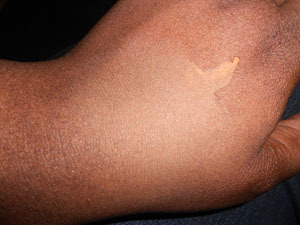 Not a fan of this product. It has a weird medicine smell. The formula is smooth, but it left my skin dry. I actually had the shade Deep, but there isn't a shade that is close enough to my complexion. I took a picture of the cream on my skin after I smoothed it out, and I left a bit unblended for comparison.

loved it!
i have a problem with discoloration spots on my face, and BB cream worked like magic to even out my skin tone and make them disappear. BB cream is part of my every day make up routine, without it I'd probably have to walk around with an uneven skin tone and tons of dry spots on my face.

I found this product light-weight and I liked the dewy finish it gave me. I also didn't react to the product and I have sensitive skin. What I didn't like about it is the fact that their darkest shade is way too light when it comes to African skin tones and it gave me a white undertone which made it very obvious that am wearing make-up on my face. It also got greasy way too fast, even faster on a hot day. I had to keep powdering my face throughout the day.

Seems heavy and didn't like the smell
I was hoping for a bit more I suppose, I think I'll stick with Neutrogena Healthy Skin Enhancer in tan to olive, since it offers multiple benefits and works with my olive skin tone (did I mention I have freckles) Over all it just didn't feel good going on, almost smothering,

HMM??
I really dont know how i feel about this product? I bought this thinking it was going to be great like a lot if people make it out to be but for me, Ehh? This breaks my face out and clog pores. I "NEVER" broke out around the cheek area but after using this my cheeks had a lot of little bumps. I do like the fact that its real light & easy to apply & it does cover most of my imperfections & when i wear it i noticed i get alot of complements on my skin. it looks natural like its my own skin.. i really want to like this cream but idk? i still did not give up on it though, maybe ill try a oil free one..

Great Lightweight BB Cream!
I have to say that I am pleasantly surprised with this product so far! I was a little iffy about falling into the "BB cream hype" that's been going on lately, but I took a chance and purchased this BB cream earlier this week. I have a few acne scars and hyperpigmentation, but I don't like doing the whole "full coverage" routine everyday. With that said, this BB cream has been a great alternative for me!
First off, I love the way it feels on my skin. It's a very lightweight formula that absorbs into the skin very well - it doesn't even look like I'm wearing any foundation! Also, it's packed with Vitamin C and some other minerals, and it has an SPF of 15, which is pretty good I suppose (I use a light medical moisturizer underneath with an SPF of 40, so I'm not too concerned with the SPF value).
It definitely saves me time in the morning from doing a full coverage foundation routine, because honestly, I think that this BB cream provides a good amount of coverage as is. I guess I got lucky with the shade because it sounds like other people were having issues with the limited shades available.
As for any tips, I would suggest applying dots of the cream to your face and then using a foundation brush to spread it into your skin. I initially used my fingertips, but I noticed that it wastes a lot of product that way. From now on, this is going to be my go-to tinted moisturizer! Definitely worth a shot for anyone who wants even toned skin and good coverage! :D

When I originally bought this product, I wasn't 100% happy. I didn't use it for a couple of months, but the other day I was in a rush, and I wanted a natural look. I used this quickly, and fell in love. Even though I have oily skin, I hate to look completely matte. This gave me a nice dewy finish without going overboard, however I must warn you that if you do use too much of this, your face is going to look extremely oily. Because this is a BB Cream, I wasn't expecting it to cover all my flaws. My acne scars are still visible, but because I use this when I want a natural look, I'm okay with it. I mainly use this during school because I don't like the feeling of wear a ton of makeup. Personally, I love this product, and would definitely repurchase this in the future.

Absolutely Love this-Dry Sensitive Skin
I have been using this for about three weeks now, everyday, and I love it. I find the best way to use this is to put a moisturizer first then apply one layer with my fingers and another layer with a flat top brush. It gives very nice medium coverage and I always set it with a translucent powder. I don't recommend this for people with oily skin as it is very dewy but for those with dry skin its a wonderful product.
---