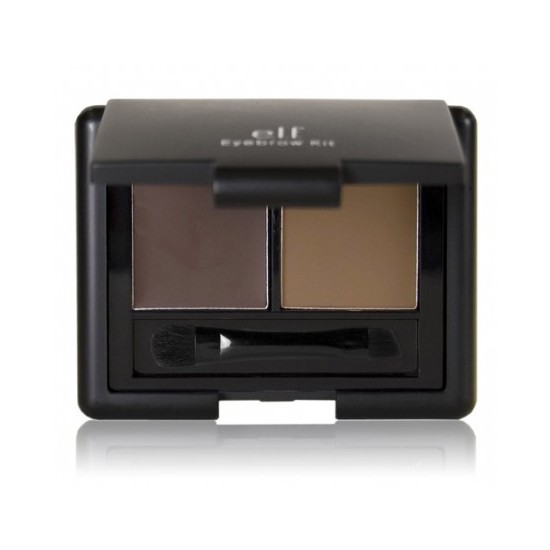 Rollover image to zoom
Reviews

This replaced my ABH Dipbrow💖💖💖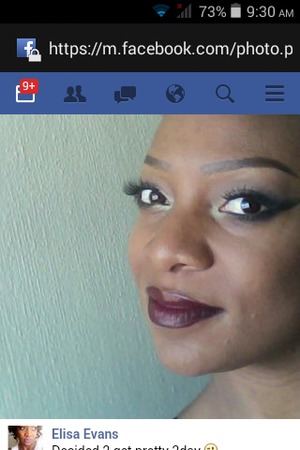 I am in love w/this little thing! The ELF eyebrow kit is a pan of tinted eyebrow gel, a pan of light brown powder (Which I use to gradient the beginning of my brows+as a blending transition color.) A tiny dual-sided brush(Which went right into the trash upon opening, so I can't speak on it's usability.) And a decently sized mirror, all housed in chic sleek black Nars like packaging. For $3USD, yeah I'm impressed.
ELF eyebrow kit VS. ABH Dipbrow: The ELF brow kit in Dark and ABH Dipbrow in Ebony are slightly different from one another in the packaging but a perfect match applied. The ELF brow kit gel has a much thinner consistency than the ABH dipbrow, it is still however pigmented and doesn't take much to build up. I found ABH to be so thick+pigmented that it needs to be applied in the smallest of small amounts, because one wrong move and it can end in disaster 😄. I can do my full brow routine w/this product alone. If I want to clean up my lines+add more definition/color to the ends of my brows I go in w/dipbrow. It does not fade or wear off, my longest wear time being 19-22 hrs. HG product for me 😊Backups of standby. BELOW PIC: ELF brow kit in Dark gel applied over MOM as a primer,powder pan used to gradient beginning of brows, set w/Salon perfect clear brow gel.

HakaGlamz M.
Jul 24, 2013
I've only tried mine once lol after hearing good things I decided to purchase this brow kit. Its ok i guess, i agree with some of the other reviews that the powder is a bit chalky and there's something up with the wax. Maybe i've gotten to use to a brow pencil? Not a bad product, I would say it's probably not for me. Give it a go, each to their own.

Best I've tried!
I have dark brown brows, and finding the perfect shade for them was hard! I used to use an eyeshadow, which was discontinued and I was quickly running out. I had already tried multiple eyepencils/shades and none of them worked (Maybelline, Anastasia, Too Face, NYX..). I saw this for $3, and thought why not! I LOVE it! Lasts all day, comes with a perfect little brush, color pigment is awesome. The wax and powder work phenomenally together! Would recommend!

Absolutely love it!!!
I had trouble defining my eyebrows with a pencil, then someone recommended this to me and I fell in love! It's very easy to use, just 2 steps. One side is a gel and the other is powder. I love the ease of use and the price is great too! Only $3.50 USD. I use it everyday. I highly recommend it!

Favorite!!!
This is by far the easiest, neatest, most amazing product I've used for my eyebrows. They come out perfectly defined and it's way faster and more effortless than a pencil. Plus they look so natural, especially after putting the powder on top. The brush is okay, and I love that the compact has a mirror. For $3.00 (or $1.50 when it's on sale like when I bought it) it's a must have for your makeup kit.

Stephanie M.
Dec 22, 2011
Love it!
Colouredbeautiful(check out her YT channel and I believe she has vids here on Beautylish) did a review on this so I had to try it. Picked it up at Target for $3. I still use a dark brown pencil to outline and filled in brows but I use the Elf brow kit to set. The wax is great for holding brows in place and the powder sets them.

Love the wax part
I have very sparse natural dark black brows. I like creating a brow that is a few shades lighter than my hair colour. I also apply this product with the tiny brush that it comes with. I think the wax on this product is very good. Combining the wax and powder in one palette is great! The mirror is a great size, you can use it on the go. It does go on smoothly and is the perfect colour if you have dark hair. The brush that is provided with this product is great for picking up the wax (I only use the side with the angled brush). The only thing with this dark brow kit is that the powder is too light for me. Not only is it too light for matching my black hair, but it also has this red tone, so it makes the brown more of a terra cotta shade. Red tone eyebrows do not work well on pale Asian skin.... So when I use this kit, I have to just use the wax and substitue another brow powder or even eyeshadow in a dark brown to set the wax. I use a separate angled brush to pick up the powder not the brush that this kit comes with. Sometimes I also like setting my eyebrows with translusent powder to make sure I get longer lasting brows. Since this product is $3 I find that it is still worth buying even if I cannot use the poweder that it comes with.

This is a really good drugstore eyebrow kit! I got the 'medium' one at Target but its too reddish for me so i ordered the 'dark' online. But its a little too dark for me. -It has 2 sections. 1 is waxy and darker the other 1 is lighter and powdery. First i use the wax to fill in my brows and set it with the powder. The powder actually looks light but when you put it in your brows its actually pretty dark. -The cons is the brush which is tiny!! its double ended. 1 side is a fluffier brush and 1 is an angled brush. I use the fluffy brush for the powder and the angled brush for the wax. -Cannot beat the $3 price tag seriously! Ive used this a lot of times and it still has a lot of product. Its great for travelling and great to put in your purse makeup bag because it come with a brush and mirror so great for touch ups. I think that the quality definitely beats high end department store brands!
---