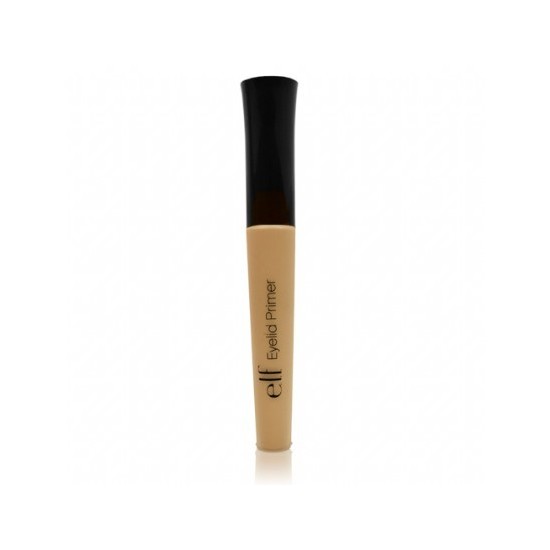 Rollover image to zoom
Reviews

Wonderful!
For a buck, you absolutely cannot beat it. And heaven forbid you catch a 50% off sale and grab this sucker for 50 cents.
It is incredibly comparable to Urban Decay Primer Potion - the only difference I've noticed is the staying power.
It goes on smooth, provides the tiniest amount of color, just enough to even out your eyelids and lightly cover any veins or discoloration.
It's tacky enough to really help your eyeshadow stick, although not *quite* as tacky as Urban Decay's.
In terms of staying power, I find that I get a solid 5-6 hours with this with just typical primer-shadow combo. If I use another base over the primer, I can get a couple more hours with it.
I would say by using this you would have no need for the Urban Decay primer, but with the long hours I work and whatnot, I have already sold my soul to Urban Decay. However, for a day that I know won't be as long, if I just have to go run errands or whatever for a few hours, I'll definitely use this instead.

You don't expect much from products that are $1...
... but this is SUCH a win! It doesn't enhance colors, but it keeps them in place and going ALL day! It blends well with my skin tone as well, so even if I don't have time to throw on shadow, I can still put this on and make myself look more awake!

ELF Eyelid Primer is a primer that promises to "prep your eyelids for smoother, longer lasting crease-proof eyeshadow" All ELF products are vegan, hypo-allergenic, and non-comodogenic. ELF Eyelid Primer retails for $1 for .17 fl oz and can be purchased at http://www.eyeslipsface.com/, Target, Kmart or Big Lots. This primer is available in 4 shades, I'm reviewing the original "Sheer" shade. This is product I'm very familiar with and have used for nearly 2 years. It's often compared to the famous Urban Decay Primer Potion. ELF's Eyelid Prime comes packaged in a clear plastic tube with black plastic cap. The applicator is a doe foot, similar to what comes with most lip glosses. Like with most ELF products, the packaging is minimal and kinda cheap. I've had the wand snap off inside of the tube, thankfully the tube was practically empty, so I didn't end up wasting much. The name of the product is written on the tube in slightly raised, black letters,very plain. ELF Eyelid Primers are available in 4 colors, Sheer (flesh toned, shown above unblended), Champagne (shimmery light pink), Pearl (shimmery white), and Golden (soft gold). I've only used Sheer, but I plan on giving the other shades a go eventually. Sheer is exactly the color of my skin tone, when blended. I'm guilty of using it as a concealer when in a pinch. When blended out on the lid, Sheer becomes, as the name would imply, sheer. The texture of this primer is a little slippy and greasy when first applied. Once blended in it gives the lid a very smooth and even appearance and feel. This product truly does help shadows apply better and blend with more ease. I hate working with eyeshadows without this primer. ELF's Eyelid Primer only adds the slightest bit more intensity and brightness to the colors applied over it. I tend to rely on a white cream shadow base like CandyCrush's Cream Shadow Base or NYX White Eyeshadow Base. This primer is excellent for preventing creasing. I have only had creasing when using this primer under three different circumstances; 1. when using an extremely poor brand of baked mineral shadow, 2., On an extremely hot, 100F day I spent mostly outside, and 3., with Revlon Creme Illuminance shadows. Aside from those occasions, this primer helps eyeshadow stay put for upwards of 12 hours, even through 9 hour shifts in a hot, humid kitchen. In fact my eyeshadow would usually hold up better than the cashier's, who used Urban Decay Primer Potion. I can't really speak for how oily her lids are though. For the record, mine are slightly oily, and I can usually wear a shadow without primer for about 4 hours before it creases. This is the only primer I'm really interested in using, though I might get NYX's, just for variety's sake. I have consistent great results with ELF Eyelid Primer. Best of all, its extremely affordable at only $1, almost $20 cheaper than some of its competitors. It's also very readily available. This is a product I recommend for just about everyone to try. It might end up saving you some big bucks. This is definitely a holy grail product for me, and I never say that. It makes me feel like Graham Chapman. Unflattering.

Cheap and workable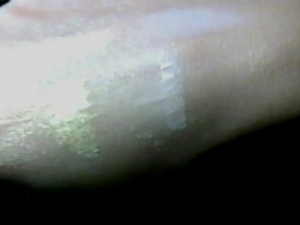 I use to hate elf products few years ago but they really stepped up their game. I'm a frequent shopper of elf every few months. I have this primer in sheer and golden. Sheer dries too fast and leaves white marks near my eyes sometimes but its great if you work fast. I think it actually beats my UDPP a little due to the staying power =) The golden is just a gorgeous metallic if swatched but it spreads and dries to a nice subtle golden sheen which is awesome for those days when you don't have time to do any eye makeup and its great under golds and bronze eye shadows.

Great quality for $1, 4 shades make it even better!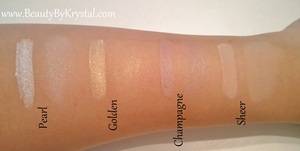 I'm a lonnng time user and lover of the ELF Essential Eyelid Primer in the original shade, sheer. It's significantly thinner than the Urban Decay Eye Shadow Primer Potion, but it lasts just as long and does its job well at priming, helping colors show more true and preventing shadow creasing all day. At only a dollar each, I've been recommending this primer to everyone - and I haven't heard any complaints on its performance. This year, ELF released 3 new shades (most likely to mimic Urban Decay's shade range of their Eye Shadow Primer Potions). Pearl is a shimmery white, Golden is a shimmery gold, and Champagne is a shimmery pinky taupe. The consistency of these 3 new shades is very different than the original Sheer. Sheer has a thin, smooth feeling, but these 3 new shades, Pearl, Golden and Champagne, have a pretty glittery, gritty feeling. I don't find the glittery primers to be a hassle, but I do wish they were smoother like Sheer. When blended out onto the lid, the glittery effect does come off very sheer and barely visible. They don't really alter the color or effect of your eye shadows the way the Urban Decay primers can. Overall, I use these as cream shadows. I like the glittery look and that they stay on all day, but when I need an eyeshadow primer, I reach for the Sheer instead.
Close swatch photos can be found on my blog: http://www.beautybykrystal.com/2011/11/elf-essential-eyelid-primers.html
---