Color Stay 24hr Whipped Foundation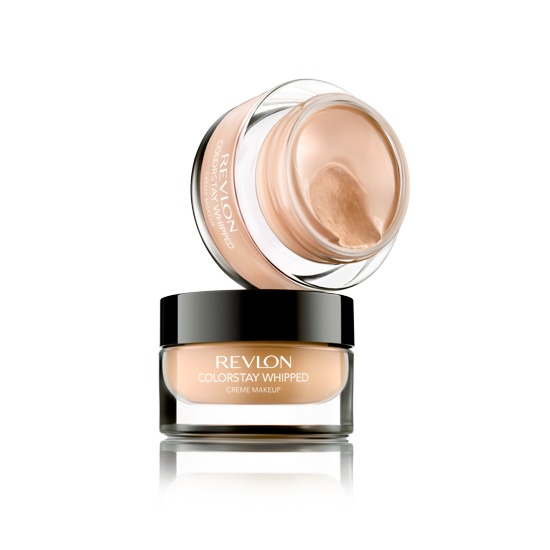 Rollover image to zoom
Reviews

Not enough shades
I purchased this product because I'm always looking for a something easy to apply in the morning. The formula works really well with my combination/oily skin and feels great when applying it. The only problem I have is the shade range. I bought the shade Rich Ginger, assuming it would match Rich Ginger shade in the liquid form. Unfortunately, the whipped version is almost two shades lighter than the liquid. So, I bought the Caramel shade because even though the liquid version is too dark, I assume the whipped version would be ligher as well. I was wrong. The Caramel shade (whipped) is way darker than the liquid version. I'm so disappointed!

My favorite foundation
This is my absolute favorite foundation ever. It has a great consistency that feels great when it's applied. It covers up all of my redness, blemishes, and acne scars. It's my go to foundation for everything. If I want to dress up and look really pretty this is the foundation I use. If there's a special occasion this is what I use.
It also seems to look prettier if you put it on and let it settle before you powder it. It's like it melts into everything and makes the skin look perfect.
The coverage is medium to full which is great. I'm sure that you could get a lighter coverage if you wanted. For me the medium to full coverage is great.
I apply this with my fingers. I did not like how it looked when I applied it with a brush. It did not work well with a sponge either. It seems like using my fingers is the only thing that makes this foundation look fantastic. I just have to make sure that I blend around my neckline because I'm so used to having a brush do it for me.
The wear on this is great. I have to get up really early so this stays on from about 6 am to about 10 pm. It still looks pretty good when I'm about to take it off. I do notice that my skin is showing through the foundation on my cheeks around 9 o'clock. But other than that it looks great the rest of the time.
It looks like there isn't very much in the container and there isn't but it goes a long way. I have had mine for about 3 months and I still have quite a bit. This being said I do mix in other foundations a couple times a week. Only when I'm having really good skin days and I don't need a full coverage foundation. If I used this every single day then I think I would have ran out within a month or a month and a half.
The Colorstay foundations are my HG's.

Fantastic! Best I've tried!
I have a skin condition that causes my skin to become very dry and flaky no matter what moisturizer I use (I use prescriptions now but my skin still has issues). This is the first foundation I have tried where it doesn't turn my face into the Sahara Desert after more than fifteen minutes of wear! In fact, my face stays flawless all day long--even after a long day at work being blasted by steam dishwashers, hot coffee, and general sweaty ickiness. I was able to match my skin tone and it doesn't oxidize, so double win on that front! The only cons are as follows: it never truly "sets" (it will feel tacky several hours after application, but powder can help), and the smell is a little strange and lingers for a long time. So far, I think this is my holy grail foundation!

My Favorite Foundation!
I'm not a big review writer but this foundation absolutely deserves it. I've tried tons of both high end and drugstore foundations and this is by far my favorite all around. I have fairly oily skin with a bit of redness and this solves both of these issues. It controls the oils on my face and doesn't break down on me. I usually set it with powder though, so I'm not sure what the staying power would be like without it. The coverage is definitely medium/full so I wouldn't suggest it if you are new to wearing foundations. It is more natural looking than the original Revlon Colorstay but with the same long-wearing qualities! I normally apply it with the Real Techniques Expert Face Brush and I love the finish. I'm on my second jar of this foundation and I have no plan to switch anytime soon! :)

DEACTIVATED A.
Aug 19, 2013
Read this beware of the "shade-finding crisis"
Unique consistency & good smell. Packaging isn't travel-friendly but that doesn't stop me! I put some product in a smaller version of the container so I can take it with me! This covers up the scars that my concealer just cant. Not heavy when you blend it & don't have to worry about spilling it. I will keep using this Only thing I hate is that the shade is EXTREMELY deceiving on the outside. I put Nude and Natural Beige next to each other & stared at it for nearly ten minutes. I picked the beige just to be safe, but it was STILL too light. I'm not dark, but I'm not certainly not that pale After hours of searching for reviews & demos, I finally found the shade for me in Natural Tan. My mom thought it was too dark for me, but it actually matched. Great foundation, but too difficult for first-timers to find their shade.

Love it!
I was a huge fan of Maybelline's Dream Matte Mousse foundation, so when Revlon came out with this one right around the time I was running out, I decided to give it a shot. The consistency is sort of like cool whip. Not quite a solid mousse, and not quite a liquid. Because of the unique consistency, I find that it blends like a dream, whether you use your fingers, a brush, or a sponge! The coverage is medium, but buildable if you need more. I'm super excited that they actually have my shade, seeing as I'm extremely pale! But it's actually a great match! The finish can be dewy, until you let it dry, which could take a minute or two depending on how thick of a layer you put on. I prefer a matte finish, so I set it with a powder, and its perfect!

sure why not.
I was pretty skeptical about this foundation but it's actually not bad. I'd admit there are not a wide range of colors but there are enough for those of us who have beige skin tones. I usually apply this foundation with just my fingers and it blends into my skin flawlessly. If you are a fan of Revlon foundations, you will like it.

When I first picked this up, i tried putting this on with 2 different brushes and my fingers and all I got was a cakey streaky greasy mess. It look heavy and thick and not good. It has been sitting my my closet in a box full of products i have either tied and don't like or don't use regularly. My island of misfit products because I am a hoarder and throw anything away and rarely give anything away, but that's another story!
So, about a week ago I discovered this adorable red headed pale girl called Bethanyfae. She was so adorable and we have the exact same skin tone and issues and so when she said that she liked this I decided to give it a second try. She uses a tiny. It and does a very thin layer. This is exactly the way to use this. Build it up a little at a time. This worked like a dream for me. I used my finger to dot it around and then buffed it with a brush and then used my finger to dot it on in targeted areas. I am very pleased. My only problem is I do have combo skin so this being so creamy, I do have to powder a few times a day. It gets shiny. Also, if I don't use primer and mattifier under then no amount of powder can subdue the shine. So I took off a star and a half because it needs a boost but overall, I like it.
I have been using this foundation for about 2 years and it works very well for me. Because of the consistency of the formula it's almost impossible to use a makeup brush to apply it, but regardless I love the way it looks. I have very odd combination skin that tends to start very dry in the mornings no matter how much I moisturize and over the day accumulates oil and grease. This foundation never feels greasy to me and after about an hour completely blends in with my skin and looks like I'm not wearing foundation. Also, after I put it on it makes my skin feel so soft and smooth where other foundations I've used tend to feel odd on my skin. It definitely provides the best coverage I have ever found with a foundation for the price, but I agree with other reviews that it should be used sparingly to start and then built up as needed. But like I said, for the price, I really haven't found a foundation comparable.

Perfection
so the original revlon colorstay i like because of the coverage but its sooo thick and terribly hard to blend so it just stays in the spot and its just ugly so i bought this for $13 online but at target its $10 and my first impression of it was the packaging its so sleek and high end looking but i dont mind the bulkiness. i got this in caramel and it blends like a dream and perfectly blends into my skin and its the only color that matches my tone perfectly. the texture is like pudding and when you put it on its so light and airy and i love the coverage because its so light and not cakey or heavy at all. to me its a light to medium and i love how natural my skin looks. its semi-matte and it gives you a flawless natural finish. i will definitely buy this again. make sure to moisturize well before using it! i love how i dont need a setting powder to set it. this is just great and i hope revlon doesnt reformulate this xD but overall best foundation i have used hands down.
---