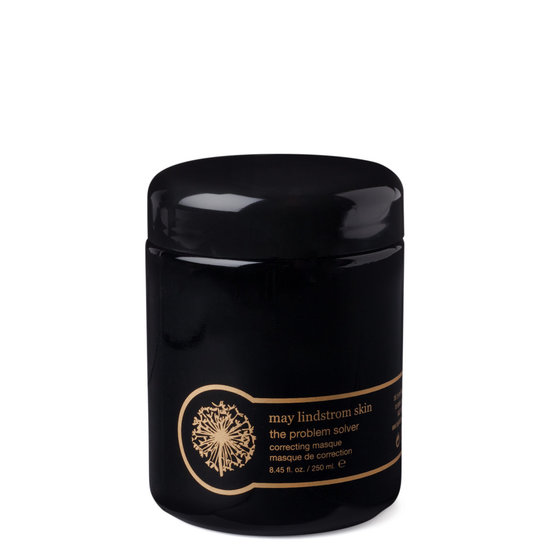 Rollover image to zoom
Getting the most from The Problem Solver
Use one tablespoon of powder with equal parts water to form soft, rich mousse. Smooth over skin and relax until fully dry. Expect a tingling heat sensation. Rinse, and follow with The Youth Dew and The Blue Cocoon.
Works well with...
Reviews

Good for eczema prone skin as well
When I saw this mask on Beautylish, I was sceptical that tingling mask would be suitable for my skin type. I have eczema-prone skin, and I have had some dry patches around my mouth and eyes this year. I was sceptical, but I like to try new things anyway, so I bought it. The warm, tingling sensation is real! It smells very earthy, which I quite like as well. After washing it off my face, it gave me a very soft appearance. It felt like the skin is ready to absorb my skincare products better. The one thing this product has is that I feel excited to use it every time. I enjoy the ritual itself. Also, the packaging is very minimalistic and looks good on my vanity: that's a bonus!

The Olivia Pope of Masque Treatments
I've spent the last few weeks using 'The Problem Solver'. I have to preface this by admitting that I almost stopped using it after the first treatment because my skin started to quickly purge impurities and I almost confused it with a mild eczema and rosacea flare-up. However, I felt moved to give it another go... and then another... and before you know it I was a believer. I have incredibly sensitive skin and was worried about the mentioned warming sensation--I felt the heat, felt a little sweating, but knew that this was the masque working from the inside out. I chose to use water for my first few mixes, but made the switch to using manuka honey and just a small splash of water. The mauka is 400 MGO and helps reduce the warming/sweating sensation a great deal. You can still feel the masque doing its work. The splash of water helps in reducing the viscosity of the honey and makes it easier to apply. My skin is looking even more wonderful, pores are dramatically smaller, it has helped in further curing eczema/rosacea outbreaks, and is also restoring a bit of confidence in knowing that my mug is A1. I highly suggest this for others with sensitive skin, and also recommend trying with manuka honey. Something to point out, by using the honey you won't get the mousse texture and the masque itself will not dry/harden as it would with water--the masque is most certainly still doing its job.

No other mask like it
I believe skin care is more than just something we do to fend off time's ravaging. I think it's time I spend on just me, a moment to be selfish. So I make time for it and treat it as something a little special - 15-20 minutes out of my day to spend on myself.
Masks are normally not really my thing. Sheet makes get so cold, hydrating masks are using fleeting in effect. But the Problem Solver actually solves problems. As a 46 year old women moving into perimenopause with combo skin, I've started getting acne along my jaw line and chin for the first time in my life, really. This ended it. Period. Well, this plus the Youth Dew. It's just gone.
I create my maks by mixing some warm water in a small bowl with the unbelievably yummy smelling powder and apply it. Then I light a scented candle, throw on a podcast or some relaxing music and just completely chill. There's a tiny bit of warmth on the skin once applied, but not irritating to me and, once I rinse it off, this mask gives results. The kind that last. I only use it once a week, but my skin is so much more clean and vibrant looking. I will never be without it.

Most effective mask I've ever used.
I don't know what May does to make this so effective (or any of her products for that matter), but this mask is accurately named The Problem Solver. If my skin is going crazy because it's that time of the month or because I ate something my body didn't like and it's showing up on my skin, this jar of goodness calms it right down as well as dramatically reducing the size of any pimples and clogged pores I may have. This mask is a must for me at least 2 times a week for resetting my skin as well as one of my top 2 favorite May Lindstrom products due to it's instant results.
Once applied the mask feels very warm (which can be alarming), but that sensation fades in 2-3 minutes. It's simply the cayenne powder getting your circulation moving. It heats up again as you wash the mask off. You'd think my skin would be red and irritated as the warming sensation suggests, only ot never is. It's soft, glowing and smooth. I love this mask and the results it gives. I will never be without!
The problem solver
My skin was dull. I had hormonal acne. Winter weather didn't help either. I've been using this product for over a month. Twice a week. While it is a bit annoying to wash off, the results are amazing! My skin looks so much better. Not to mention my hormonal acne has reduced significantly. I love this product. I use the Triple Threat face oil right after. It's perfect!

Not for everyone, but perfect for me!
I took the plunge and purchased The Problem Solver and I have to say it was a great investment. This mask arrives in powder form in a gorgeous heavy glass jar and there is enough product that I can imagine this lasting a very long time. I mix exactly one tablespoon of product with just under one tablespoon of water and use my finger to mix until a thick foam forms. I typically use this mask twice a week on the nights I wash my hair because it's quite messy to remove and I prefer to just wash it away in the shower.
This mask is pretty intense and I would not recommend it if you have aversion to strong scents or high concentrations of actives because The Problem Solver brings both. I personally love the fragrance which is a sort of spicy licorice, and I love the strong warming sensation felt upon application.
This mask immediately makes my skin feel silky soft and dries out any blemishes I may have, and works wonders preventing the hormonal breakouts I tend to get. I look forward to the results I'll achieve with continued use!

When the problem solver becomes the problem
I was so excited to get this mask I went back and forth on it for weeks then finally decided to take the plunge. The packaging is beautiful and I like that you mix it yourself however OH MY GOD THIS ISSO IRRITATING TO MY SKIN. I don't know if I have an allergy to one of the ingredients but this BURNS. Like it feels like actually hot sauce on my face. It also smells like black licorice which I'm not too keen on. Every time I've used this my face has gotten really red and irritated and my skin gets very dry and peels off like a burn for several days. I really wanted this to work for me but it does so much more harm than good.

I think I got a used/ returned item...
I just received this in the mail a couple days ago and finally opened it up tonight to try. First off, when I opened the package there was powder residue which I thought was odd but okay. I opened the box and pulled out the jar and noticed the lid was loose and there were scratches on it, no biggie there should be a seal right? Wrong! It there was no seal and it looked as though one had been removed. Not okay with this ☹️ will be returning without even trying. So disappointed
---