Pictorial Look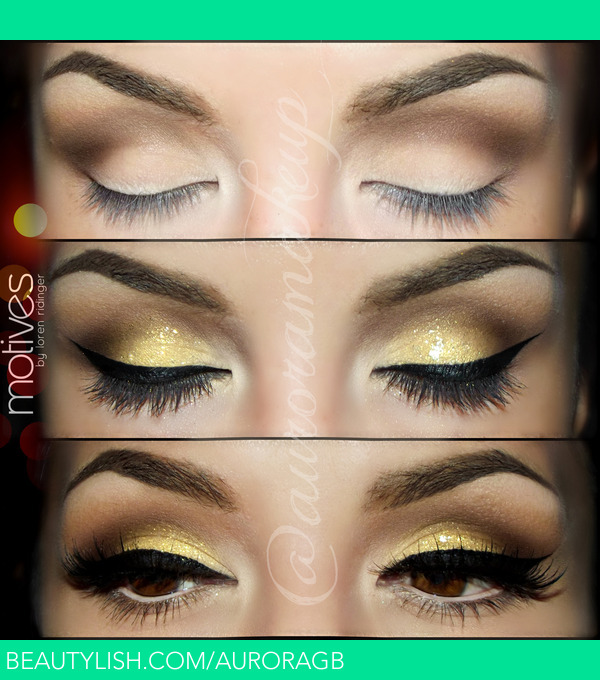 instagram @auroramakeup
FB: https://www.facebook.com/AuroraAmor...

PRODUCTS Motives by Loren Ridinger

STEP1 // PASO1
Apply Eye Shadow Base on eyelids , highlight brow bone with Pressed Eye Shadow in VANILLA, use Pressed eye Shadow in CAPPUCCINO as transition color on the crease and Pressed Eye S Shadow in HOT CHOCOLATE to mark socket line .
Aplica la Prebase de sombras en los parpados, ilumina el hueso de la ceja con la sombra hueso mate VANILLA, usa la sombra cafe claro mate CAPPUCCINO como color de transicion en el pliegue alto y la sombra cafe oscuro HOT CHOCOLATE en el pliegue bajo del ojo.


STEP2 // PASO2
Cover mobile eyelid with Pressed eye Shadow in GODDESS , add some droplets of Glitter Adhesive on top and apply some pat of Glitter Pot in POT OF GOLD . Use Pressed eye shadow in VANILLA to highlight inner corner and line top lashes with Gel Eyeliner in LITTLE BLACK DRESS.
Cubre el parpado movil con la sombra dorada con brillos GODDESS , agrega algunas gotas del Pegamento de Brillos de Motives encima y aplica algunos toquecitos de los brillos POT OF GOLD . Usa la sombra VANILLA para iluminar el lagrimal y delinea las pestañas superiores con el Gel delineador negro LITTLE BLACK DRESS.


STEP3 // PASO3
Line water line with a Khol Eyeliner in ANGEL slightly, add false lashes NOIR FAIRY by @houseoflashes and apply Lala Mineral Volumizing and Lengthening mascara in BLACK in top and lower lashes.
Delinea la linea de agua con el delineador blanco ANGEL ligeramente , agrega las pestañas postizas NOIR FAIRY de House of Lashes , por ultimo aplica la mascara mineral volumizante y alargadora negra en las pestañas.
Comments
Photo By