DISCO BALL in silver & pink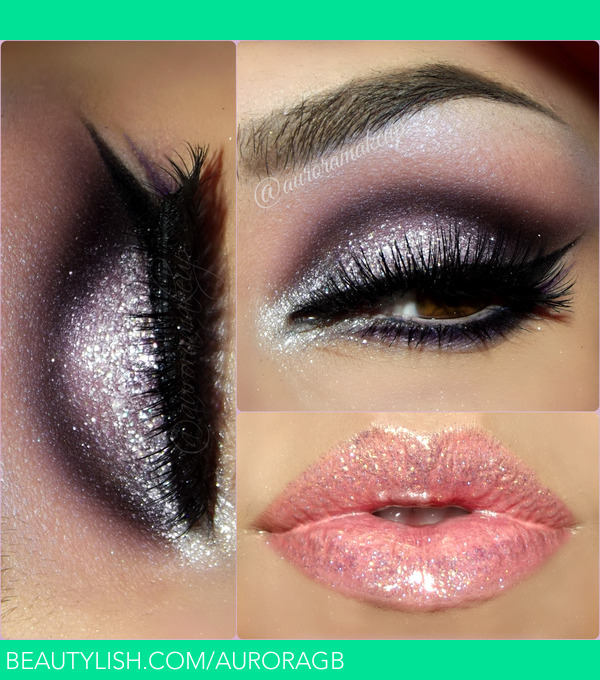 instagram : @auroramakeup
FB: https://www.facebook.com/AuroraAmor...

Este es un maquillaje un tanto diferente porque brilla hasta el cielo pero bueno es parala fiesta de Año nuevo y que mas da a BRILLAR SE HA DICHO !!! <3 :D :D

Lifted Neutral Eye Primer with Firmitol by tarte cosmetics
Prebase de sombras de http://www.tartecosmetics.com

Pink and Purple shades into Eye Transformer palette by e.l.f. Cosmetics to hightlight my brow bone and as transition color blending dark purple on the crease
Sombras rosa y purpura de la paleta EYE TRANSFORMER de ELF Cosmetics para iluminar el hueso de la ceja

I used 2 pair of eyelashes VEGAS BABE El132 by NYX Cosmetics
Use 2 pares de pestañas VEGAs BABE de NYX Cosmetics


DAY RATE eyeshadow into CATWALK palette by Anastasia Beverly Hills to mark socket line and blend it out
Sombra morada oscura DAY RATE dentro de la paleta CATWALK de http://www.anastasiabeverlyhills.co... para marcar el globo ocular o pliegue del ojo


BABY PINK eyeshadow by @nyxcosmetics as a base on mobile eyelid
Sombra BABY PINK de NYX Cosmetics como base en el parpado movil


Glitters CRYSTAL & DISCO BALL by @nyxcosmetics on mobile eyelid
Brillos CRYSTAL y DISCO BALL de NYXCosmetics en el parpado movil

I use Glitter Adhesive by Motives by Loren Ridinger to stick them .
Use el Pegamento de brillos de Motives Cosmetics para pegarlos

Gel eyeliner in BLACK by MicaBeauty MICABELLA COSMETICS
Gel delineador negro BLACK de http://www.micabeauty.com

Lights, camera, lashes 4 in 1 waterproof mascara by @tartecosmetics
Mascara de pestañas de Tarte Cosmetics 4 en 1

Matte Highlighter Crayon in CAMILLE by @anastasiabeverlyhills into waterline
Crayon iluminador rosa mate en CAMILLE de Anastasia Beverly Hills para la linea del agua

Loose Pearl Eye Shadow in WHITE PEARL by @nyxcosmetics on the inner corner in huge amount connecting lower part too.
Pigmento blanco perla WHITE PEARL de NYX Cosmetics en la esquina interna del ojo en gran cantidad , conectandolo con la parte inferior del ojo

Eye shadow in UVADOS by @gocmakeup below lower lashes
Sombra morasa UVADOs de GOC MAKEUP debajo de las pestañas

Eye Shadow in BLACK by @nyxcosmetics to mark lower lashes in the roots
Sombra negra BLACK de NYX Cosmetics para marcar debajo de las pestañas

Lips I used Xtreme Lip Cream in NUDE PEACH FUZZ as base and in the top applied Glam LipGloss Aqua Luxe in PAINT THE TOWN both by @nyxcosmetics
Labios tienen Xtreme Lip Cream en color NUDE PEACH FUZZ como base y encima le puse el GLAM Lip Gloss Aqua Luxe en PAINT THE TOWN ambos de NYX Cosmetics

Just for fun I spread Loose Pearl Eye Shadow in BABY PINK by @nyxcosmetics on my lips , so much glitter !!!
Solo por diversion puse encima polvo suelto en sombra brillante BABY PINK de NYX Cosmetics sobre los labios.


DISCO BALL nenas!!!
FIN de AÑO!!!

Comments
Photo By