Fairytale Come True: Lanvin Chooses "Real" People for Fall Campaign
Beautylish contributing writer and accessories designer Stella Rose Saint Clair was discovered unexpectedly in a New York cafe, cast with a group of "real" New Yorkers to pose for Lanvin's Fall 2012 campaign. Styled by Lanvin's renowned creative director Alber Elbaz, made up by makeup maestro Pat McGrath, and shot by photography legend Steven Meisel, it was a once in a lifetime opportunity for Stella. Like Alice wandering fashion's Wonderland, she recalls her dreamlike experience to Beautylish.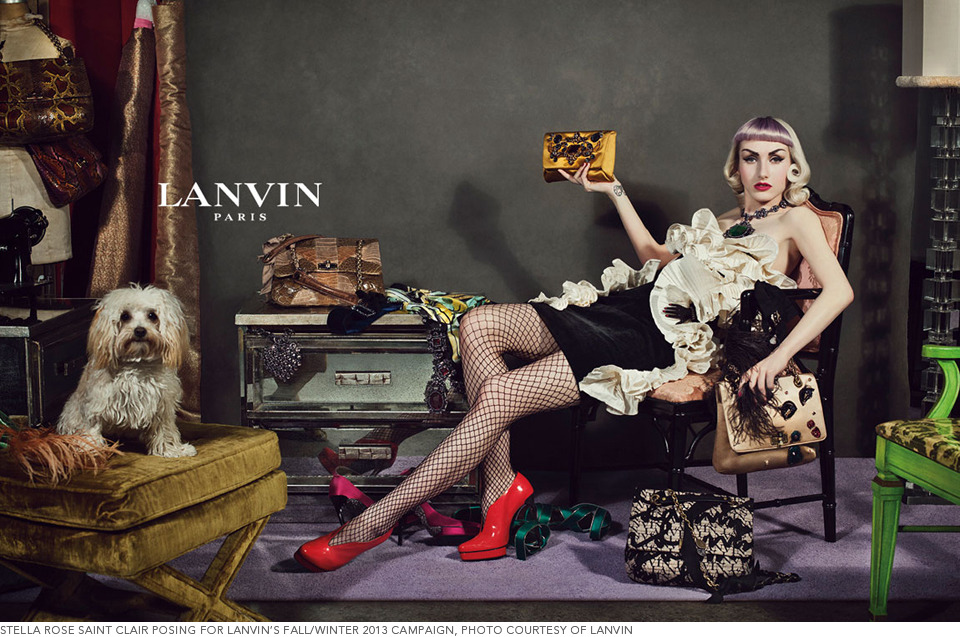 "It happened in the strangest way," begins Stella. "I was sitting in a cafe in the lower east side with my friend. A casting director walked in. Now, this happens quite a lot in New York, I've noticed. I suppose I am different-looking, to some degree. The great thing about Manhattan is that if you're doing something to some degree, people are going to react. There I was, wearing my vintage blouse and skirt and matching beret, having some salad, and she walked in. She was actually casting for something totally different, but she had me write down my information anyway. Of course I said yes—a poor kid living in Manhattan. I didn't hear from her at first. Whatever, I told myself. Get over it.
---
About a month later, I got an email out of the blue saying I was one of a small select group chosen to come in for a Lanvin casting call. I thought I got the email by mistake. I clarified, that it was, in fact, not a mistake, and went to the casting at Steven Meisel's studio. People ask me if I was totally nervous at that point. I really wasn't, because I thought the situation was so absurd for me. I just went with it.
At the casting, they asked me some questions and took head shots. When I initially went to the casting,—and I know this sounds silly— I did sort of subconsciously dress in a Lanvin style. I wore my favorite bright chartreuse dress and long leather gloves, and mixed it with House of Holland bone stockings, Miu Miu glasses, and a vintage fur jacket. I wore my favorite hat, which is tall and leather, and characteristic makeup that I tend to wear most days—black winged eye liner, red lipstick, and brows done.
Within a couple of days, they notified me that I was chosen. This was crazy. I really had no idea about the details of the fall campaign—just who was shooting it. It must've been hilarious to see the look on my face at the fitting the day before the shoot. I walked in expecting nothing, and it ended up being so much more than I could've imagined. I just couldn't believe it. This was as big as it gets. I found myself in a room with Alber Elbaz, prepping for a Steven Meisel photoshoot. I wondered who was doing the makeup—I asked a model on set and he said 'Uh you know, what's her name, Pat McGrath.' I think my jaw dropped. Pat McGrath was going to do my makeup—are you kidding me? I was laughing, it was all so ridiculous, all such a fairy tale. And I couldn't tell anyone. There I was, with my iPhone in hand, holding back from tweeting.
---
"I think my jaw dropped. Pat McGrath was going to do my makeup—are you kidding me?"
Stella Rose Saint Clair
---
At the shoot, they wanted us to arrive with the same kind of outfit as they saw in our casting. I think they were trying to study our style. They wanted me to look like me. Pat's team replicated my makeup flawlessly, and Guy Guido's team was doing my hair. They styled it how I would, except much better. I was a bit nervous because I'm a bit nit-picky about people doing my makeup. I do like to look a certain way, and I'm very attached my makeup and fashion—I take it very personally. But I was thrilled to know that they really wanted me to look like me. Heavy winged eye liner, strong retro-looking brows, blush, and a strong lip. They did it perfectly. I couldn't believe how good my brows looked. That was such a treat; I think I got the strongest makeup. I kind of wish I could wake up every morning and have that team with me—so I could look like a couture version of myself. Runway Stella. Pat consulted me in the beginning. Very very sweet woman, amazing—and I've only heard good things about her from other people.
It was a very surreal feeling, and I remember this because I was there, reclining in that chair in a pose while two very small and adorable French ladies fluffed the feathers on the $5,000 handbag. Pat was touching up my lipstick, and Steven Meisel stood in the background with his camera.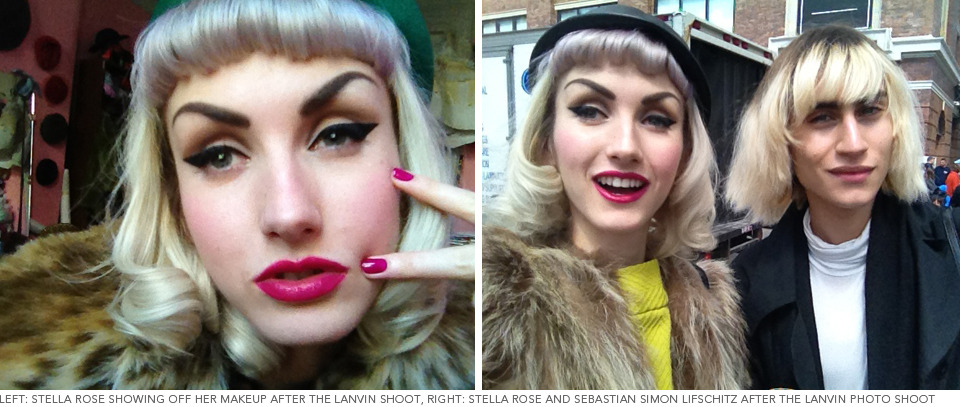 The press is having a field day with this, calling us 'normal' people. But if you really look at who they choose, and I'm not speaking for everyone involved, I don't think any of us are regular. Each of us has our own distinct personal style, and that showed through in the end. The clothes don't belong to us, but they were styled to suit us. Even though it's Lanvin, you can very much tell our personal style—even if we were naked, you'd still be able to tell. When people see an ad for a major fashion house, they want a sense of fantasy. A sense of altered reality. It's not regular. The actual concept of the campaign wasn't blatantly stated to us, so it's exciting to see the good reactions. I'm not surprised, it's such a great idea. The fact that Lanvin is showcasing interesting individuals is empowering for people to see."
—as told to Beautylish