Makeup Genius: The Art of Being Billy B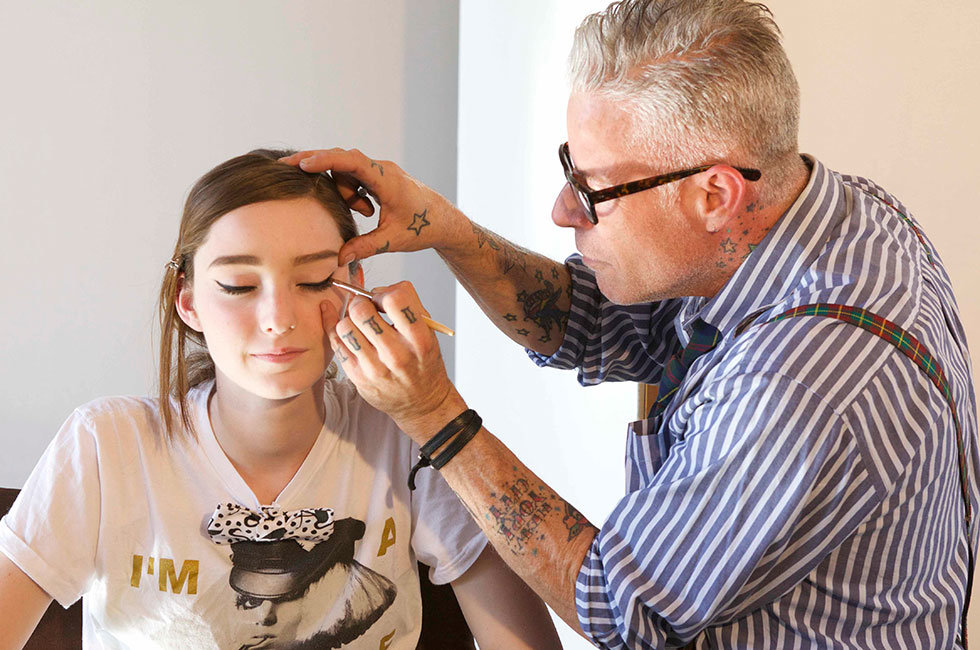 The world has spoken. Billy Brasfield (that's Billy B to you!) is not just a makeup artist. He's a visionary. Billy's approach to makeup artistry is distinguished, tactile, and personal—qualities that have taken him further in two decades than he could ever have anticipated.
Though Billy claims discovering his talent in makeup was practically accidental, we can't help but wonder where the world would be without him. He counts Beyoncé, Lady Gaga, Pink, and Mary J. Blige among his clients, his resume reading like a makeup artist fantasy come true. And with numerous TV appearances on RuPaul's Drag Race, his own show on HGTV, and most recently on Project Runway as the global consulting makeup artist for L'Oreal Paris, it only makes sense that he'd follow up with his own line of makeup "paint brushes," which were first available on Beautylish in 2012 before they sold out completely. (Get yours here, starting today!)
But despite all the hype and star-studded workload, Billy remains a humble voice not only for the young makeup artists he hopes to inspire, but for anyone who ever felt a little like a misfit in the professional world. Billy's fearless in revealing his weaknesses to us, proving the old adage true: The only way to make it in this world is to stay true to yourself.
We took a breather with Billy B to talk about life on top, his recently relaunched line of brushes, and the future of the makeup industry.
First off, tell us what have you been working on recently.
I just did some work on Gwen Stefani the other day for some No Doubt press. And then recently, Britney Spears for the Elizabeth Arden campaign which was really fun. It's weird because I've always exaggerated in interviews saying that the only two pop stars I haven't worked with are Madonna and Cher, but I guess now it really is getting down to that. Though Madonna did inquire about me doing makeup on her current tour.
That would be amazing!
No. No, it wouldn't. It was for a full year. I mean, I did the Monster Ball with Gaga but I didn't have to be on the road for the entire duration of that tour. I can't take a year off my life and career for something like that. But I'm really flattered she called. It's great to know that someone like that knows who you are and that they'd even consider working with you.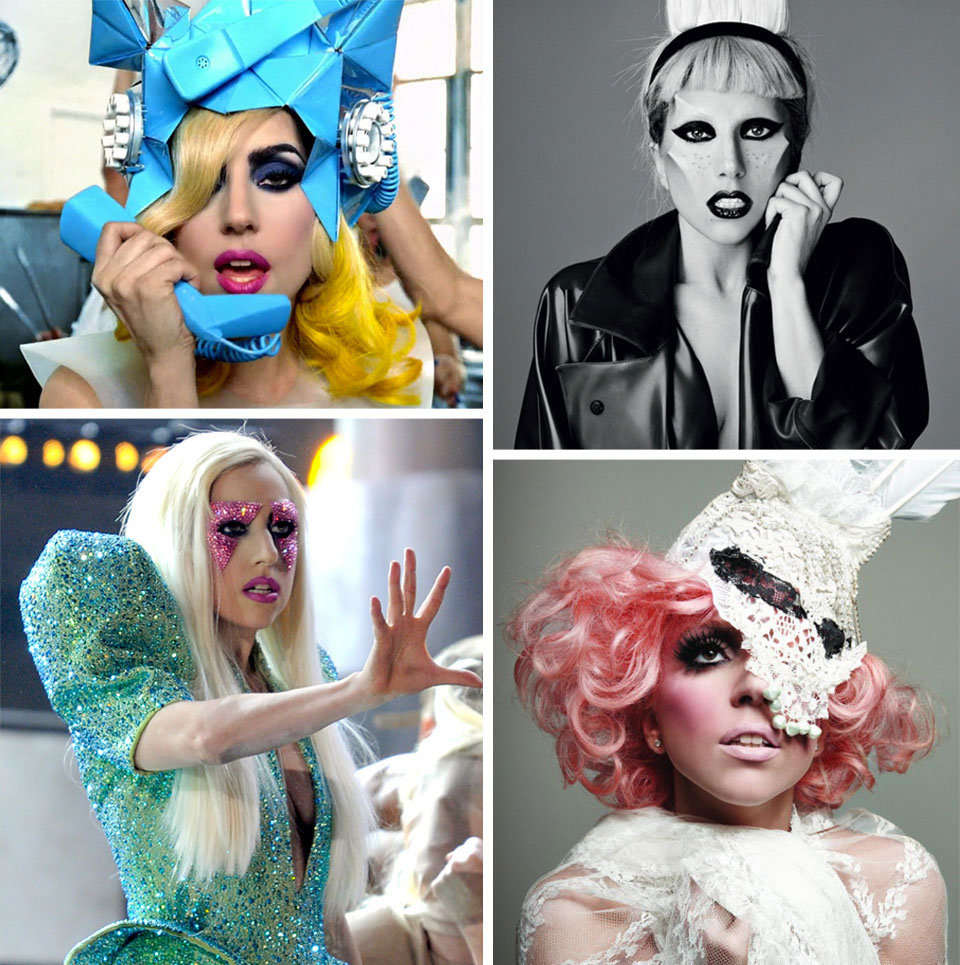 Clockwise starting from top left: Lady Gaga in her "Telephone" music video, in I-D Magazine (photo by Mariano Vivanco), in 944 Magazine (photo by Max Abadian), Lady Gaga at the 2010 Grammys (photo by Larry Busacca/Getty Images for Naras)
Did you ever expect that you would become so successful in the makeup industry?
No, never. I had never even thought about doing makeup. When I moved to New York I just happened to get my first job at Macy's in cosmetics. It was completely utilitarian—I just needed a job, and even though I was just pretending to be knowledgeable, people were responding so I started to enjoy it. It felt a little "fake it till you make it" but it turned out I was good at it so I kept doing it. I completely found my power that way.
How has the industry changed in the 25 years you've been working?
Oh my god, it changes all the time! Several things come to mind. When I started out, there were really only a few artists leading the industry. These days there are a million dilettante makeup artists. A million! And even more amazing artists on sites like YouTube that aren't actually working in the industry but who are very good artists just the same. It's definitely made things very different.
Another thing is changing trends. I'm not talking about cosmetic trends, I'm talking about a makeup artist trends. The challenge so many makeup artists face is how to stay relevant, and sometimes it means you have to reinvent yourself to make it through. People don't always consider all of that when they get into the industry. There are so many different kinds of makeup artists now and just a few years ago it wasn't like that.
And then the other thing is the era of digital. It feels as though in some way, this is the era of the makeup artist not even being needed anymore. Technology is definitely the next big thing to change the industry.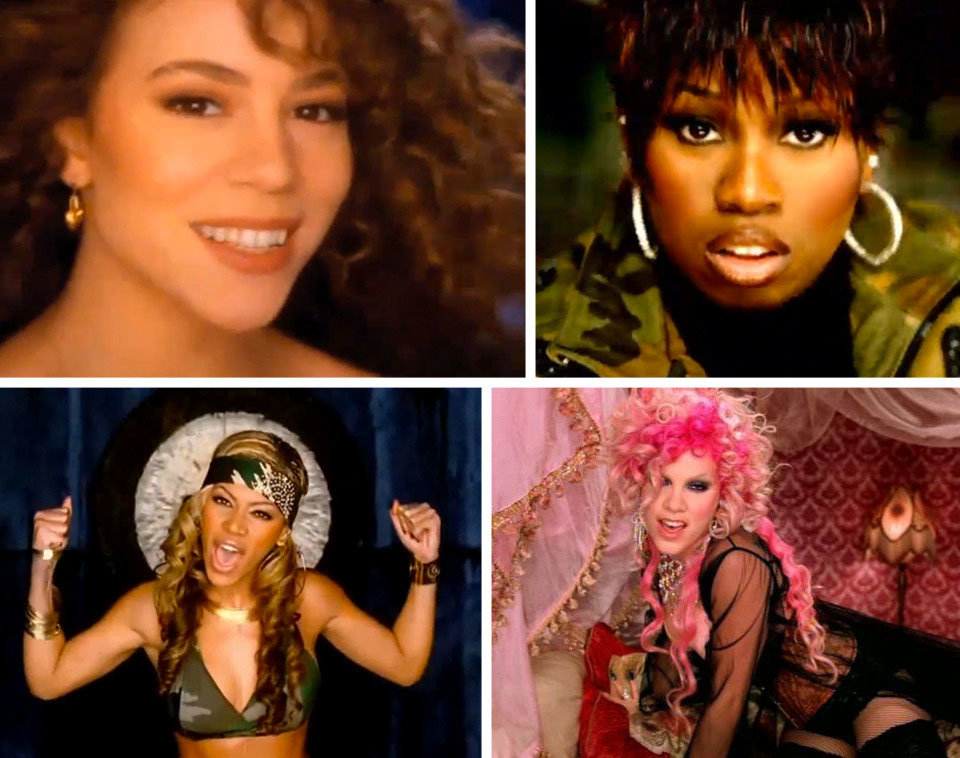 Clockwise from top left: Mariah Carey in her "Someday" music video, Missy Elliott in her "Get Ur Freak On" music video, Beyoncé in Destiny's Child's "Survivor" music video, P!nk in the "Lady Marmalade" music video.
Speaking of which, you're very active on social media. Do you think it's boosted your career as an artist?
People think I do a really good job at social media, but really I have no idea what I'm doing! I was very late in the game with Myspace and I got an account because people told me it would be fun. I filled out a profile and within 48 hours I had several thousand friend requests from makeup artists all over the world! That was really when I learned the position I held as a makeup artist. It was sort of an indication that I'd made it. That I had made a name for myself. You know, you set out with a motivation to be a good makeup artist, but Myspace was the first time I realized the relevance I had. Since then I feel like I have a sort of responsibility to young makeup artists. I want them to have access to information about the industry. I try to interact with them as much as I can.
Tell us more about your approach to makeup artistry.
I don't believe in a lot of rules when it comes to makeup. Makeup is an art, and art is subjective. There are so many rights and obviously many wrongs that can happen, and so much of  it comes down to opinion. Take for instance the rule "if you do a strong eye you can't do a strong mouth." Well who the fuck said that? If I like a look and I feel like it expresses what is needed, then I'm happy with it.
How do you cope with all the rules and trends in the industry while still staying true to yourself?
You reach a point where you don't care what people think. You know, I used to look at magazines and allow myself to really be a sponge to all that stuff, but at this point I feel like I'm at a place in my career where I don't want to be influenced by what people say is happening—because half the time, who are they to say? I'm not a big fan of the word "trend." Trends are like Halloween—a holiday that was created to make people spend more money. We are not celebrating anything, and trends in many cases are no different. I do understand people are fanatical about makeup. People love it! People genuinely enjoy being told "you're not cool unless you have this" because they want an excuse to go spend money. I understand that, but it doesn't mean life and death if you don't wear say, this season's shade of pink.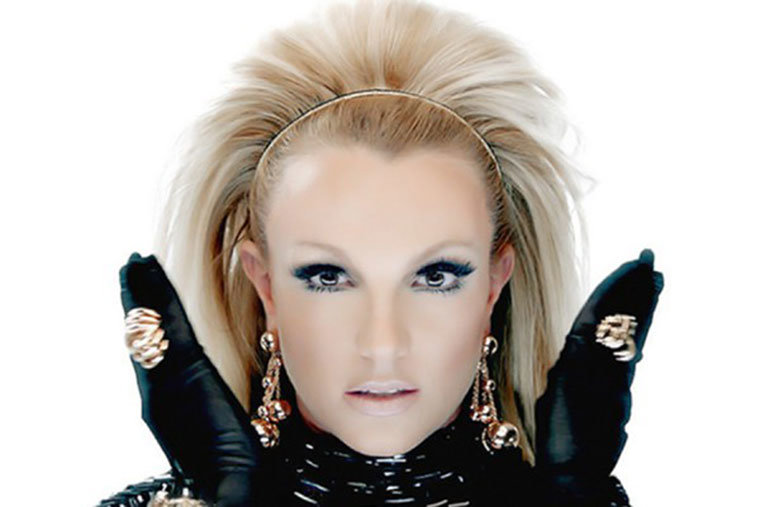 Britney Spears in the video for "Scream & Shout" (a 2013 song she recorded with will.i.am.).
What inspired you to create your first brushes?
It started out of frustration. I feel like the people who manufacture makeup brushes are not necessarily real makeup artists. Some of the brushes in my kit—their shape, density, and handle—didn't make sense to me. I was working from this collection of brushes from all over. They were irreplaceable,  and I knew I was going to lose them eventually, so I started looking into designing my own based on the qualities of the ones I liked. I placed a bulk order for my own use. I figured, I've got a lifetime of being a makeup artist ahead of me so ordering 1,000 brushes for myself didn't seem that weird.
What made you decide make the brushes available to the public?
Once I received the brushes people started finding out and asking questions. The public interest made me decide to try selling the brushes just as a small niche business, but what I learned was that I don't want a business! I'm a makeup artist. By selling my brushes, I was trying to accommodate makeup artists, and it was important to me that they not only were happy with the product, but also with the experience they had with my business. I couldn't properly manage a brand and a career, so at that point I took them off the market. Luckily I've since found a manufacturer who I respect and admire, so they are being exclusively offered through them.
Do you think you'll ever expand your line to include more tools or even cosmetics?
I have new ideas every day and I have not even begun to explore creating all of them. I like to think about what would make the everyday things in your life easier. I mean, if I had the means to do it I would go ahead and develop many things for myself and other artists. As a makeup artist, I really enjoy the process of being creative, but there's a reason I'm not a lawyer, there's a reason I'm not working on Wall Street. I don't want that kind of structure or to be told what to do. I enjoy working for myself and being creative. Frankly, I'm not that book-smart, so I think anyone who is like me in that way needs to think long and hard about going into business because it's a very difficult thing. Though I would love to eventually create more tools, it just hasn't happened yet.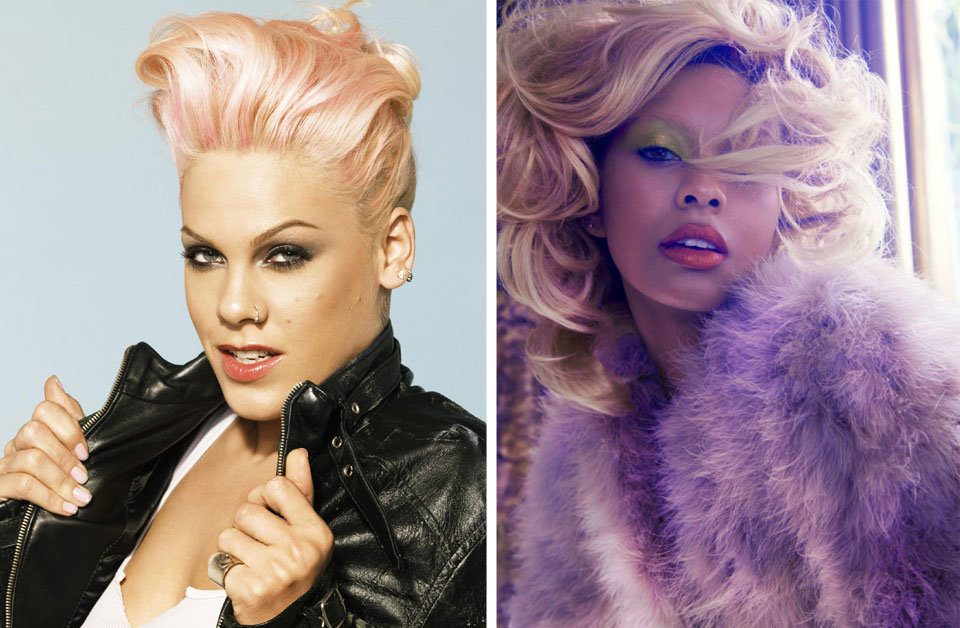 Left: P!nk, photo by Andrew MacPherson, Right: Keri Hilson, photo by Tony Duran.
Is there a reason you decided to go with 13 brushes?
It's funny—I have "Lucky Billy" tattooed on my knuckles. It goes across my 10 fingers because I've always been incredibly lucky and blessed. Creating 13 brushes wasn't fully intentional, but it has a little bit to do with reversing the bad luck aspect that goes along with the "unlucky 13." It was also very easy to come up with 13 tools that I needed.
We love that your brushes have numbers instead of names.
I don't like going to a makeup counter as an artist and have the salesperson advertise something to me as a "blush brush" when I was planning on using it for eye shadow. With the number system, I've left it up to the artist or the consumer to decide how they want to use the brush. I have a sort of template that describes how I use them, but honestly, I use them differently every day.
Do you have any role models in the makeup industry?
Too many to mention, but I will say that I spend way more time looking at new and exciting makeup artists on sites like Beautylish and YouTube than I do looking at what established artists are doing. I not only find them far more intriguing, I find them way more relevant.
Do you have anything new in the works? 
Even though I once had my own show on HGTV, which had nothing to do with makeup, I never really saw myself doing TV makeup. But after doing the makeup for Britney's campaign for her fragrance Fantasy Twist, her agent called me up and asked me to work with her on The X Factor. I got totally invested in the show—Team Britney all the way! That was a great experience. And then the other major thing involves a lot of on-camera work, too: L'Oreal Paris asked me to be their global consulting makeup artist, which I'm thrilled about. I'm from Mississippi. I mean, I don't even know how to set the table, don't know which side the fork goes on, or how to order a bottle of wine. Which is very intimidating when you think about L'Oreal, the largest makeup company in the world! But they accept me as I am. I may not know how to do a lot of stuff, but I can paint a face. One of the aspects of my role with L'Oreal is appearing on Project Runway, and doing the looks for the final four or five contestants' runway shows. It was a huge challenge—you only have a couple minutes to create each look, while being filmed in real time—but I enjoyed it. Tim Gunn is so sweet and it was really incredible working with him.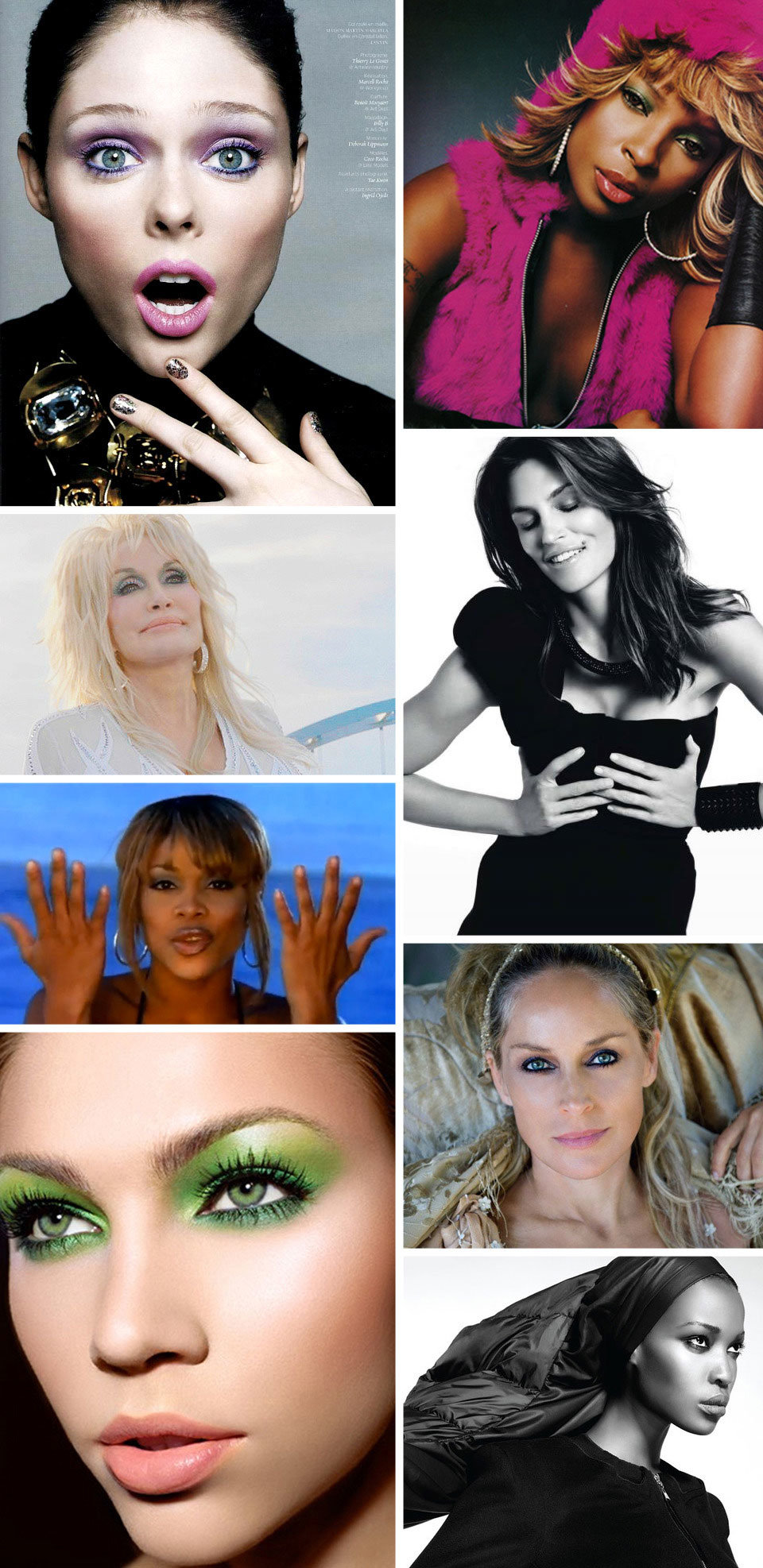 Clockwise from top left: Coco Rocha in French Revue de Mode (photo by Theirry Legouès), Mary J. Blige (photo courtesy of Billy B), Cindy Crawford in Vogue España, July 2009 (photo by Alix Malka), Sharon Stone in Elle Russia, January 2012 (photo by Frederic Auerbach), City Magazine Editorial Issue 66 (photo by Marc Baptiste), Beyond Beauty Mag Issue 07 (photo by Mike Ruiz), T-Boz in TLC's "Waterfalls" music video, Dolly Parton in her "Together You and I" music video.
Thanks Billy! Before you go, any final thoughts?
I've been very, very lucky, despite the fact that I've been told at least once by an agent that I was too old, that my career was over. That's the type of thing that drives me to succeed. When that agent said my career had peaked, I said "Watch this," and started working with Gaga right after that. What greater revenge can you have on anybody that tries to hold you back than succeeding? When your self worth is wrapped up in your art, you just have to trust that there are no coincidences. Whatever adversity you're faced with, you have to use it to your advantage. There's no such thing as a bad experience when it comes to being a makeup artist, no matter what level you are.