Beauty Product Reviews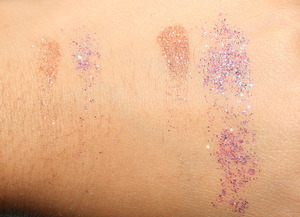 oooh~
The glitters are very pretty. They last quite a long time when applied with a certain medium (mixing medium, glycerin, aqueous spray). I bought two of these at ULTA, in the colors "Champagne Bubble" (a super-fine rusty bronze) and "Luscious Lavender" (a more coarse, light blue and violet combo). They look great alone or over other shadows.
The picture: The glitter powders alone are on the left, the glitter with MAC Fix+ Spray is on the right

Can you believe it? We can't either!
Wow. So anyone out there searching for a long-lasting, bright lip color... stop looking. OCC Lip Tars are extremely wear-proof and require very little reapplication throughout the day.
They come in relatively small tubes, but its ridiculous how little you need to cover your entire mouth.
Use a tiny, angled lip brush - and good luck! These are worth every penny in our opinion.

If you ever need a pop of vivid color...
This is kind of my go-to product for extremely bright color and staying power.
PROS: The colors are GORGEOUS, and they really do not smudge or rub off whatsoever.
CONS: It is somewhat hard to remove, but I find it worth the effort. The texture is also a little on the dry side, making it difficult to blend... dabbing this will be the best way to apply to your skin. But, once again, worth the effort.
-Joyce