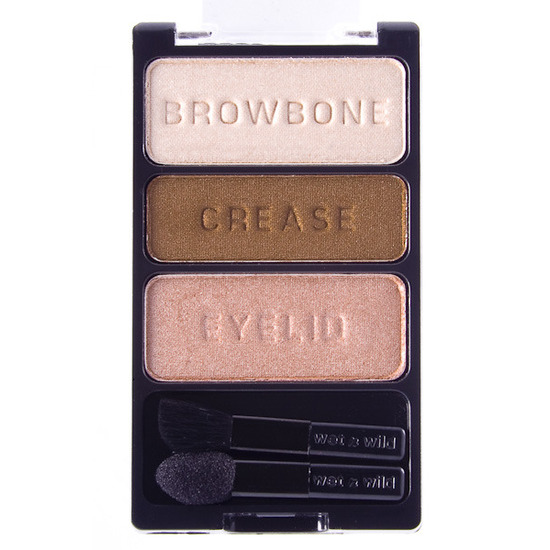 Rollover image to zoom
Reviews

Mid to High End Shadows Disguised As Drugstore!
I can only repeat like a parrot about how these eye shadows are just as good as any eye shadows in a 30 or 50 dollar palette. Growing up I thought Wet n Wild was a cheapie brand, not praised for its quality but good for lipglosses and such. But eye shadows, bronzers and the like? Who do they think they are- Urban Decay or even MAC? Well, I think the drugstore brands have stepped up their game tremendously to compete with other cosmetic companies and have launched very professional lines at a much better cost. I'm a college student who can't afford a lot of top notch products, so when I kept reading rave reviews on these trios, I figured I should give Wet n Wild more credit, and trust that their new, grown up stuff won't let me down!
I decided to start with a "safe" palette, their neutral/natural shadow trio. The "eyelid" shade, the 3rd shade at the bottom is a gorgeous pinky/gold shade, which is super sumptuous when swatched and worn- just a dab on the finger or brush picks up so much product, which is silky and rich and very pigmented. The "crease" shade is a bronzey medium brown, great for crease work. The "brow bone" shade is perfect for inner corner highlighting and brow bone highlighting and is just as rich as the other two. They are all super soft, so watch for fall out, and remember to tap the excess in the tray before applying. While a little fall out is not a problem, it makes me remember that the texture of the product is so high end, and that just a little can go a long way!
The pinky gold shade and bronzey brown shade honestly make me think of Urban Decay eye shadows in their texture, performance and especially pigmentation. The pink/gold lid shade makes me think of Snatch from UD's Show Pony Shadow Box, a shimmery pink with gold glitter flecks, a color now discontinued. Snatch is cooler and more pink, than the more yellow/gold/pink eyelid shade in the trio. The brown in the trio recalls Smog from the Shadow Box but Smog is a little cooler and more metallic. The brow bone shade is a great dupe for any light shimmer highlighting shadow and I like how it is a warm ivory with a gold and pink undertone to compliment the other 2 shades in the trio.
I like how stream-lined the packaging is but they are a little clunky with a somewhat annoying enclosure, and a weird space left over from the place the crappy brushes were stored (this makes for a great fall-out tapping well, though, where you can collect the excess later).
I docked half a star because as pigmented as these shadows are swatched and worn, their mica shimmer might dull some of the color, making the brown crease color a little less defined (at least in this trio). I imagine this could be remedied by applying them wet and doing different shadow looks, like lining the eyes with the crease shade, as well. (My pesky camera phone might partially be to blame, too!)
I created two looks with this trio- one look using the "directions" on the back, which are sometimes helpful, depending on the shadows and how they might compliment each other, (and in this case the directions did work with the shadow colors), and another look creating a natural/neutral smokey eye with a light brown eye pencil as a base. Both looks were really pretty and natural (a look I love). I have maybe 2 or 3 more I wanna get, (even though I probably have the same shades already) and price wise these are a steal. They're about three bucks, so a dollar a shadow, and we're talking really high quality shadows. Not only has Wet n Wild gotten so much better as a brand, their trios have too- I got Spoiled Brat awhile ago (not currently in the data base but I've seen on some Beautie's vids) and I was not the most pleased with the pink shade, although the silver and black were again, almost high end- almost like Kat Von D's True Romance eye shadow palette in Adora.
All in all, go grab some and get wild for these Wet n Wild trios! <3

Flawless!
These eyeshadows are hands down the best eyeshadows you can find at a drugstore. I'd even argue that they're better than any high-end brand.
The pigmentation of these is incredible. They are so rich and smooth and blend to perfection. The texture is literally like butter. The lasting power is also something to mention. Obviously it all depends on skin type, skin "mood", primers, etc. - but 9 times out of 10 I can get through my 10 hour workday without these creasing.
The colors in these trios go fairly well together as a complete look. I use Silent Treatment several times within a week. Walking on Eggshells is another favorite of mine.
For those MAC-obsessed girls out there, Walking on Eggshells contains dupes for Cork, Shroom and Naked Lunch.
For the Urban Decay obsessed, the texture of these eyeshadows is literally the same (if not better) as UD's shadows.
Overall, for 2-3 bucks, you're out of your mind if you don't get a couple of these trios.

BEAUTIFUL
I love this trio sooo much. I first saw it when watching a cutesygirl09 video on YouTube and had to have it. They are very pigmented and the texture is so smooth. My absolute favourite eye shadow that I use almost every day is the eyelid colour from this trio. It is the prettiest colour I've ever used and I will definitely be repurchasing it :)

only $3 and MAC DUPES
These trios are amazing for only THREE DOLLARS and they are all MAC DUPES. They are HIGHLY PIGMENTED and they last all day, with a primer of course, I used the elf eye primer. My favorite shade is Walking On Eggshells, it's great for an everyday neutral look, I use this at least once or twice a week. If you're going for a smokier look I recommend "Silent Treatment", all of the colors are just as pigmented. I hope this helped! xo, XCgal98 youtube beauty vlogger

Awesome 3$?????
What you get is three ensanely pigmented and totally cute shades...I heard they are dupes for naked lunch,cork,and handwritten by mac fiy the eyelid color is my favorite shade.it's an iridescent. Nude color with a hint of pink ithas become my everyday lid shade the crease shade is great and it reminds me a lot of the coffee been elf single shadow but a little lighter...the browbone shade is a standard shimmering white which is great for the inner corner of your eye.. I also think that these shades go well together and could compliment any eye color... I LOVE IT
---