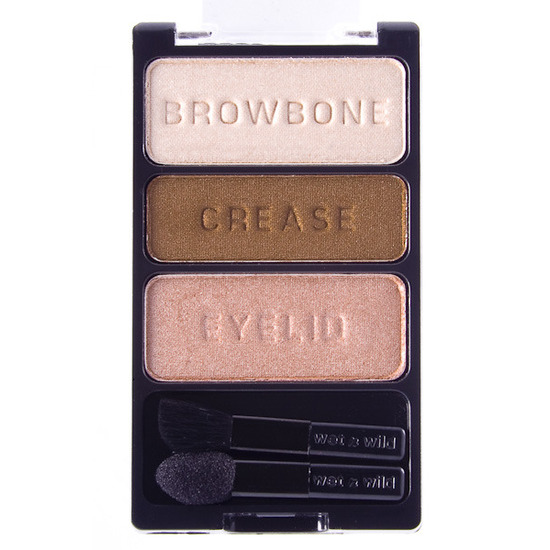 Rollover image to zoom
Reviews

Flawless!
These eyeshadows are hands down the best eyeshadows you can find at a drugstore. I'd even argue that they're better than any high-end brand.
The pigmentation of these is incredible. They are so rich and smooth and blend to perfection. The texture is literally like butter. The lasting power is also something to mention. Obviously it all depends on skin type, skin "mood", primers, etc. - but 9 times out of 10 I can get through my 10 hour workday without these creasing.
The colors in these trios go fairly well together as a complete look. I use Silent Treatment several times within a week. Walking on Eggshells is another favorite of mine.
For those MAC-obsessed girls out there, Walking on Eggshells contains dupes for Cork, Shroom and Naked Lunch.
For the Urban Decay obsessed, the texture of these eyeshadows is literally the same (if not better) as UD's shadows.
Overall, for 2-3 bucks, you're out of your mind if you don't get a couple of these trios.

Lovely shadow!
I have SUPER oily eyelids. Like, it's INSANE. No matter how much primer I cake on them, my shadow almost ALWAYS creases by the end of school. I bought Walking on Eggshells because of all the good reviews, and OH MY GOODNESS! This stuff is BEAUTIFUL! I especially love the pinky-nude eyelid color with a hint of gold, they're very natural looking colors and highly pigmented and smooth. Guess what? I've been wearing this shadow ALL DAY with only a little bit of e.l.f. primer. It HASN'T CREASED ALL DAY LONG!!! :):):) <3<3

BEAUTIFUL
I love this trio sooo much. I first saw it when watching a cutesygirl09 video on YouTube and had to have it. They are very pigmented and the texture is so smooth. My absolute favourite eye shadow that I use almost every day is the eyelid colour from this trio. It is the prettiest colour I've ever used and I will definitely be repurchasing it :)

only $3 and MAC DUPES
These trios are amazing for only THREE DOLLARS and they are all MAC DUPES. They are HIGHLY PIGMENTED and they last all day, with a primer of course, I used the elf eye primer. My favorite shade is Walking On Eggshells, it's great for an everyday neutral look, I use this at least once or twice a week. If you're going for a smokier look I recommend "Silent Treatment", all of the colors are just as pigmented. I hope this helped! xo, XCgal98 youtube beauty vlogger

Awesome 3$?????
What you get is three ensanely pigmented and totally cute shades...I heard they are dupes for naked lunch,cork,and handwritten by mac fiy the eyelid color is my favorite shade.it's an iridescent. Nude color with a hint of pink ithas become my everyday lid shade the crease shade is great and it reminds me a lot of the coffee been elf single shadow but a little lighter...the browbone shade is a standard shimmering white which is great for the inner corner of your eye.. I also think that these shades go well together and could compliment any eye color... I LOVE IT
---