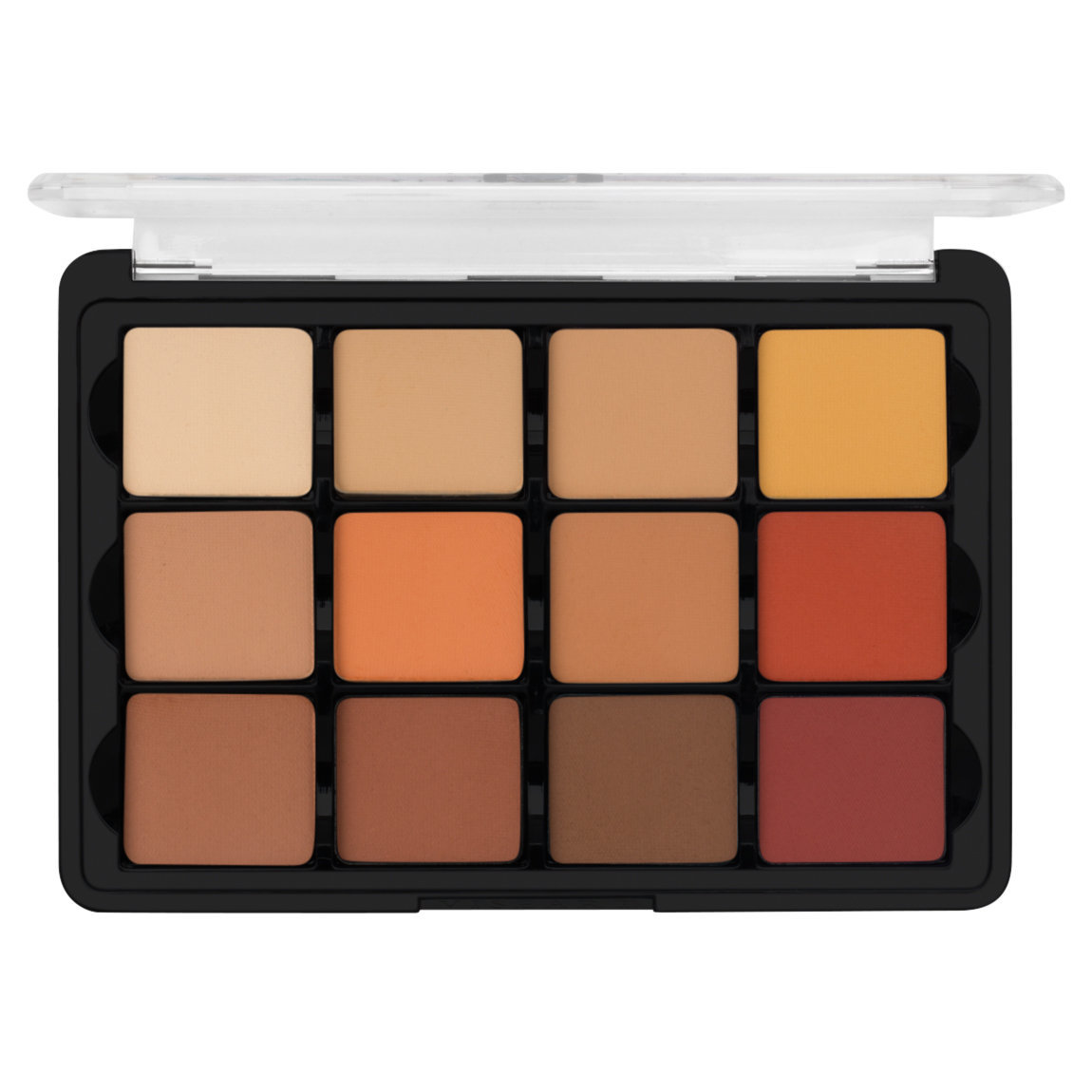 Product Description

About the Shade

10 Warm Mattes is a perfectly balanced collection of warm neutral mattes - creating a beautiful warm neutral eye perfect for fair to dark skin tones.

About Eyeshadow Palette

Viseart Eyeshadow Palettes have hit cult status in the beauty world—and for good reason. A staple in every makeup artist's kit, the versatile hues, ultra-blendable powder formula, and rich pigmentation make these best-selling palettes perfect for beginners, too.

Why It's Special

Design pro-quality eye looks with the 12 rich, true-to-pan shades, which can also be used on brows, cheeks, and more
Enjoy the buttery feel and superior blendability of Viseart's signature powder formula, which features triple-milled pigments for intense, long-lasting color payoff

How to Use

Apply shadows wet or dry with an eye shadow brush or your finger. These shadows can also be used as blush, contour, highlighter, brow color, and more—the possibilities are endless.

Other Details

Size: 0.84 oz.
Not tested on animals
Free of parabens, petrochemicals, silicone, mineral oil, and gluten

Ingredients

Shipping & Returns

Free Shipping

Beautylish offers free shipping to the U.S. on all orders $35 and up. For all other orders, we offer $5 flat rate shipping.

Fast Delivery

We ship using FedEx Express (2 business days from order shipment date) and FedEx Ground (3-5 business days from order shipment date).

Satisfaction Guaranteed

If you are less than completely satisfied with your purchase, you may return your order within 60 days (from the delivery date) for a full refund. We'll cover the cost of return shipping within the U.S..

World-Class Customer Care

Beautylish's team of makeup artists and beauty experts are here to help. If you need assistance in anything from color matching to your perfect skin care regimen, we're here to help.

Phone: 1-877-992-5474

Email: service@beautylish.com

Reviews

Jacqueline H.

Sep 09, 2015

Simply The Best

Viseart's shop is located in the Marais district of Paris on Rue Charlot. This company it very well known by professional makeup artists from around the world as 'THE" premier professional brand of choice. Viseart fuses quality with integrity; hence superior products. Their products are made without petroleum, parabens, silicone, butylene glycol or propylene glycol, phthalates, or artificial dyes.

Viseart is most well known for their shadows; however, their Classic Crème Maquillage (cream foundation) is a staple in most mua's kits. Their blushes, lip products, setting powders, neutralizers, concealers and gel liners are all top notch HD products will continue to stand the test of time and HD resolution.

Viseart palettes cost $80 USD. The most common thing I hear from people is, "$80 for matte shadows? Why spend $80 when I can purchase MAC, UD, Morphe, or MUG, shadows and make my own palette for far less money.?" Not an unreasonable train of thought; however, think of it this way: You get 12 shadows in the palette and that works out to about $6.80 a shade(cheaper than MAC) which is hardly unreasonable. Viseart's shadows are created with highly micronized pigments that are triple milled for a very buttery consistency. Can you find comparable texture and overall quality in other shadows? perhaps; however, Viseart shadows really excel above all others when it comes to blending. They are the best from 'tin to skin' shadows in terms of fluidity. With Viseart shadows blending is a breeze, and there are so many other uses for the shadows in the Neutral Matte palette. I use them on brows, to cover grey roots, to deepen eyelash color, for contour and highlight, and I also use them on the scalp to make hair look thicker. All that being said, if you think $80 is a bit steep for a shadow palette, think of the quality of what you are getting with Viseart. They don't rely on cute packaging, and they don't spend big money on marketing. Their products speak for themselves, and like the song 'Simply The Best' sung by Tina Turner, Viseart's shadows are 'simply the best, better than all the rest,' and I'm stuck on them.

Ruined.

Viseart has absolutely ruined other eyeshadows for me, the quality is just outstanding. Pigment? Check. Buttery Smooth? Check. Zero Fall Out? Check. I've never used eyeshadows that are so effortless to work with and give such a beautiful finish. I also thought it would be impossible to ever find neutral that actually carried enough pigment to be usable on dark skin. Viseart Neutral Mattes is THEE palette everyone should own. I've just ordered the Sultry Muse and I cannot wait to use it.

my house-on-fire grab, stranded on an island survival palette

If you haven't bought this yet, please do urself a favor and GET IT. here's why before that, allow me to tell you that I'm a professional makeup artist and have taken several masterclasses with some international gurus in this industry. Also I bought 2 other shadow palettes and 2 face/blush palettes from this brand. and can't get enough O' Viseart palette.. how do I love thee… let me count the ways 1- we all need neutral mattes to base and prep eye makeup, these neutral colors are essential for defining and shaping eye contour. 2. the choice of neutrals here is impeccable, even if you can't find the shade that u want, just dab ur brush in a couple pans n ull get ur favorite combo 3. the palette works on its own.. ie you can get more than prepping eyes, you can create WHOLE DAY WEAR looks that are suitable for office/formal and no makeup makeup looks. and even take it to night with edgy smoked eyes looks 4. the shades are INTENSE and I mean a little goes a very looooong way.. and even more intense if u add a little water or fixing solution 5. this is how I break it down.. top row is MUST nudes for all over base and even soft peach to complement a winged liner look - central 2 are great transitional or stand alone shades - browns for contouring - cool brown/taupe for eyebrows and lower lash line and finally the darkest black/slate/brown for definition and dramatic accents. in a nutshell.. I use them ALL .. EVERY day !! 6. the size and packaging is very minimal & sturdy.. I'm a super practical person and I value function and quality over appearance and I'd rather put the $ where it deserves. so this is very portable & compact and that doesn't compromise what I look for in a palette. 7. speaking of formula: They blend LIKE A DREAM, even for novices, don't worry if u got this blotch of shadow in some place, it's fixable and the blotch will blend as it follows your brush strokes, yet I still say go easy on the product, you will get MORE with LESS - also, I get almost NO FALLOUTS in addition, longevity: they do last a long time during the day, with or without a good eyeshadow primer 8. VALUE: 80$ for 12 amazing and quality shades is pretty affordable for high end PRO brands.. I will say no more than "do the math" ! it's basically Nars / MAC range and I personally think they deserve more for an independent PRO MAKEUP brand that is used on movie stars and runway shows. Oh and since the formula gives more with less, it's bound to be consumed slowly, hence longer usage time. :) 9. These products are not tested on animals, contain organic ingredients, and they are free of silicone, petrochemicals, and mineral oil. <- from their site if u skip all the 9 reasons above, just look at the rave reviews & rating.. it does SAY something ;)

I made the look for the model in picture using viseart palettes.

Perfection!

Ok, so I'm a makeup addict and their are many brands that I enjoy, but nothing really comes close to viseart. In my opinion, viseart mattes are the standard by which all eyeshadows should be judged. Nothing performs or blends as effortlessly as my viseart shadows. Sure, I can create great looks with other brands too, but it takes longer with them. Viseart shadows practically blend themselves. I know they seem expensive compared to other palettes, but I believe that they are worth it entirely, and even though the packaging doesn't seem luxe.... They travel so well. I'm never afraid to take them with me, if you don't have any yet, I highly recommend... And if you don't know where to start, I'd say the neutral matte and dark matte palettes are the best two to start out with. I used the neutral matte palette to create the look in the picture, along with one of the shimmer shades from the minx theory palette on my lid.

For the love of color!

These palettes make me so happy! I am not a MUA, just a gal in her 40's that found eyeshadows again after some twenty years break. My problem is watery eyes, and using eyeshadow usually makes the problem worse. However, I have now found out that these Viseart eyeshadows as well as many UD eyeshadows do not irritate my eyes so much. I think the twenty year gap might explain this... No?

Anyway, I love color, and these two colorful Visearts, Editorial Brights and Boheme, have made it so very easy to incorporate bright colors on my lids without looking like a clown with my average make-up skillz. :D They are very easy to blend, soooo buildable, they blend together to make new colors, and the shimmers complement the mattes. Yes, they are worth the splurge for sure.

The only thing I learned the hard way is that your lid has to be well based, since the matte colors adhere to the lid and become harder to blend if the lid base is too sticky.

Also, the shimmers are not super metallic, however they are very very beautiful, subtle, classy, and also quite forgiving on more mature skin. Imo they are perfect but if you're looking for wham-bam-foiled shadows, these might not wow you.

In the photo I have used pink, yellow and lilacs from '8 Editorial Brights', yellow, pale pink and light blue from '2 Boheme', and white and light beige from '7 Cool Mattes'.

Christopher N.

Oct 25, 2015

Without a doubt the best shadows I have EVER used.

As a professional makeup artist I have used many different brands of shadows throughout the years. Viseart is without a doubt the BEST shadows that I have ever used. The pigmentation is there, the blend like a dream, and they hold up exceptionally well on the lids. I own ALL of the Viseart eye palettes and I love every single one of them. I use the #1 matte palette LITERALLY every time I do someone's makeup. The colors are multi functional and work well for the brows as well as working for highlighting and contouring. Given the quality and amount of product you get these palettes are an exceptional value for your money. I know what you're saying....."Do I REALLY need another neutral palette?" The answer is yes. Yes you do! Put it/them in your cart and hit that checkout button before these sell out! And for all those wondering there is a REASON why these palettes sell out everywhere so fast, Viseart only produces their products in what most companies would consider "small batches" to ensure that the quality is at it's very best. That's what you get with Viseart....Quality.

At Last...

I give Viseart 2 thumbs up. It's an excellent buy for the amount of product you receive. I purchased the Sultry Muse and loved it so much I purchased Neutral Mattes a few weeks later. I'm just waiting for Beautylish to carry the Parisian palette so I can buy that one too. I love the rich warm hues in both palettes. The colors blend well and are long lasting. I use these shadows everyday. You'll love them.

Team

Amy Maria Y.

Oct 20, 2015

MUA must have!

Finally! My fave palettes are on sale on Beautylish. I started practicing makeup with Viseart and RCMA makeup and they are always always staples in my kit. The Neutral Matte palette in my kit has been on set with me for fashion shoots, editorials, spfx films, theater and of course bridal. I've gone through 2 of these palettes as I depended on them greatly. They transition so easily into other makeup and can be worn on their own. My faves for my vanity are Dark Mattes and Sultry Muse at the moment. They work beautifully to amplify color & texture.