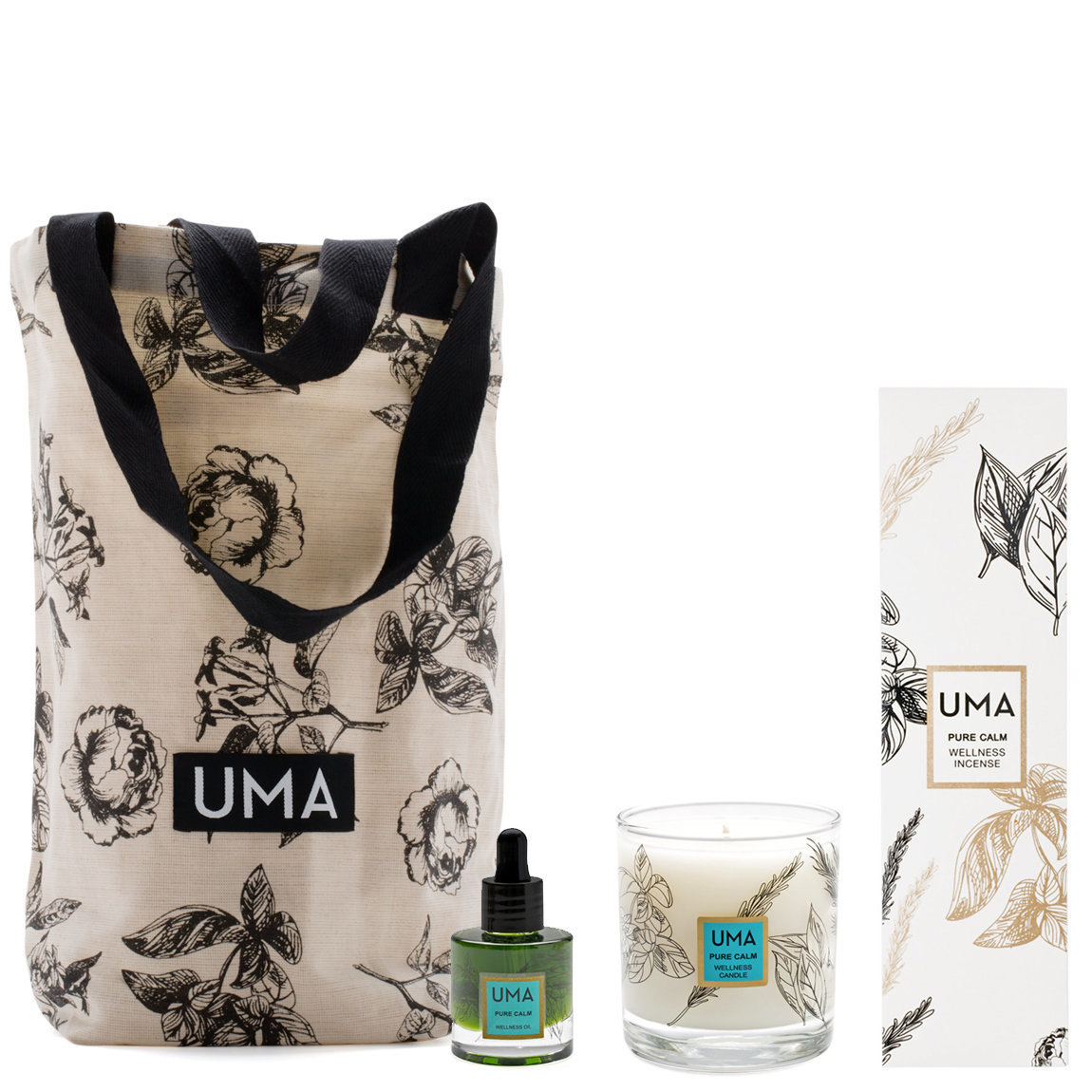 20% Off Uma
Pure Calm Wellness Set
$108
Product Description

About Pure Calm Wellness Set

The beloved Pure Calm Wellness range all in a custom UMA gift tote.

What's Included

Pure Calm Wellness Oil: This blend naturally alleviates feelings of stress by promoting tranquility from within.
Pure Calm Wellness Incense: When you need a moment of calm away from everyday stressors, infuse your air with Pure Calm.
Pure Calm Wellness Candle: Breathe deep as feelings of anxiety and stress melt away, leaving you in a state of renewed calm and balance.

Why It's Special

Alleviates tension.
Reduces feelings of stress.
Helps combat daily stress to assist in mental unwinding.

How To Use

Pure Calm Wellness Oil: Massage 4-5 drops of Pure Calm Wellness Oil between your toes, onto the bottom of your feet, pulse points, temples, behind the ears, or all of the above for the ultimate experience. Take a deep inhale from your hands to enjoy the aromatic experience. Works wonderfully with aromatherapy diffusers, or added to bath water.
Pure Calm Wellness Incense: Light the tip of your incense stick and gently extinguish the flame by blowing or fanning. It Should glow red and give off a wisp of pale, fragrant smoke. Place the unlit end into your incense holder and let it smolder allowing the aroma to takeover. Breathe deep as your muscles start to relax and a sense of calm takes over.
Pure Calm Wellness Candle: Once lit, ensure the candle wax pools to the edge, especially on the initial burn. Keep the wick trimmed to 1/3 inch at all times. Don't burn candle for more than four hours at a time. Discontinue use of a candle when 1/2 inch of wax remains at the bottom of the jar.

Other Details

Pure Calm Wellness Oil Size: 1 fl oz
Pure Calm Wellness Incense Size: 15 Incense Sticks
Pure Calm Wellness Candle Size: 8 oz
Organic
Cruelty-Free
Paraben-Free
Synthetic Fragrance-Free
Mineral Oil-Free
GMO-Free

Ingredients

Shipping & Returns

Free Shipping

Beautylish offers free shipping to the U.S. on all orders $35 and up. For all other orders, we offer $5 flat rate shipping.

Fast Delivery

We ship using FedEx Express (2 business days from order shipment date) and FedEx Ground (3-5 business days from order shipment date).

World-Class Customer Care

Beautylish's team of makeup artists and beauty experts are here to help. If you need assistance in anything from color matching to your perfect skin care regimen, we're here to help.

Phone: 1-877-992-5474

Email: service@beautylish.com

Reviews

The 5 star is for Beautylish customer support.

There's a lot of online retailers out there but none quite like Beautylish. I purchased this set during their Black Friday sale to try out UMA brand for the first time. I was upset because the candle and incense smells divine and long lasting, yet oil gave me headache after smelling because I happen to be unlucky to receive a bad batch, so much for calm and wellness... Wrote a review and received quick response from Monica who refunded me the price of the oil which I proceed to throw out the horrible bad batch of oil and upcycle the beautiful bottle it came with. Again, this is why I continue to be a loyal customer of Beautylish. Had I purchased the set from other retailers and getting rotten luck of receiving bad batch on my package, I'm not sure if I would receive such quality and expedient customer service, reassuring and demonstrate to me that they also took responsibility for being a third party retailer of the brands that they carry to ensure customers receive good quality merchandise they pay for.

Good set except for likely expired oil.

Love the candle and incense for they smell like actual scented products. The 2 stars are given for the candle and incense that smells divine that actually calms me down from seething anger from the oil in this set.

Minus 3 stars total for the oil. Docked one star for the smell of the oil. The oil smells like when you chew up bunch of spinach in your mouth, spit it out, and left it to ferment under the sun. It was awful and upon smelling, one side of my head starts pulsating within minutes.

Another star docked for the oil because it has couple of visible leafy residue and stem inside the oil as if someone has tamper with it and adding leftover vinaigrette oil into the mixture.

Docked another star for the oil because I feel cheated of my money. Bought this set because it was 30% off during Black Friday sale to try the brand at discount. I bought it believing Beautylish will not sell products that's been sitting in warehouse, likely expiring or expired to customers period. Beauty products have expiry dates. The oil didn't smell rancid but it doesn't smell like Tuberose, Sandalwood, Clary Sage which are ingredients of the oil. It smells like chewed up vegetables complete with saliva that was spat out and bottled.