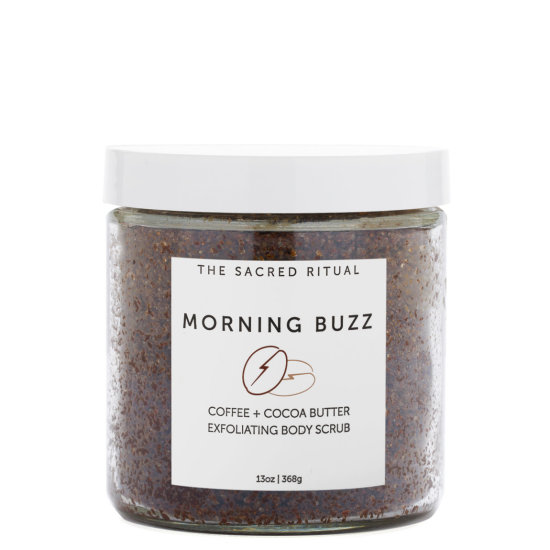 Rollover image to zoom
Reviews

I really like this scrub! It looks a bit dry in the container, but don't let that fool you! Once you rub it on your skin, it leaves you moisturized, but not overly oily. I also really like how the scrub stays on the skin when you rub it in. I have used scrubs in the past that just kind of fall off your skin once your are done scrubbing, but this stuff stays on your skin until you rinse it off. I think this also helps prevent the tub from getting slippery unlike so many other scrubs I have used. Overall, I would highly recommend this product!

Great stuff!
I really love this scrub. It smells wonderful and feels great on your skin. It was out of stock when I first ordered it, and let me tell you, it's worth the wait. I do have two little issues with it though...I wish it was suspended in just a drop of oil or something that would hold it together better. You can take a scoop into your hand and you will lose most of it right away, it's like rubbing coarsely ground coffee beans onto your body. Your shower ends up looking like a coffee crime scene. Also, while personally I love the heavy glass jar, I'm not sure glass is the best choice for a wet, slippery shower. But even knowing these things, I will definitely buy it again.

A bit messy but smells and works great
I have been seeking a decent body scrub and I love how this one is not at all oily. It won't make the bottom of your shower treacherous to stand on as you rinse off. The smell is great and isn't overpowering like I was expecting it to be. I'm a big girl and the directions say to use a generous amount. I actually used less than what I normally do of other scrubs. It can make a bit of a mess in your shower because it is coarse ground espresso beans, but rinses clean. It doesn't leave an oily feeling to your skin. As a pre-shave exfoliator I found it works quite well. I first tried The Sacred Ritual's "Thirsty" oil and when you pair that with this you have very healthy hydrated skin. The tub is quite large too. Absolutely recommended.

Team
An espresso shot for the soul
If you love coffee, you've found your match! This gorgeous scrub not only leaves my skin feeling velvety and soft. I have pretty dry skin so this helps me exfoliate any dry patches that I might have. I also really enjoy using this to prep my legs before I shave to ensure that I get a nice close shave. Above making my skin feel good, I really think that the scent of coffee wakes up your senses but the fact that this product contains natural caffeine mean that it helps with overall blood circulation which in turn actually make you feel awake and brighten up any morning shower.
Not only does this product have a delicious scent, but it also comes in a generous size and should last you quite long. I personally can't get enough of this scrub and look forward to trying more products from this brand!

Let me start by saying this is the first time I've ever written a review for a product. That's how much I love this body scrub and the way it makes my skin feel! I don't even like coffee, but I love the way this smells! And I know all the ingredients are natural and good for my skin. I gave a jar to a friend as a Christmas gift, and the very next day she texted to say how much she loved it! Thanks Olivia, for creating The Sacred Ritual!

Look forward to it every morning!
Im new to a good skincare routine and have recently become an avid essential oil user so in my search for clean non toxic products discovered The Sacred Ritual line of products...bought this body scrub for me and my girls for Christmas and wow am I glad I did....first when you open the jar, you are overwhelmed with the most heavenly coffee house scent - and the plus is its good for both sexes ( not flowery) but the really great thing is how it makes your skin feel = ALL DAY...I cant say enough good things about this scrub!

Best scrub!
I LOVE this scrub. I have really dry spots on my skin where it actually cracks and bleeds. When I use this scrub it makes my skin so smooth and keeps the new skin underneath hydrated. Plus I love the smell! Thank you for carrying The Sacred Ritual!
---