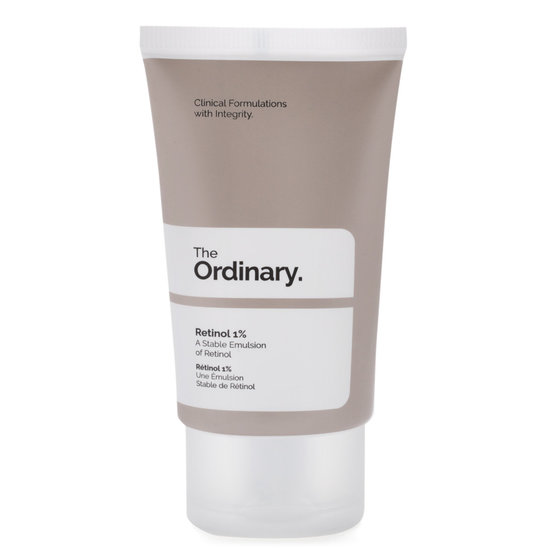 Rollover image to zoom
Reviews

Results for a tiny price
Most of the negative reviews seem to be from people who don't quite understand what retinol does or how it works. Your skin has to get acclimated to it... and with that degree of rapid cell turnover, your skin will definitely burn, break, peel, and turn red. That's what happens.
You absolutely have to avoid direct sunlight. Otherwise, you'll get a chemical burn. That's the price of beauty, when you have something that actually does work. I've noticed significant improvements to my cheeks and undereye area, which tend to be a bit rough due to my lupus.
The texture of this product isn't GREAT. I've used other retinols that were a gel that were less greasy on the skin, and I'd prefer this to be that same texture. When I go to bed wearing this, I feel like I've been slathered with vaseline... but I can overlook that, because I get good results.
Only use a pea-sized amount. That's truly all you need for your entire face. Trust me, it'll cover everything. Go without makeup for the first week or two to give your skin time to adjust. And read up on retinol before you take the plunge. It's worth it <3

Ok, but not great
I would like this product if it wasn't packed full of silicones. Think Smashbox photo Finish primer as far as texture. I am not even sure how the retinol can penetrate your skin since silicone doesn't absorb into your skin. I won't be repurchasing this product but will try the 2% retinoid from this brand instead.

Very pleased, baby soft skin
I have waited two weeks to write a review. It actually takes 12 weeks to see any real results so this is just a first impression. Let ne preface this by saying I did allot of research before ordering products by The Ordinary. You cannot just order and slap it on your face. That all being said, I truly love this product. I use it once a week and on that day I do not use my 23% vitamin c. The first time I used it, I had no burning or stinging but the next day my skin was very tight and felt dry. That evening I had some slight peeling. Because of when my products arrived, I have used this 3 times. My skin is baby soft and plumper. I am using other products from The Ordinary. For reference I am 54, medium skin tone, normal to dry skin and I do not have sensative skin. I did a patch test before putting this all over my face. I suggest this with any retinol, retinoidnor acid product. Do your research, call the hard working Monkeys at The Ordinary, decide on a regime and be sensible. I ordered from Beautylish because of the customer service rep and lightening fast shipping. I will continue to do so

Love. Pure love.
I'm surprised by the negative reviews, but retinoids are serious products. I definitely recommend a patch test before slathering it all over your face. I, on the other hand, am pretty aggressive with skincare so it's not a problem for me. This is making me peel - a lot - but I just take that as a sign that it's doing its job and that I have plenty of layers that need to disappear.

WOW! Better Than Retin-A!
I have tried using prescription Retin-A, all the way up to the 0.1% strength over the years and saw no results. One week of using The Ordinary 1% Retinol and I am seeing slight peeling that reveals fresh new skin. I would recommend it to anyone that has grown disillusioned with the results and price of the prescription alternative.

Strong but effective
If you have sensitive skin, definitely heed the warnings when using this product. For me, the best way to use it is to mix with with my moisturizer, as I had a reaction to using it by itself before moisturizing. After one week, I'm beginning to see improvements in my skin, especially under the eye.

So Far.....
i JUST bought this & started trying it, so far i have used it twice just so i don't over do it, and i'm this short time, it has smoothed my skin and made it feel firmer. it has made my skin dry but with oils and moisturizers i have it under control. my skin around my jaw line near my earlobes was peeling the most of any other part of my face for some reason. i have an issue with whiteheads that i have no idea why i get (not regular acne or breakouts, just plain whiteheads) and since using the retinol, i haven't had any. which i haven't had happen to me at all. i usually always have at least two pop up night and day. it made my face very sore and hurt to put any product (skin care or makeup) on my skin but after the third day it was completely calmed- pain wise. as stated above, my skin is really firm right now and it's been a couple days. my makeup is sitting on top of my skin nicely though, it looks smoother than it ever has. i'm pleasantly pleased as of right now, but because i haven't used it for long, i can't give it over 3 stars. i need more time!

Why all the silicones?
I don't have "sensitive" skin, but I do break out easily and have issues with hormonal and stress induced acne. I wanted to try a retinol/oid product to see if that would help with some of my combination skin woes so I gave this product a shot. I have only used it a few times and have not experienced any peeling, burning, or sensitivity thus far. I have always used the 100% Rose Hip Seed Oil from The Ordinary immediately following this product, so that may have something to do with it. This product feels (and looks) awesome on the skin but that's because it is absolutely STUFFED with silicones. Why? I honestly have no idea! If you're applying this product at night, then why do you need all the silicones? This isn't supposed to be a primer but it acts like one for some odd reason. Because I have not been using it for very long I have not noticed any long-term improvement in my skin other than the immediate blurring and smoothing effects of the silicones. I'll be sure to read the ingredients more carefully before purchasing from this brand in the future, in the mean time I hope I notice some results from this product.

Horrible
I heard Good things about this product. However, in my opinion it was horrible. My Face did not react well I felt as though I had a severe sunburn on my face. It was red, felt as though my skin so tight, cracking and flaking all over. Everything I used on my face even a Moisturizer burned

Does what it's supposed to!
I've been using this product for about a week. It works as well as the products I've used that were 5 to 10 times the price. It's hard to gauge long term results in just a week, but barring something crazy happening, I'll be repurchasing this product and others in this line.
---