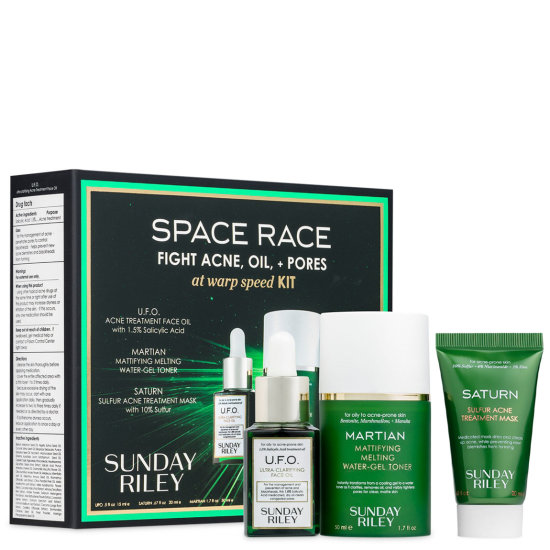 Rollover image to zoom
Reviews

the mask was half empty when I got it and I found I broke out more with it I liked the Toner but honestly everything in the kit and felt like there was no change for me and I'm canadian so it cost even more for me. only good feedback I have is when I used what little of the mask that was actually in the bottle it worked great for spot treatments but I wont be buying it again :(

Very good for oily
This stuff works! It's a very nice smelling and overall good product yo put in your skin care routine

Loving it!
The oil and toner are especially great - toner is very mattifying and the oil targets pimples without being crazy drying - I only use this on problem areas though - be wary on purging. The mask is also great, but quite intense so use sparingly. :)

Amazing product
I love pretty much all of Sunday Riley's products but this one is my holy grail. I was still breaking out before my period at almost 40 years old. I swear, I have not had a single breakout since beginning to use this product (i don't even use the mask all over, just as a spot treatment) seriously, I can not reccomend this set enough.

Improved Skin Texture
I'm really happy I bought this! I have oily skin & have been having period-related breakouts & I really feel like this trio helps. I love the toner, I can instantly feel my skin is cool & my pores look more clear. The oil is my favourite product of the 3, it feels moisturising without being overly oily, & in the morning I can see a huge improvement in the overall texture of my skin, it's smoother & much clearer! The treatment mask is the only product I'm not crazy about, I've left it on pimples overnight & don't see a huge effect on them. Glad I bought the mini sizes, will definitely repurchase the oil & toner

It was ok
The mask was effective, the other products did not help control my break outs. The oil was pleasant but did not help clear my skin, tea tree oil serums work better on my skin, the toner was a weird product to add in my routine i was not sure if i should put it on my face prior to the oil or after.

Not helping so far.
Granted, I've only been using this for about four days but I'm not impressed. It smells pretty bad but I'm getting used to it. Prior to this, I was using tea tree oil and apple cider vinegar so I know the smelly things work best sometimes! No improvement in breakouts yet but it is early. The one thing I have definitely noticed is that my skin is SUPER oily! I have very oily skin to begin with and it has gotten much worse since using this. I use the toner and U.F.O. at night, then only the toner during the day and it does NOT matify my skin! I'm going to keep using it to see if things improve but so far it's not starting out great.

Christina X.
Nov 01, 2018
Worth to Try Only
Like a previous review, the mask in this kit came half empty. 3 stars for the kit overall, but just for the mask alone I'd give it maybe a 1/2? I rarely get large, painful, under the skin pimples but after trying the mask, I started getting them. That being said, I love the toner and may repurchase this kit just for the toner and oil (I've been using it daily since I got it and it hasn't done anything good nor bad for my skin so far). The mask was the only product out of this kit that was a pass for me.
---