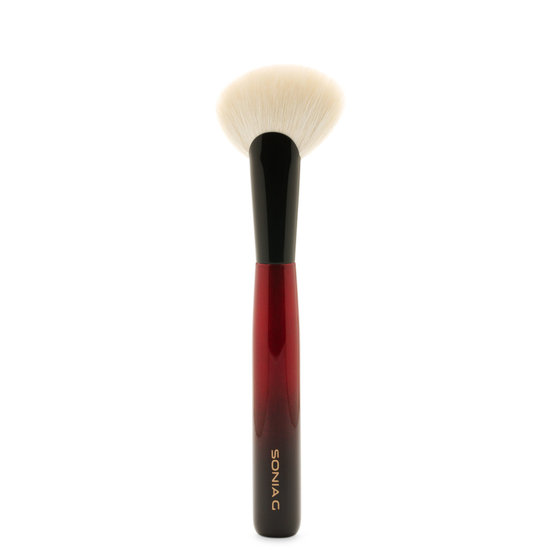 Rollover image to zoom
Reviews

Valentine I.
Jul 16, 2022
Underrated hero
For me this brush is seriously one of Sonia's best ever. I pretty much only use it for blush that's low to moderately pigmented like The Balm's Down Boy. It just places it perfectly on cheek every time. This purchase is a spare as I don't want to be without this brush. Glad it's back in stock!

Still exploring the best the brush has to offer!
I was going back and forth between this brush and sculpt two. I figured this came out after sculpt two and that it's un-dye hairs (able to use on cream products), this maybe a better brush. I also purchased sculpt two later (curiosity kills the cat). So far I have used this for contour and highlight with just powder products. Contour was ok…needs blending/buffing as you should. I used the longer bristles side for highlighter… this to me gives better use of the brush. I haven't used this to apply blush as I have a more favorable brush for that. I do like to have the versatility to use for multiple purposes as less brush cleaning is better. I am still learning (this was my first fan brush), hopefully I will make good used of the brush. It's well made, luxurious feel, super soft. If you are curious to try one fan brush…. I think sculpt two is a better choice. Although I just got it yesterday and tried it once but I feel that it's more dense; thus, gives better application and blending/buffing look.

100% satisfied
Beautiful work of art. Sonja makes the softest Saikaho I've tried so far. It's exactly what I wanted it to be.

WOW WOW WOW
I was never into fan brush and I ordered it on the premise that the reviews were good and that Sonia G brushes are incredible. well, I have been converted !!! The reason why I was not into fan brush before is simply that I never tried a good one until now. This is so incredible. If you pay attention to the photos you can see how the hair is actually angled giving the perfect curvature for contouring. It is more obvious in person and this brush should be a must in anyone's collection. I am so impressed and obsessed.

A favorite
Soooo I don't really have a noticeable cheekbone, so generally contours end up looking muddy if I don't apply strategically. The sculpt four makes contour a breeze. I generally contour with cream (with a denser, directional brush) under foundation and apply powder contour with this brush. Just a couple of swipes under the cheekbone creates beautiful and precise contour, that does not look muddy. The brush is capable of creating sharp contour that looks natural but you can also blend it out too with this brush. I also have sculpt one, which is a bigger version of this brush and I definitely prefer sculpt four for contour. I appreciate the design that made the thickness different one side vs the other in case I ever need that level of control and precision. The brush is keeping well and have not shed although I've used it for months. I use sculpt two for highlight. I really love the sculpt four for contour and sculpt two for highlight combo. They are really the best. Sculpt four is soft and feels great on the face. Highly recommend this brush.

Wonderful useful brush
I use this for contouring. I squeeze the bristles to apply. It can also be used for blush and blending. Sonia G brushes the best of my brush collection. Beautylish has the widest selection of top beauty brands that I've found on the internet.

Really nice
This is a perfect little fan blender for my small face.. I wanted to get her larger fan brush or the WG Holiday fan brush but they both looked too large for my small /narrow face planes. I'm really enjoying this brush thus far!! It blends cheek products seamlessly! Another big win for Sonja G!!! Love her brushes!

Interesting
This is an interesting brush. It is slightly shorter on one side. I was worried that it would apply highly pigmented powders patchy, but it does not. It does a terrific job and for the first time, my contour looks airbrushed. Initially, I thought the hairs were too short and stubby but I think, after a few washes (I've washed it once) it will become fluffier. Sonia G fan brushes are the best in the market, so while it takes a hot minute to work out how to hold and use a fan brush properly, the results and flexibility of function, not to mention the versitility make this one an interesting brush. There are options now though, if you want one with a thinner handle and slightly longer and fluffier hair, then when the Sky Face brushes get sold individually, you can pick up the Worker Fan instead. I prefer the thinner handle on the Worker Fan. It will be easier to maneuver than the thicker handle on this.
---