Rollover image to zoom
Reviews

Multipurpose must-have
My best friend has been a devotee of Rosebud Salve for as long as I can remember. After fifteen-plus years, I can completely see why.
I picked up a tin during a recent Sephora order (solely for the free shipping upgrade). I didn't have high hopes for a $6 lip gloss. I was wrong; oh, how I was wrong!
Rosebud Salve applies smooth, but not greasy. It gives the slightest pink tint that looks more like natural flush than makeup. The scent is faint and of fresh-cut roses as opposed to being cloyingly sweet or overly perfumey. It fades quickly when applied.
I have used the product as a lip balm, a highlight for cheekbones, to tame unruly eyebrows when I don't have time/strength/sobriety to pencil them into submission, to moisturize dry cuticles, to cover ashy spots on my hands, to smooth the frizzy baby hairs around my face, to massage the sore spots on my feet after too much time spent in too-small too-tall heels, and even as a quick ointment for my niece's bouts of prickly heat. It lasts through eating, drinking, kissing, talking, and has the added bonus that it actually conditions my lips. I'm a biter, so having something that didn't transfer to my front teeth was such a godsend. I also love that my hair did not stick to my lips once.
With average use, I figure one tin can go for at least a year. I've had mine for about three months and there's barely a dent. This is always in my purse or pocket.

LOVE THE MINTY ONE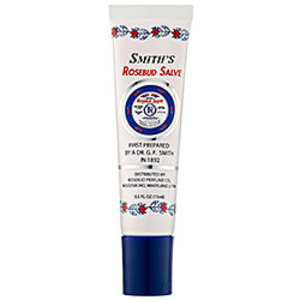 Ok so finally they made this product in tube-form! I love this product, but I hate sticking my fingers in it. I mean seriously where am I supposed to wipe my hands after using this product. I'm like a 3-yr-old ea time I use this product and then I have to wipe it on something. It's not very sanitary. Who do they think I am? I don't carry a monogrammed hanky around with me. Anyway, they need to get crackin and make the minty one in a tube form as well. Is it too much to ask?

You could say its a MIRACLE ▲
Burt's Bees may be one of my favorite lip balm but nothing can beat the Rosebud Salve. Many people has been raving about the EOS lipbalm but in my opinion its not worth the hype. It's makes your lips soft at first but pretty dry later and it has one of those artificial fruit scents which I don't like but its too cute to say no. Rosebud salve is deffos a miracle! Just after a few uses, you can definitely see a difference, plus it has a little pink tint which is pretty cool too. Love using this when my lips are peeling, after a few hours your lips looks absolutely beautiful. So much of love for this product! xoxo

My Must Have Night Time Lip Treatment
I use Rosebud Salve as a night treatment for my lips, before bedtime. My lips feel soft, and looks smooth in the morning. I keep it in my makeup bag, just in case my lips need a pick me up after school. Overall, I love it. This is a great product if you have dry, chapped lips.

Love Love Love!!
I always have to have shiny lips so I'm basically putting on lipgloss on a daily basis. When I bought this, I was just planning on using it before I put on my lipstick and gloss. It adds that shine that I like and now I find myself skipping my lipgloss routine altogether!! Plus it doesn't have the usual sweet, fruity smell that most balm/glosses usually have, instead it smells of fresh roses. For it being no more than $6, I see myself saving more money compared to the $15 glosses I usually get. Definitely a must have in my book!!

Christina X.
Jan 12, 2012
WOW WOW WOW
I have had this product for less then 24 hours and my lips feel brand new! Last night i took a trip to Sephora in desperate need of a lip repairing balm. I initially intended on getting the lip Sugar treatment ( Which I received in my swag bag from the beauty social) but when i realized it was a bit more expensive, I was on a search for a replacement. Then I found this!!! My lips were probably the worst they have ever been.. im talking dry and chapped. I applied once at 7pm and once before i fell asleep and TADA this morning im a brand new women! My lips are soft, moisturized and almost completely healed from little cracks. THANK GOODNESS!!!

Serious Multitasker
I discovered this salve years ago and it serves multi uses for me. It makes for a great hand cream during the winter months when the weather zaps all moisture from my hands. Best of all I use it serves as a great lip treatment at night. The next morning I wake up with baby soft lips. One tin will last me at least 4 months. Not bad for something so small.

CAN'T LIVE WITHOUT
I have used this since i was in the 7th grade! i am absolutely obsessed with this product! I have gotten ALL my friends hooked on this. I use it on everything, it makes my lips feel sooo soft and silky, it smells great i would recommend this to anyone and everyone who wants soft silky (and shiny) lips !

Top favorite.
I've been using this for years. My absolute FAVORITE ever!! I love the tube version for when I'm out and about, much more sanitary than the pot. All my other lip balms kind of come and go when I try new ones over time, but this rosebud salve has been a staple in my makeup bag.
---