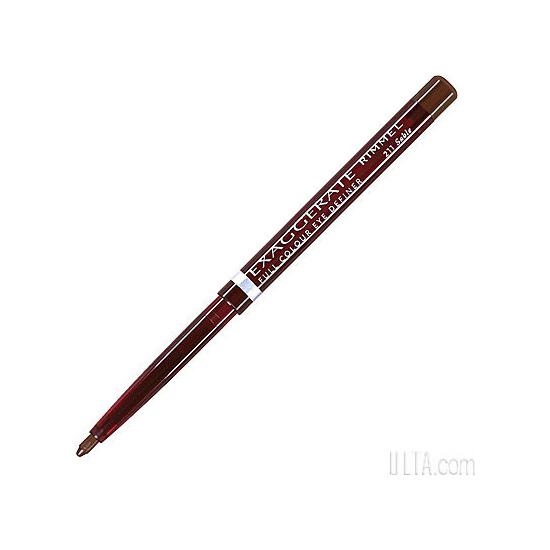 Rollover image to zoom
Reviews

I had low expectations for this eyeliner, but the pigmentation & lasting power instantly changed my opinion.
The versatility of this pencil is what makes it so special. My skin is medium to dark, so if I want to go for a more "natural look" this is my go-to eyeliner.
Extremely smooth when applying, it doesn't drag along your lower lash line when applying, or leave little chunks behind (maybe that only happens to me, I don't know.)
PERFECT color for filling in eyebrows, less harsh than a black pencil.
I can't say this is my "HG" product. I like bold look of liquid/gel eyeliner best. But, I can say this is perfect if you're either fair in skin tone, or going for a more "natural look" and don't want the harshness of a black eyeliner.

Great drugstore eyeliner
This is the best drugstore crayon liner I've tried so far, and it has earned it's spot as one of my most-used makeup items. It glides on very easily, it lasts the whole day, and it has a built-in sharpener and smudger. My only complaint is that it tends to clump up on my lashes when lining my lower lid, but it's easily fixable.

Perfect everyday eyeliner!
Very impressed with this eyeliner!
Price/Where to buy: I bought mines at my local drugstore (Shoppers Drug Mart) & It was very affordable. It probably ranges from where you buy it. It can range from 5-7$
Lasting Power: I always set this eyeliner with a powder and on my upper lash line It last about 8-10h, but my lower lash line it last about 5-6h, it does tend to smudge on my lower lash line, so setting it is must.
Application/Colour Payoff: It glides on smoothly, and its pretty pigmented!
How long does it last: I've had mines for about 1 month, and I'm only half way done & I use it everyday! So I would say it last about 2 month.
Overall, I would suggest this! Very affordable eyeliner. Perfect for everyday use.
My youtube channel: http://www.youtube.com/beautelii
:)
---