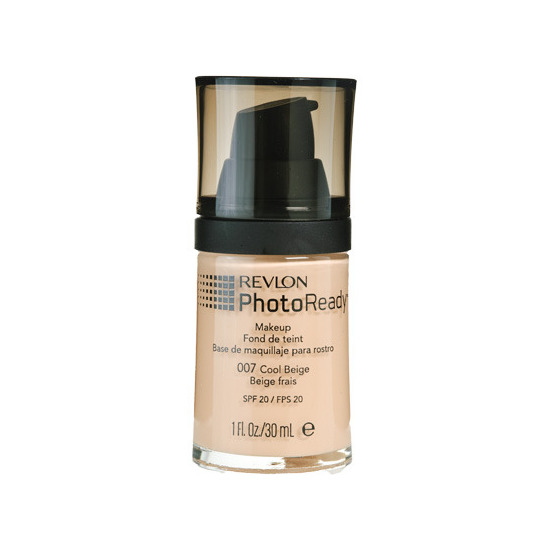 Rollover image to zoom
Reviews

I like a dewey look so so I really like this foundation the only thing I dont like about the one I got is that its way too light for me :( so thats more of MY fault LOL. the "shimmer" is not even noticeable to me at all. great coverage & leaves skin looking healthy

Oily skins stay away
I have oily skin and since this foundation was such a hype I decided to try it. I love it after I finish it off by matting on top with a powder but throughout the day it gets oily and sometimes the product is rubbed off and theres barely no coverage. I do love the dewy finish but unfortunately my skin type is oily. Only if Revlon came out with a mixed formulaa of the photo ready and colorstay (sometimes I do mix them together if i need lot of coverage).

Charmaine M.
Dec 12, 2010
I would definitely purchase this again :)
**I've been using this foundation since Feb. '10** Another one of my favorite foundations :) It is very comparable to the Neutrogena Healthy Skin Foundation. The Revlon PhotoReady has Great/Medium Coverage. Though on the bottle it says "Complete Coverage," I still think that it gives you that Natural look, that look that doesn't look "fake." You can still see the texture of your faces which is good, but yes! It has great coverage that evens/smooths out your face/complexion. (I don't need to use concealer with this foundation! Awesome right!?) *For it being a "Medium Coverage," it is totally build-able for it's totally Lightweight! It is also Fragrance-free, and Oil-free.
Revlon PhotoReady also gives you a dewy finish, which I love! Oh, and it's a silky formula too, so it doesn't go on really cakey! It also doesn't dry right away, which is good so it's gives you all the time you need to apply it w/o having to hurry/worry about it drying right away. :) One thing I don't like about this is there is NOT enough color variety. I believe that there is only 12 to choose from? (But I do say, it's not that big of a deal because it is really blend-able.)
As for the packaging, I definitely LOVE LOVE LOVE it!!! It's totally sleek, the bottle is the same size (pretty close) to the Neutrogena Healthy Skin Foundation, BUT this one has a PUMP which is a TOTAL, total PLUS!!! The pump is great too for it is easily controllable! Great job Revlon on the pump!
Oh, I almost forgot… Yes, Revlon PhotoReady does have a little bit of shimmer. (It's not "glitters"!!! loll) It's just a little bit of shimmer, totally not even that noticeable. See pictures below or above.. if you zoom in *click em* you can see the small shimmers.
http://beautifuldirtyrich.info/?p=511
---