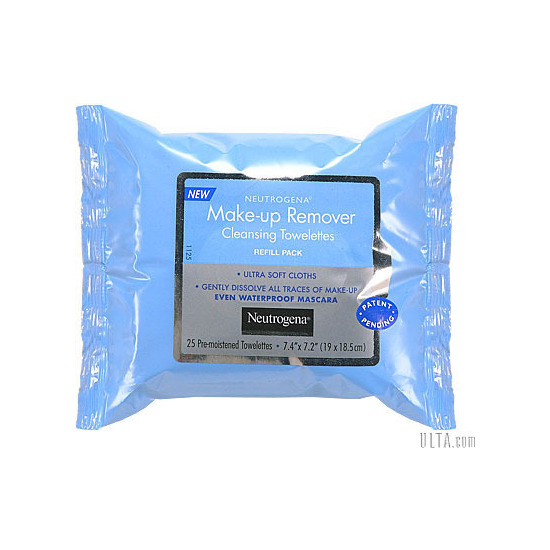 Rollover image to zoom
Reviews

best out there!
I'm so glad I discovered these makeup removers. Way back when I used baby oil and it made my eyes so bleary afterwards, and it was messy and oily, although the oil broke down the makeup well and it smelled great. Then I caught onto the makeup remover pads phase, with a bad stint from Almay. I forgot how I found these suckers but I love them. They smell so clean and fresh and their cool, moist dampness is very refreshing. You can use one towelette for your whole face, but I usually use one for my foundation and face makeup and another for my eye makeup. They remove everything easily and thoroughly, with a few swipes- no tugging on sensitive eye areas and delicate skin- I'm not anti-wrinkle/anti aging, but I don't want to cause wrinkles by tugging at my skin. As I've mentioned before I have sensitive eyes and I haven't encountered any tearing with this product. If you use more than three wipes, your face might slightly burn/ tingle, but will momentarily subside. There is a subtle residue left over, but I've found that it doesn't cause me any noticeable breakouts (that I'm aware of), so If I'm feeling really lazy and tired I don't wash my face after cleansing with the towelettes. I actually found, because my face is so dry, that my face drinks in any residue left over from the towelette. For my face, any residue instantly gets soaked in like it needs a much needed drink. They are great moisturizing wipes! Oily skins might not work so will with this moistness, however. I am gonna try to get in the habit of not sleeping with my makeup on (gross, I know) and washing and moisturizing right after using them. These are great for my own collection and my beauty kit- I keep a pack for myself and a pack that fits perfectly in my kit bag's zippered pouches. They are also great to quickly cleanse your face, even without makeup.These might be great for cleaning brushes, too, so I'll have to experiment with that. I love the cute packaging but there are a few cons to the product. I like the resealable packaging but once its opened, the "lid" doesn't really stick back down. To remedy this, one could put it in a sandwhich baggie and I usually just tuck the package so the opening is closed, in between other products in my skincare basket next to my sink- although that is only so effective. The other con would be the price. Mine is $7.99. 25 towelettes for 8 bucks is pretty good and these are the best wipes around but if I want to replace my personal wipes AND my kit's wipes thats around 16 bucks, plus whatever tax it happens to be. I wish these were a little cheaper, but I can live with the current price.

BEST
Simply the best makeup remover. Very soft & gentle, but it does an excellent job removing foundation, powder, etc. I also love the smell of these for some reason, they don't reek of harsh chemicals like makeup remover usually does. I would only recommend these for the face, however. It's hard to scrub off eyeliner and mascara with a towelette, i think.

Just Lovely.
I bought these because I like to do a lot of playing with my makeup, I will practice an eye look and then just take it right back off. I love the scent of these wipes and personally wipes are easier to use than liquid makeup remover because it wont spill everywhere and wont make a mess. The only thing is that they dry out very quickly, I put one on my vanity after wiping off my eyeshadow, then got a shower and once I came back to wipe off the mascara that remained under my eyes, the wipe was almost completely dry. But they're amazing other than that, the makeup came right off before that!

Travel
I ALWAYS carry this when i travel rather than cotton balls and liquid remover. I highly recommend this for WATERPROOF mascara or eyeliner! I am very satisfied with this brand and I do purchase other products from Neutrogena.

O M G I LOVE THIS
Only makeup remover I keep buying and have multiple packs in the bathroom. I love the way it takes my makeup off without leaving any signs of makeup. Its great near the eyes also. I usually get the blue one but the light blue green one is awesome, also. It keeps acne at a bay because your pores are getting cleaned.
---