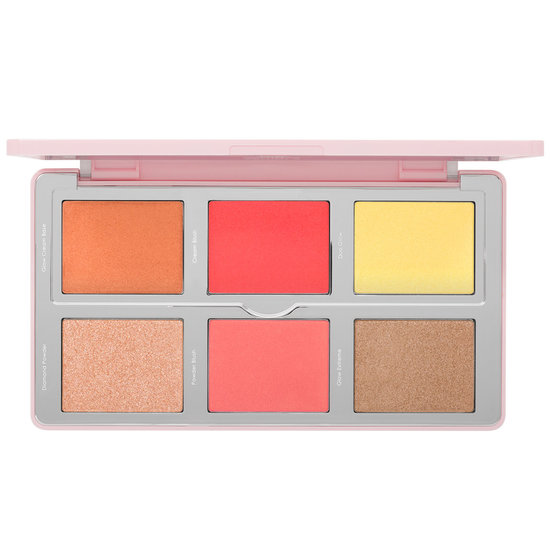 Rollover image to zoom
Reviews

Adore
I waited for sometime before buying this, only because when it 1st launched, I wasn't as good applying my makeup as I am now. I truly love this palette (use it in conjunction with her contour/highlight palette). The creams blend like a dream, they can be built up or sheared out depending what you're going for. The powders are beautiful and layer well with the creams. They don't clump up, they don't look muddy. You just have a truly healthy glow. And the highlighter 😍🤩😍Stunning- both layered and separately I adore peach/pink mixed blushes, gives the skin a nice healthy look. Extremely happy with my purchase! Side note: just want to thank Beautylish for always having stellar products, amazing customer service & the care they put into all the packaging when the orders are sent out. Really love this company. Keep up the great work & continue to stay safe everyone!

love the (subtle) shimmer but not the color
I have really fair skin and slightly yellow undertone, the two shades in the middle row are blushes, but not for people with similar skin color to mine. ( and i tried to use them with different bronzer to match)
It's like children makeup, very weird and dramatic.
Other shades are pretty and good for daily use, the shades in the third row looks good on eyelid too.

BrownGirlColorStruckWorld E.
Apr 14, 2018
Isn't as great as it is hyped up to be.
I hate to write this, because I really do love Natasha Denona products. Her individual highlighters are pretty. Her blushes are amazing. Her duochrome in Alba... f'n amazing. Her 28 pan palettes are legendary. However, I have to say that I am not impressed by this palette. The citrus palette is supposed to be for darker skin tones (I'm a C5/NC42 in Mac or Tan Sands in Tarte foundations- think Beyonce's complexion), but the blush lacks pigmentation to the point of barely showing up on me. The highlighter, while blinding, also can give off a stark cast. The diamond glitter highlighter would be cute as a highlighter, but it is not great. The yellow highlighter is interesting, but doesn't quite work (this coming from a woman that wears Becca's Topaz flashes Gilt and Opal Flashes Jade- green and blue shifting highlighters to her office job). Probably the most telling thing about this item, it is the only Natasha Denona product that I have ever worn, that I did not get compliments on.
For me, it was such a departure in the sophisticated look of her products, I almost want to retry it to see if something was wrong with my palette.
I am still going to try the Darya. It looks like the color payoff is actually there. However, I am not going to pay full price for it. Unlike most of her expensive products, its not worth the price.
IG: BrownGirlcolorstruckworld Blogspot: Browngirlcolorstruckworld (DOT) blogspot (DOT) com

Love no it
This is a beautiful palette and works great on light skin tone. I wasn't sure if it would but it does. Well for me it does. I am happy I decided to buy this palette it's worth the money and it will last a very long time. The colors are even beautiful on the eyelids too. Take the plunge and buy the pallet you are getting your money's worth.

Makes your skin look so beautiful
I bought this palette 02, for myself and the other one for my kit. I could not be happier. My skin looks so healthy and pretty with this on. The colors are absolutely beautiful, I really wanted both palettes for myself, but at least with one in my kit, I can justify the cost. I cannot imagine ever hitting pan as every color is so richly pigmented. Thank you Natasha Denona for yet another hit!!!

HOLY GLOW!
I thought that Ben Nye's Shimmer Powder was blinding, HONEY, Nooooo! This is beyond stunning! The texture is incredibly smooth, vibrant, long lasting, the list goes on! I was so excited when this came out, I didn't want to get it though because I already have a bunch of blushes and highlighters, NOT like this though✨ I'll purchase Darya when it's back in stock, Citrus has more peachy shades that honestly look really natural and go great with my NC35 skin
---