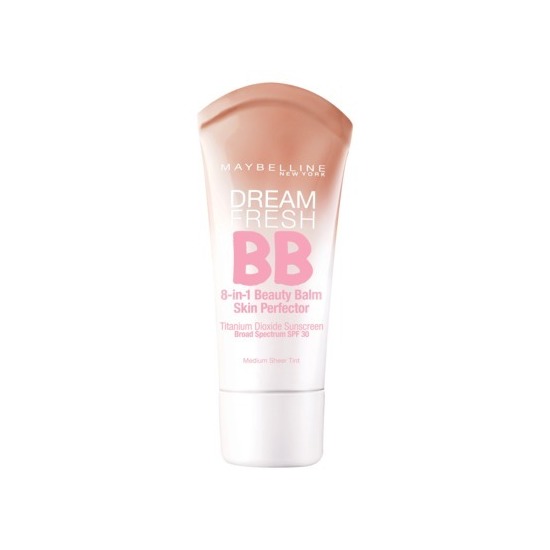 Rollover image to zoom
Reviews

Awful Look
When first dispensing the product, it comes out very liquidy and thin. When I applied it to my face with my fingers it did absoluetly nothing to cover or even out my skin. Its so unbelievably sheer! It also made my skin very shiny and gave my skin a very gross textue, like it was covered in dirt. It smells gross, like a dirty smell. The color was too light in the one I had purchased which was dissapointing, because theres no way I could wear it in public anyways. Only good thing is that it has SPF 30.

Oh oh oh it's magic⭐️
I love this stuff so much. I have very oily skin and it doesn't make me break out. It's very light on the skin and gives great coverage. I still have the first one I got, which I got it awhile ago. I use tiny amounts which is enough to cover the whole face. I love this BB cream!

I like this product because it's very thin and no to cakey. I hate it because when you layer it it becomes very uneven and doesn't dry well. To get the best use of this product only use a little and use with a beauty blender, your going to get a light coverage and it's better for lighter skin. When I went to get mine I got it for 6.99 via wallmart and their weren't many dark shades

Perfect for light wear
This product DOES NOT give amazing coverage, but it does cover up most of my redness and covers up my acne scars. It does melt off your face for a while, but it's worth the feeling that there's nothing on your skin after you apply it. The smell is like a lotion, so it's nor unpleasant but not something I want to smell all the time. Luckily the smell fades away after a while. I recommend this to people who don't need that much coverage and don't want to feel like they're wearing makeup.

I Like it for the price
Before purchasing this product I read tons of reviews. consumers say its not good for those with oily skin, however, I beg to differ. if you use a good oil free moisturizer along with a "matte" primer underneath, it works wonders! I use MAC oil free moisturizer followed by MAC "matte" primer, and I love the end result. my skin looks and feels great! the product stays out on my face, doesn't make me shiny, oily nor greasy looking. I only blot once during the day by using MAC "blot med" pressed powder translucent in med and I'm good to go. it gives this nice dewy healthy glow:). You're not going to get full coverage with this cause its just a "tinted moisturizer" but if you add another layer after the first one sets, it will give you more coverage. I use this in a daily basis cause I don't want to use my MAC pressed powder as it costs so all in all, I'm happy with this product and I will repurchase. hope this helps anyone who reads this.

Love it!
I have buying this product since 2012, have been using it ever since and I love it! I have oily skin with a bit of acne-prone skin, but it's not to the extreme and I have not had any issue with it. I think it's perfect coverage for my skin and for how I like it. Personally, I prefer a BB cream than a foundation, considering that my skin isn't that great right now. Foundation is too thick for my skin, where as a BB cream is light & perfect! :)
---