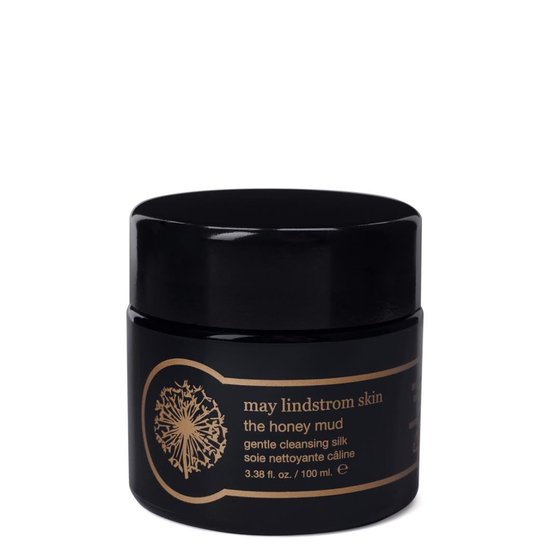 Rollover image to zoom
Reviews

Excellent mask.
This is my first review for Beautylish, and May Lindstroms 'The Honey Mud' seemed like the perfect place to start.
To begin, I wanted to get something off my chest concerning the price of May Lindstroms skincare, so please forgive my longwinded review. It's true, some of May Lindstroms products are expensive for how much you actually get (ex. The Youth Serum, The Blue Cocoon, The Jasmine Garden), but I don't think most people are aware of the fact you're getting double, almost triple the amount of product in many of May Lindstroms products than you would normally get in your average skincare. The Honey Mud, The Problem Solver and The Clean Dirt are 3.38 oz up to a HUGE 8.45 oz. vs. the industry standard of less than 1-3.3 oz. of product we typically get. It's also important to take into account good skincare with premium ingredients isn't cheap to source, so it's really up to the individual to decide if it's worth the price paid. For me, The Honey Mud is worth it. Here's why.
For reference, I'm 33 with dry, acne prone skin. Before receiving a sample of The Honey Mud I hadn't found a single mask that has given me obvious results and I've tried dozens of masks, both expensive and affordable. Enter The Honey Mud. Its sticky, delicious dessert scented goodness, and honestly if not for the results I get from it I'd rather eat it by the spoonful than put it on my face. I apply this on my damp skin so it spreads easier and leave it on 20 minutes up to several hours depending how much extra time I have. The results amaze me every time. Blackheads and pores on my nose are reduced, any angry red pimples are far less red and my skin is lightly hydrated, and though I don't have any deep lines, this mask smoothes and plumps the fine lines I do have. I adore this mask and will continue to purchase due to the fact I get such fantastic results. I haven't tried any of May's other products so I can't speak to their efficacy, but this mask (+ all the positive reviews :) have peaked my curiosity of M.L.s other products. Since I was so impressed with her mask I have ordered The Youth Dew and am currently waiting for it to arrive. I'll be sure to leave a review for it once I've used it for a while. As for the Honey Mud, it's earned a hard won permanent place in my skincare routine. I highly recommend it! :)

Katherine M.
Mar 18, 2019
AMAZING,AMAZING, and AMAZING. I've used this as a cleanser and have for 2+years. I have oily , acne prone, and cystic acne well, I USED TOO. This product cleanses my skin and it feels (and smells ) heavenly in the process. I Iove May's products bc I'm now at the point where my skin is flawless and ppl come up to me and ask me "what do you use on your skin, it's glowing" and I tell them May Lindstrom Skin products. As a side note , I rarely wear ANY foundation any more ! I can't go without Honey Mid or Blue Cocoon. Thanks for carrying her line!

Lovely!
This was what I was least interested in from the May Lindstrom line but turned out to be one of the products that worked the best on my skin! I have used it both as a cleanser and mask and love it both ways.
As a mask it is non drying and simultaneously hydrating and acne clearing. As a cleaner is is a light milky cleanse that wont remove makeup but will keep the integrity of the skin first thing is the morning or when you need something more gentle. Another lovely way to use it is to mix it in with the problem solver and it gives you the benefits of both masks but it doesn't dry down in such an extreme way as with using the problem solver alone. Highly recommend as it is a dual purpose product!

Feels like Luxury in a Jar
Every time I use the Honey Mud, I feel like I am stepping into my own personal spa. The jar itself is really weighty and feels really nice in your hand. And of course, what's inside the jar is even better.
I have only used Honey Mud as a mask. I look forward to every Sunday because that is the day I know I get to do my Honey Mud mask! It makes my skin feel so soft and makes it looks more radiant. Of course you can use this product more frequently as it is super gentle, but I've been savoring it as my end of the week treat for myself :)

Love this entire line!
I just placed an order for my 2nd jar of honey mud. I got the first jar from the May Lindstrom site and I fell in love! My first jar lasted about 4 months because I was using as a mask, cleanser and mixing it with the problem solver instead of water so it went faster than I thought. The smell is amazing and it leaves your skin soft and moisturized. I love honey in general but it is awesome for cleansing because it attracts moisture to your skin and is so soothing. I was having a lot of hormonal acne breakouts on my jawline, chin and neck and had tried SO many products with little to no results. May's line is the only 1 that worked for me so I'm forever grateful. It is pricey but you get a lot of product for the price, plus quality ingredients, beautiful packing and great skin. You can't put a price on the confidence of smooth clear skin. If you don't go overboard it can last up to a year. The expiration date is a year because of the great fresh ingredients in these products so to be safe I wouldn't use past expiration date. It is worth the $ to me because now I rarely get breakouts and don't need to wear make up which is great. I just turned 41 and people think I'm still in my 20's which is so nice. The only complaint I have is it can be a bit messy. I don't mind jumping in the shower to rinse the problem solver mask off or after using the clean dirt since I only use each of those products once a week but using the honey mud as a cleanser I don't want to have to jump in the shower every time so I rinse with a soft cloth then rewet my skin for applying my youth dew &/or blue cacoon. I do love using the pendulum potion for cleansing the rare times I wear makeup it's less messy, removes even eye makeup well also is very hydrating. All the products smell SO good!! The Jasmine garden spray is probably my fave scent, it smells like daffodils with a hint of chocolate I wish they would make a purfume!! Ok I know this was supposed to be a review of honey mud and I ended up basically reviewing the whole line so I'll end by saying definitely try honey mud 1st because you can use as a cleanser and a mask also if you don't have extremely dry skin you can get away with using it without a moisturizer after because it's very hydrating! Some people say it feels like a " film" on their skin but it's just hydrated and most people are used to cleansers that strip your skin leaving it "squeaky clean" which means it's taken all your good oils away as well as bad. People think oil or using oils for cleansing is odd but actually it's the over drying cleansers that cause your skin to produce bad oils and cause breakouts to over compensate for the dryness. I also love that this line is clean, no gross chemicals or things you can't pronounce. I am a May Lindstrom user for life!

My favorite mask...
I have been using this mask for almost a year now, and I really love it! The smell is amazing and soothing. The mask itself makes my skin feel so soft and clean without drying it out. It really is luxurious... I use it whenever I feel my skin needs a little pick me up. It really boost my skins glow and softness. I use it 3-4 times a week. Never breaks me out or dries out the skin. Hydrating and nourishing! It is pricey, but it will last you a long time, and you love it!
---