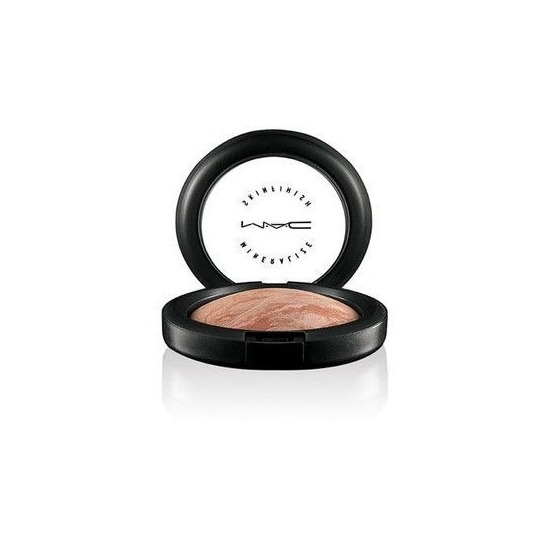 Rollover image to zoom
Reviews

If you only could own 1 highlight, this is it!
I still remember the first time I bought a highlight that wasn't for my kit, it was MACs Soft and Gentle. I'm very very fair, but tan easy and can get pretty dark, this shade looks great no matter my skin tone. It's truly a Holy Grail. It can be built up for a blinding glow, or softly applied for a lit from within healthy look.. This is a RARE champagne tone that looks lovely on fair skin and is still visable (though I must be honest and if you're very pale, since this isn't an icy silver, it's not gonna be seen from space, but it IS GORGEOUS AND PROBABLY 1 OF THE ONLY IF JOT GUARANTEED THE PRETTIEST CHAMPAGNE HIGHLIGHT FOR PALE SKIN) Because this is made from the same formula as their mineralize skin finishing powder, it doesn't seem to accentuate texture the way alot of other Highlighters do. It also blends into the skin, instead of sitting on it, leaving a beautiful finish. This can be used after powder, or on top of a liquid or cream highlight. You can use a dry brush, or one spritzed with MAC Fix+ (glycerin, distilled water, and rose water)
Final note- this is a must. It's a classic, it's a Holy Grail, and the OG of Highlighters

It's highlighter and not impressed
So I bought a highlighter for the first time and decided to go to MAC as I don't think they do anything disastrous. After speaking to one of the girls there, she showed me soft and gentle and I really liked the way it looked on the back of my had so I bought it. After playing with it for a while now, I do use it but I would like to buy another as I don't feel this product is for me. The colour is beautiful on my NC20 skin, but I just find it glittery and unnatural. I want something with a sheen not sparkle. I actually searched a Bourjouis eyeshadow the other day that I thought would make a beautiful highlight and I am kicking myself for not doing so. Overall: it's okay and serves the purpose but too glittery for me.

Perfect Highlight.
I have not been able to find such a beautiful highlight so far. I have tried it on light medium and medium skin tones and it looks amazing. It is the perfect color and the perfect shine to give the beautiful highlight. You will not regret buying this.

LOVE LOVE LOVE
As an MUA I know about all the most popular highlighters, I have used the highlighter in sin from Urban Decay and High Beam from Benefit because they were the best in my opinion. This blows them WAY out of the water! It has a beautiful color payoff, looks totally natural on my fair skin, and feels weightless! It is the triple threat of highlighters in my opinion. I suggest heading to your nearest MAC counter and having one of the excellently talented women color matching you to the shade that is ideal for you.

I had read so many lovely reviews on this highlighter. It was one of my first M.A.C purchases and I'm glad I did! It is such a lovely champagne color, I use it to highlight my brow, inner corner, apples of my cheeks. I've even used it as a eye shadow. I cannot wait to collect more mineralized skinfinishes.

I was looking for something effective to use as a highlight for contouring my face and the woman at the MAC counter suggested this. I tried the sample and decided I definitely wanted to add this product as part of my daily makeup routine. It's definitely a great highlighter and worked really well with my fair skin tone. It blends so well with other products and lasts all day. Also, you get so much product for the price!

holy grail that i always come back to
I was reluctant to buy this when I did, because I just started switching my collection fully to high-end products. I really wasn't sure if this would be worth the cost, but you get an endless amount of product for the price. I have been using mine for just under a year (and nearly every day, at that) and mine has just eroded past the rounded top but isn't completely flat across it yet. Some people complain about the shimmer, which I solve by one quick tap of any brush (I've used several) and it reduces it perfectly. I leave the shimmer when I want a fuller highlight, like on the cheekbones and in the cupid's bow of the lip. It wears all day. This is absolutely gorgeous and although I end up trying other highlighters because they come in kits, etc, absolutely none come even close to this one. When I got this, I honestly felt that my overall look was taken up ten notches.

MUST HAVE!
I find this product to be very effective. I do a lot of contouring with harsh colours and it blends them really well! It is great for going out or for everyday looks. It has a shimmery tint which isn't too noticeable but catches with sun light for a finished summer look! It really makes your skin look soft and blemish free. I would definitely recommend it for makeup newbies or even pros, it's easy to work with and very efficient. It goes great with all colours including bronzers and blush, shimmer or not. Overall a great product to have in your makeup bag!
---