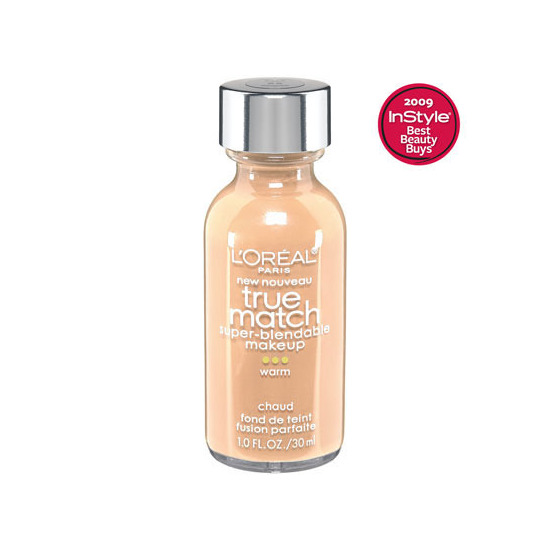 Rollover image to zoom
Reviews

LOVE IT!
I love going to the drugstore and trying out different foundations and this one has quickly become one of my favorites! I've already bought it a couple of times and it blends so great! I've even let my girlfriends use it with completley different skin tones and it somehow even blends on them too. Such a great foundation even when I went to have my make up professionaly done in South Beach the make-up artist used this foundation on me and I couldn't beleive it. When I asked her about the foundation she said its simply the best!
xo

I actually found out about this product from Kandee Johnson, YouTube's makeup guru. I was looking for something affordable since I was a broke student. This foundation actually works really well. Not a fan of the packaging but I found a non-messy technique. I was a bit nervous matching my color from a bottle but the color turned out perfect. and the best part........
SPF!!! :)

Great coverage, doesn't last long
I love this foundation, it's cheap and it covers and doesn't feel or look cakey. However, It does fade as the day goes but a good foudnation primer would take care of that! I love that it's so cheap I can buy multiple shades to accomodate my individual skin tone.

flawless effect
Great lightweight foundation that leaves a flawless finish when used with the true match powder and BLENDS WELL!! .. doesnt last all day tho so I only wear it when I need to go out and dont feel like wearing alot of makeup .. works perfectly for that (:

Great!
When it says True Match You better believe it! I absolutely love this foundation, it blends so good, it's not oily or dry , it gives that natural look you look for in a foundation and best of all is not pricey!! I would totally recommend this foundation for a natural everyday look.

favorite drugstore foundation
this foundation has amazing coverage for a $6 foundation. it covers my redness and once I build it up it can cover my acne scars. I love how many colors there is, my color match is spot on. the Maybelline fit me matte + poreless has nothing compared to this. (;

Mary Anne M.
Apr 10, 2013
Covers All the Bases! Straddles Quality and Pricing between Maybelline and Revlon Foundations
I have tried various foundations from Revlon, Maybelline, and Rimmel, but I have to say that L'Oreal's true match makeup is my favorite drugstore foundation, and one of my favorite liquid base makeup formulations overall (that's including BB creams, tinted moisturizers, powder/cream/liquid foundations) for coverage, shade match, finish, staying power, breathability, ease of application, and a little sun protection to boot.
I matched to W4 Natural Beige. This line of foundation has the widest shade selection I've seen at a whopping 32 shades spanning warm/yellow/olive, neutral, and cool/rosy/pink undertones. It's fairly easy to match shades to the inside of your wrist while browsing in-stores because the bottle is clear and the shades are true between in-bottle and on-application, with little-to-no oxidation. It gives even, natural-looking, medium and buildable coverage (not dewy, not too matte), it's not exactly lightweight but it still feels comfortable to wear, and it lasts 8+ with setting powder over it.
It also does not smell strong—in fact I can't smell anything from the bottle—compared to foundations from Revlon, Maybelline, and Rimmel. It's a little surprising it doesn't even smell like sunscreen, because it has a decent amount of sun protection ingredients backing its SPF17 (still recommend an actual sunscreen product underneath). The formula is oil-free, but as someone with combo-oily skin, I normally find myself blotting at least once during the 8 hours that I try to stretch my wear over. This foundation sets well though and doesn't transfer while I'm blotting.
At $7–11 for 1oz (30ml) of quality product, this foundation is my happy medium between the cost effectiveness and lightweight wear of Maybelline foundations and the coverage and staying power of the more expensive Revlon foundations.
---