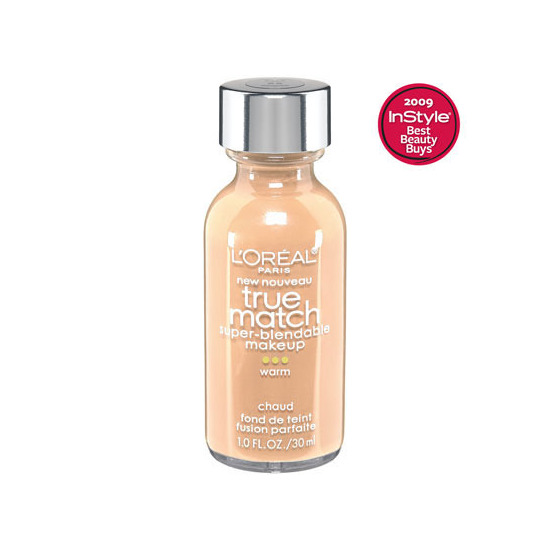 Rollover image to zoom
Reviews

favorite drugstore foundation
this foundation has amazing coverage for a $6 foundation. it covers my redness and once I build it up it can cover my acne scars. I love how many colors there is, my color match is spot on. the Maybelline fit me matte + poreless has nothing compared to this. (;

ooouu so close!
at first when i used this i thought i was in love! it blends so beautifully and it evens out your skin so well. however i have an oily forehead and cheeks but a nose with dry patches. when i look up close, the foundation clung to and highlighted my dry patches and my skin looked like tree bark! i was horrified! and then i gave it another try when my skin had a good day and oh my goodness i once again thought i loved it. it blended like a dream and looked amazing until i went to school. it looked like it seperated on my oily areas. i had an oil spill floating on my face and it smudged everywhere! i wanted to love this but no. just no.

Best drugstore foundation I've tried.
This is one of the better foundations of the drugstore.
I really love the wide variety of shades and how it caters to various undertones as well! This foundation is a lovely one. Very light weight and easy to blend. Buildable coverage, without looking cakey, which is nice. I just wish it had a pump, haha!

I like this foundation. But it's not as great as what everybody claims ... Or at least it isn't for me. The color oxidizes . I had to exchange the foundation twice just to get a color that is ok-ish for me. Even w/ my yellow undertones I feel like the "W-3" isn't yellow and warm enough. It def oxidizes and turns slightly pink :(

Mary Anne M.
Apr 10, 2013
Covers All the Bases! Straddles Quality and Pricing between Maybelline and Revlon Foundations
I have tried various foundations from Revlon, Maybelline, and Rimmel, but I have to say that L'Oreal's true match makeup is my favorite drugstore foundation, and one of my favorite liquid base makeup formulations overall (that's including BB creams, tinted moisturizers, powder/cream/liquid foundations) for coverage, shade match, finish, staying power, breathability, ease of application, and a little sun protection to boot.
I matched to W4 Natural Beige. This line of foundation has the widest shade selection I've seen at a whopping 32 shades spanning warm/yellow/olive, neutral, and cool/rosy/pink undertones. It's fairly easy to match shades to the inside of your wrist while browsing in-stores because the bottle is clear and the shades are true between in-bottle and on-application, with little-to-no oxidation. It gives even, natural-looking, medium and buildable coverage (not dewy, not too matte), it's not exactly lightweight but it still feels comfortable to wear, and it lasts 8+ with setting powder over it.
It also does not smell strong—in fact I can't smell anything from the bottle—compared to foundations from Revlon, Maybelline, and Rimmel. It's a little surprising it doesn't even smell like sunscreen, because it has a decent amount of sun protection ingredients backing its SPF17 (still recommend an actual sunscreen product underneath). The formula is oil-free, but as someone with combo-oily skin, I normally find myself blotting at least once during the 8 hours that I try to stretch my wear over. This foundation sets well though and doesn't transfer while I'm blotting.
At $7–11 for 1oz (30ml) of quality product, this foundation is my happy medium between the cost effectiveness and lightweight wear of Maybelline foundations and the coverage and staying power of the more expensive Revlon foundations.

Looks great on but because of the high silicone content, I will probably not repurchase.
Decided to try out L'Oreal True Match Foundation when I found it on sale at Shoppers Drug Mart. The price for this varies drastically from drug store to drug store here in Canada, so I would definitely wait for a sale or shop around for the best deal.
L'Oreal True Match Foundation comes in a glass vial with a tiny twist off cap. It would have been really nice if this came with a pump because the opening is quite big and it's hard to control how much product you pour or tap out. I also feel like I'm cross contaminating the product every time I use it because I try to tap out just enough product on the back of my hand. There's fine gold luster in this foundation but it isn't noticeable once applied.
This foundation spreads and blends like a dream but it feels silicone heavy. The coverage is medium to full and quite build-able and doesn't look as cakey compared to other build-able foundations. The other nice thing about this foundation is that it minimizes the look of pores and fine lines, and continues to look nice through out the day. I did notice a few times when I wore it for over 7 hours, my foundation would look like it slipped. I don't know how else to explain it. It just looks like my foundation shifted south bringing any blush, bronzer, and highlight along it. Yes it is as gross as it sounds.
Unfortunately the shade that I purchased is a tad too dark for me and I've been back and forth on whether or not to purchase a lighter color. I really do enjoy this foundation, but I really hate the feeling of silicone base products. I'm still thinking about the lighter shade, but I will probably not repurchase.
What are your thoughts on super smooth silicone in cosmetic products?

Stephanie T.
May 11, 2012
This has become probably my new favorite drugstore foundation! It's light, gives good coverage that is buildable if you want more coverage, nice natural finish... i dont know i dont really have anything bad to say about it. Also the fact that it comes in a huge range of shades makes it easy for you to find a color that matches your skintone. I also find that i dont need to set this foundation with a powder. Great foundation, definitely recommend!
---